lashoff
Hello, this is Xterratu, a former member of LeafsHQ and a lovable Croatian hockey dude. What, did you think I'd retire? I'm too young for that sh*t. An offer from the Hot Stove is too good to pass up, and this is my way of thanking MLHS for giving me this chance to write again. Thanks guys. I'm glad to be a part of the crew. Nothing is over, including the Game In 10 which is back and is more awesome than a big wombat in heat (ever). More for the biggest win of the season.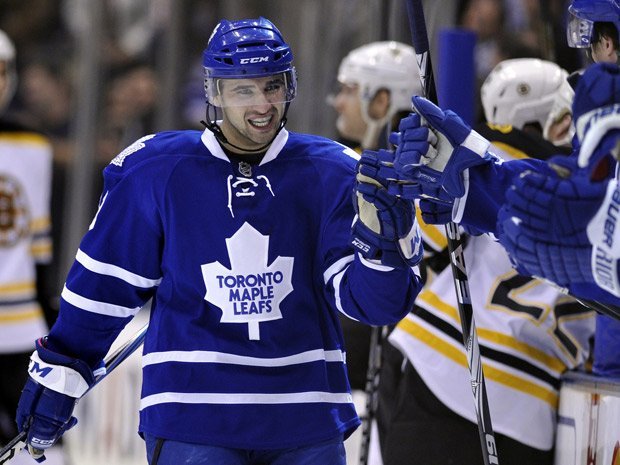 Updated scouting reports for recent call ups Nazem Kadri and Matt Lashoff (with files from Clayton Hansler):
Nazem Kadri
Ranked 7th in AHL rookie scoring with 41 pts (44-17-24-41) and second overall in the AHL with eight first goals .. Kadri has adapted to some added bulk and cranked up the toughness .. isn't afraid to engage in tight and along the boards .. physical game isn't his forte however, despite improvement, and he relies on skills and dangles .. can waiver with intensity blending into the background, yet explosive enough to be able to exploit breakdowns and set up scoring chances seemingly out of nowhere that can change the tide of a game (first goals to open the game are an example) .. [more…]
After months of nothing but Kaberle rumours and Grabovski lawsuits, Leafs Nation will finally get a glimpse of their 2010-2011 Toronto Maple Leafs.  Being the first game of the preseason, Toronto is going with a healthy mix of youngsters, borderliners, and veterans.  Luckily, fans will not have to wait to see most of the new Leafs (Clarke MacArthur excepted) as off-season acquisitions Versteeg, Armstrong, Brown and Lebda will all be hitting the ice.
[more…]
Day Two of on-ice participation is now in the books .. the sessions all had a purpose, as camp not only winds down, but clear decisions need to be made on who will remain with the main roster and who will be going to the Marlies or back to their original junior team.
A breakdown of the drills and more observations from the intra squad game after the jump.
Sunday Training Camp Day 2 practice
Teams A and B practiced with Team A on the main ice. (Breakdown of teams is here.
The drills weren't very different from the previous days, they all focused on a real-game situation and the coaching staff made variations along the way. [more…]