Leafs camp
In part six of his 12 burning questions series, Derek Harmsworth takes a look at Leafs sniper Phil Kessel, and whether he can hit the 40 goal plateau.
While January 31st 2010 will go down as a day Leafs fans will never forget as the Leafs acquired Dion Phaneuf, Keith Aulie, Fredrik Sjostrom, and J.S. Giguere in the span of about two hours, the date of September 18th, 2009 will also be remembered, yet highly debated, and much scrutinized.
It was on that day in September, following a preseason game against the Pittsburgh Penguins, that Maple Leafs GM Brian Burke got his man. Â After lots of rumours throughout the year, including one that involved Tomas Kaberle going the other way, Burke signed off on a deal with the Boston Bruins that landed him American born sniper Phil Kessel. [more…]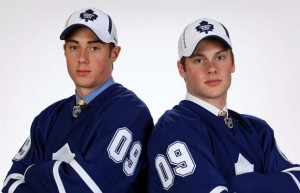 Brian Burke must have felt a lot like the eponymous Old Mother Hubbard when he first reached into the Leafs prospects cupboard. Of course, unlike the elderly dog-mistreating crone of the rhyme, Burke already knew what lay in stock prior to his arrival in Leafs country. In short: a few notable exceptions to a decade of draft property mismanagement.
Subsequently, the draft of 2009 looked to be a vital cornerstone in Brian Burke's rebuild. The first chance for the Leafs to restock in a new, finally directed era.
During my monthly fantasy hockey segments on Sportstalk Weekends with Rick Quinton on CKNW in Vancouver the fantasy scene always spills into analysis of real world NHL. Last night, with the segment winding down, knowing I'm from Toronto, the ultra-smooth basso-voiced host asked the question seemingly plaguing Leafs Nation.
Hey, B, where are the trades? Leafs Nation expected a roster overhaul with Brian Burke formally handed the keys to the franchise. So far, nothing.