Leo Komarov
The Leafs are back at it after a welcomed four day lull in the schedule. The deadline hurdle has been cleared for the players, with no significant additions or subtractions to the roster. The group that got the Leafs into this position is going to have a chance to finish what they started by clinching the Leafs' first playoff berth in eight years. It's tough to imagine James Reimer is viewing this as a vote of confidence, though, after his GM publicly admitted that Miikka Kiprusoff was of much interest to the team and that the two sides discussed the possibility of an extension. [more…]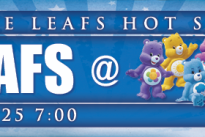 Toronto Maple Leafs (17-12-3) at Boston Bruins (17-9-6)
Last 10: Toronto 4-3-1; Boston 5-2-3
The Leafs did it. They beat the Boston Bruins. As a reward, they get to play them again two nights later.
It took a good mix of a lot of things going right to pull it off their first win over the Bruins in nearly two calendar years. To the Leafs' credit, they finished their hits, got involved in the game early, caused some turnovers and grabbed an early lead. They were patient and the amount of respect they had for their opponent, and their hunger to finally beat them, was apparent in the extra effort the likes of Kadri and Kessel among others were putting in defensively. [more…]
Tonight, Randy Carlyle will stick with James Reimer seemingly in an effort to give Reimer a chance at staking a number one's claim to the crease. Carlyle has stated his preference to have one emerge over the other rather than a 1A/1B rodeo situation, and allowing Reimer to try to play his way through a few shaky goals on Thursday seems to be the approach. Although it could be a simple case of Reimer giving the Bruins a stiffer test than Scrivens in the teams' two meetings so far this season (at least according to the scoresheet; 1-0 loss to Boston in early February with Reimer in net). [more…]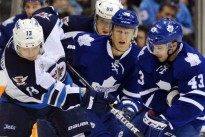 It's like déjà vu all over again.
And no, I'm not talking about "The Slide."
[more…]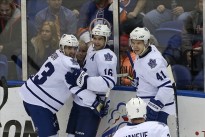 Since we are almost at the halfway point, I thought now would be a good time to write some notes on each individual player thus far. Here is the close-but-not-quite-halfway Leafs Notebook: [more…]
As Alex Tran discussed a week ago, apparently Leo Komarov is willing to join the Leafs. The feeling is that the 25-year-old Finnish forward is finally ready to make the transition to the best league in the world once the World Championships conclude.
"I hope so — as fast as possible, if they need me and they give me a good contract then I will go over there.
Komarov has one year remaining on his KHL deal but his KHL contract might include an out clause that can be activated after the World Championship. Although, that's not what the following quote suggests:
"I've got a year in Dynamo left so I don't know if they will let me go, it's my agent's work."
Whatever the case may be, trying to sign Komarov just got more likely. It also may speak about Burke's intent to make this team harder to play against than it does about him signing a player that will significantly improve our on ice talent. However, don't be fooled, Komarov can score. Here's what Burke had to say about it: [more…]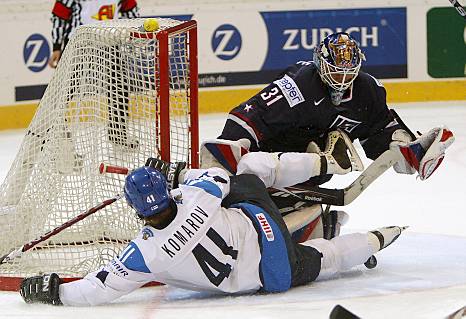 According Puck Daddy's Dmitry Chesnokov, it appears that the Maple Leafs are poised to sign 25 year old forward Leo Komarov, their 6th round pick from 2006, to an entry level contract following the World Championships. Last summer, it was believed that the team made a push to sign the young agitator but Komarov respectfully declined, preferring to spend one more season in the KHL. Should these rumors come to fruition, the Leafs will be adding plenty of nastiness and physicality to their bottom six group this fall.
The 5'11 210 pound Estonian born Finn has been honing his craft for the past 3 seasons against men in the KHL. At the NHL level, he likely fits in as a 4th line super pest who offers a high energy, in your face type of game. Komarov is an emotional player upon whom teammates can feed off of. His strengths lie primarily in a speedy, forechecking type of role with the ability to get under his opponents' skin. He's an average player in the 5 on 5 setup but is quite effective as an open ice forecheck due to his excellent skating and impressive ability  to recognize and close down open lanes. He absolutely loves to chirp and play really close to the edge, making him an easy target at times for officials. During his time in the Finnish SM-Liiga, he was named the league's "Most Hated Player" three times. [more…]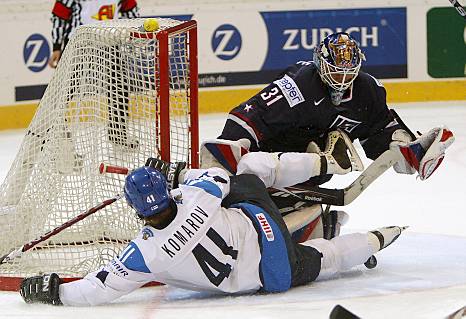 According to the Toronto Star's Damien Cox, the Leafs are expected to sign 24 year old forward prospect Leo Komarov to an entry-level contract at some point in the near future. The Maple Leafs hold Komarov's NHL rights as a 6th round selection, 180th overall back in 2006. Komarov was born in Estonia, but grew up playing hockey in Finland where currently holds a duel-citizenship along with Russia. He has spent the last two years playing in the KHL, earning himself an all-star appearance this past season. In 52 games played for OHK Dynamo Moskva, he recorded 14 goals and 12 assists, in addition to 70 penalty minutes. Komarov also impressed during a brief playoff run, scoring 4 times and adding 2 helpers in just 6 games. [more…]