line player
Toronto Maple Leafs General Manager, Brian Burke should have uttered one phrase to explain the situation, one simple little phrase to envelope the reasoning for the Phil Kessel trade;
"Our picks in our vision of where we ended up are overvalued in accordance to the available crop of prospects."
But in Toronto, to admit that in what's deemed as a 'rebuild' would have been a PR disaster.
Despite popular opinion, he wasn't wrong.
The world is no longer flat, it's round .. like a full-cirle
Why the Maple Leafs should make the playoffs in 2010-11‏
By: Joe Cino
Everything that could have gone wrong for the Maple Leafs in 2009-10 did. A combination of cold streaks, underperforming veterans, bad goaltending and a slew of injuries capped off a basement finish. The roster has been fine tuned, with additions like Giguere, Phaneuf and Versteeg chief among them, but by and large most of the roster is the same as last year's iteration. With so many holdovers from the previous year, are the playoffs a realistic goal for the Maple Leafs? I believe that they are, with Corsi ratings, Goals versus Threshold and the realistic impact of the new Leafs taken into account. [more…]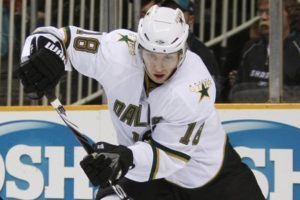 During his first full year at the helm in Toronto, you could make the case that Brian Burke was the league's most active general manager. There was the Kessel summer blockbuster with Boston and then the mega-deals on January 31st that brought in Phaneuf and Giguere. It's quite obvious that he's willing to expend assets to target any top notch premium young talent when it's made available. Both of those trades were opportunities: Kessel was a restricted free agent on a team with cap issues. Burke often spoke of inquiring on Phaneuf several times throughout the year until the "pressure points" of the cap and the struggles of the Flames pushed Sutter into making a bold move. This summer should be no different. Let's take a look at some of the young RFA's that might potentially attract Burke's interest.
While the NHL Stanley Cup playoffs are in full swing and continue to provide us with some fantastic moments of triumph, the fans of the Toronto Maple Leafs are now forced to once again shift their focus to off ice activities.
And so too has Leafs brass.
Despite his team sitting on the sidelines, Leafs GM Brian Burke made quick work of two signing he was keying in on, signing goaltenders Jonas Gustavsson and newcomer Jussi Rynnas to contracts. Â Continuing with the in-house theme, Burke will now certainly turn his attention to Nikolai Kulemin, if he hasn't done so already.
And while we are seemingly quite far away this point, it won't be long before the draft and subsequent free agency period rolls around.
I have been listening and watching Toronto media members discuss the Maple Leafs and am honestly beyond annoyed at their commentary and observations around the Leafs performance since the trade deadline.  I am not even certain if this is "blog worthy" (shameless "sponge worthy" reference), but I have officially reached my "B.S." tolerance threshold.
The Toronto Maple Leafs look to put a streak together tonight, while the Devils are seeking control of the Atlantic division. Tyler Bozak and Phil Kessel each have 6 points in their last 4 games, while Nikolai Kulemin is showing signs of becoming a promising top two line player with 7 points in his last 5 affairs. He has arguably been the Leafs' best player for the second half of the season.
[more…]
With just over a week to go until free agency, a certain Maple Leaf RFA by the name of Mikhail Grabovski is drawing some interesting attention from the management. The 25 year old who cost the Leafs a 2nd and a prospect last summer is seeking a contract of 3 to 5 years at $3.5M to $4M per season. This is essentially a breakdown of what he offers. Please leave a comment with your perspective of his demand after reading his specs and other information.
Speculation abounds that the Toronto Maple Leafs are continuing their efforts to re-sign Dominic Moore to a reasonable contract extension.   The talks are expected to continue well into this afternoon and evening.

With the trade deadline just weeks away, here are a few rumors that are doing more than just making the rounds.
There are a ton of rumors flying around on the Toronto Maple Leafs. Some a downright ridiculous and some may very well have merit. This is a close outlook on a few of those rumors and speculation. We're under 2 months away from Hockey Christmas, where all the wonderful surprises of wanted and undesired gifts are passed around. A shopping list is what we all hope the Leafs are after, but sometimes there's other plans that could be in place which may not seem so attractive at first. Consider that the following is merely speculation and rumors.
[more…]
John Tavares ties the most goals ever by a player in the World Juniors with 12 but managed to do so in 1 less game than Jeff Carter, and 13 less games than Eric Lindros, and the tournament isn't even completed; although, after that performance, it really felt like the Gold medal game. It's hard to top that one.
[more…]
The Leafs held a press conference today with Brian Burke. Here are some interesting comments on behalf of the new President and GM.
[more…]