line winger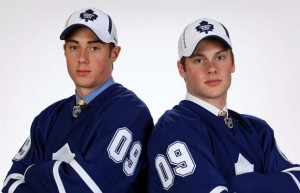 Brian Burke must have felt a lot like the eponymous Old Mother Hubbard when he first reached into the Leafs prospects cupboard. Of course, unlike the elderly dog-mistreating crone of the rhyme, Burke already knew what lay in stock prior to his arrival in Leafs country. In short: a few notable exceptions to a decade of draft property mismanagement.
Subsequently, the draft of 2009 looked to be a vital cornerstone in Brian Burke's rebuild. The first chance for the Leafs to restock in a new, finally directed era.
According to TSN, Stalberg has made the team and even found himself on the top line. Talk about getting the opportunity to showcase your talent. He'll start Thursday's opener against Montreal on a line with Jason Blake and Matt Stajan.
[more…]
Random thoughts and opinions from (roughly) the halfway point of the season:
* Glad to see the mustache is back in style.   In fact, when I was younger I grew a goatee just because everyone else was doing the 'stache.  Then the '93 Canadiens all grew goatees during their Cup run, and it became a social mainstay.   Yes, folks, it's true: my hatred of the Habs has nothing to do with the Leafs, and everything to do with facial hair.