Luca Caputi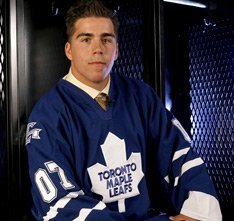 On Tuesday it was announced Ryan Hamilton will miss 4-6 weeks with a knee injury. And so it starts… again.
Devastated by injuries and call-ups last season, the Marlies failed to make the playoffs for only the second time since the AHL club returned to Toronto. 425 man games lost. That equates to a 5.3 players sitting out each and every game of a 80 game season - so let's say, five and a backup goaltender.
Already this season the Marlies have seen talented forwards Christian Hanson and Luca Caputi get the call up to the show, as well as physical defenceman Korbinian Holzer. Ryan Hamilton joins Simon Gysbers and Danny Richmond in the press box, all suffering from separate ailments. All this is on top of Jay Rosehill, Alex Foster and James Reimer who had already spent time on the day-to-day list.
It'll probably be labeled as a "typical Leafs fan" debate given their status as lower roster players but there has been a number of questions arising out of yesterday's demotion of Christian Hanson and Luca Caputi in favour of John Mitchell and Tim Brent... and rightfully so, in my opinion, given the "earn your spot mentality" conveyed by Leafs brass and that both followed the off-season regimens recommended to them and came into camp by storm looking bigger, faster, stronger and more dynamic offensively.
While it's too early to judge, I am not saying the decisions to originally sign either player in John Mitchell or Brett Lebda were wise; in the cap sense and numerically, both signings have me wondering, particularly in Lebda's case. It's hard to see where Burke arrived at the need for someone of Lebda's ilk and price tag unless better offers were assumed to be incoming for Tomas Kaberle. But the decision made by coach Wilson yesterday, forgetting arguments about the off-season decisions and shifting to training camp and preseason, can be understood: [more…]
It is by no means the end of his career, strictly the next step.
On Monday, Nazem Kadri, 7th overall selection in the 2009 draft, was assigned to the Toronto Marlies. The player in whom a whole city had welcomed, became enamoured with and inked into their own starting lineup will not appear at ACC at all… at least not yet. It will prove to be a powerful lesson for the 19 year old, if not the whole city of Toronto; the Toronto Maple Leafs are about winning hockey games, not necessarily selling tickets.
The Toronto Maple Leafs had a game to forget tonight.
This is not exactly the most enjoyable game to share my postgame thoughts, but here we go:
Perhaps the best part about Nazem Kadri's two-goal, three-point performance last night against the Ottawa Senators is that he can start the season with the Toronto Marlies with his head held high. Certainly, Leafs fans, management and Kadri alike will hope he can relay last night's performance on the wing into another strong showing against Detroit on Friday and make a case for a place in the big Leafs' top six for the October 7th date with the Habs. But should Kadri's play return to the form he exhibited in previous preseason showings - by no means terrible, but not as impressive as it will take - he can take solace and confidence in last night's achievements and start off on the right foot at the Ricoh. [more…]
The Leafs head to the capital tonight to take on their bitter provincial rivals, the Ottawa Senators, for the third time in seven preseason games.
Tonight's game figures to be the last chance for players on the bubble, including highly-touted Nazem Kadri, to make a lasting impression. When asked about these players, head coach Ron Wilson was emphatic:
"When the puck drops on the first day, you better be ready to go. No tip-toeing around. No 'oh, the water's cold, I'll wait until it warms up a bit'. Nope, you're diving in and the guys who didn't, as [Leafs' GM Brian Burke] said, they're waiting by the bus stop. Well, they missed it, the bus already left. Now their job is running down the road hoping they can get on." (via)
With the pre-season set to end with a home-and-home against Detroit to open the month of October, the general sentiment is the Leafs will use a roster for those games comprised of the players who are expected be with the NHL club on opening night. For Nazem Kadri, John Mitchell, Jay Rosehill and Mike Zigomanis, tonight (or by a slim chance the first of the two Detroit games) may be their last shot.
Coming off a tough shootout loss against the Flyers last night, the Leafs will look to rebound on the road against the Sabres tonight at HSBC Arena. Despite blowing a late third period lead, there was a lot to like about the Leafs' performance, including a strong bounce back game from captain Dion Phaneuf and spurts of brilliance from the club's new top line of Versteeg, Bozak and Kessel. The Buds will be in tough tonight against the Sabres, who will be icing a lineup very similar to the one they will open the season with. [more…]
After a disappointing Fans First preseason opener, the small upside of this overtaxing preseason schedule is that the Leafs get right back at it tonight, against the same opponents and with what appears to be a stronger line-up than last night's edition. Tyler Bozak, Nikolai Kulemin, Phil Kessel, Clarke MacArthur and Mikhail Grabovski all sub in up front while Luke Schenn, Mike Komisarek and Francois Beauchemin will get their first tastes on the back end. Meanwhile, the Senators will ice a similar line-up to last night and will again sit their big names as all of Daniel Alfredsson, Jason Spezza, Alex Kovalev, Milan Michalek and Chris Phillips did not make the trip to Toronto. [more…]
The Toronto Maple Leafs held their on-ice portion of training camp today. Players have been split into three squads to accommodate the 63 players invited to camp.
Among the contingent of fans outside the ice surface at the MasterCard Centre for Hockey Excellence was a throng of media and of course, Leafs staff.
For the first time in years, the Marlies will be bristling with young talent hoping to make the big club. From top prospect Nazem Kadri to hopeful enforcer Richard Greenop, this Marlies squad should be a team to watch. Let's take a look at the forward prospects that can be reasonably expected to be on this Marlies team:
In part five of his 12 burning questions series, Derek Harmsworth takes a look at Toronto young guns, and whether or not they can continue their consistent contributions.
A team's fortunes can be decided on the shoulders of their young players, be it their rookies or their sophomores. Â There are plenty of examples of young players who can help their club catch lightning in the bottle, and help them surpass the expectations set earlier in the offseason by the majority of pundits.
Of course for every example of that, there are also counter examples of teams who perhaps relied too heavily on rookies, or second year players, to help pace the offense, only to have things not go according to plans. [more…]
In part four of his 12 burning questions series, Derek Harmsworth examines whether Nazem Kadri will crack this lineup, and where he fits in with the team if and when he does.
In the summer of 2009, the Toronto Maple Leafs and their fans were still finding out first hand what type of brash, confident attitude Brian Burke was going to be bringing to the team. [more…]