Luca Caputi
It was a light day practice wise as the optional skate drew only a handful of players to the MasterCard Centre for Hockey Excellence.
[more…]
I attended practice at the MasterCard Center for Hockey Excellence, watching a loose group of players reveling in the 4-1 win over their provincial arch rivals. It all began with a loose skate, just a warm-up involving firing some pucks off the boards along the way.
[more…]
First and foremost, let me apologize for my absence. Â As some of you may know, I am in school completing my Sports Marketing degree, and things have gotten really hectic in crunch time. Â I am also organizing a golf tournament for this summer in Strathroy, Ontario. Â Anyone who would like to golf can get in touch with me anytime.
You know, another season of hockey is winding down.  At least, it is in Toronto with the Maple Leafs.  While the sun has been shining and treating us to above average weather the past week or so, it does come at a price.
It has become all to accustomed.  As soon as the sun begins to melt the snow, and the grey, dull sky is replaced by a ray of sunlight, you know that the Maple Leafs aren't long for this world.  That the season is just about wrapped up, and lockers will soon be cleaned.
KULEMIN with the game winner, and that's all folks!!! Leafs win 4-3 in a thrilling overtime victory!
Now, wasn't that an appropriate Torontosaurus Rex?!
That was the Leafs first OT victory of the season. (1-9)
******
It feels like a spring day, almost like a playoff date.
This isn't a playoff game by any stretch .. There are some interesting scenarios playing out even before puck drop.
Here's the game thread ... you can also follow along on Twitter, @KatsHockey
This is the first game At home for newest Leaf, Luca Caputi (Now with his first goal as a Leaf!!).
This is the first game after the devastating hit my Matt Cooke taking out Savard.
This is the first game At home that will not feature Alex Ponikarovsky as a Leaf.
This is the first game in which Phil Kessel scores his first point as a Leaf against his former club (maybe) ... (Yes! After a change in scoring on the second goal, he got his first assist versus his old team)
The Leafs have given up powerplay markers in consecutive games after going five games without letting in a power play goal.
Despite being one season removed from having won the Vezina Trophy this is the second consecutive start for Tim Thomas I the last games.
And the Puck has dropped .. I'll be refreshing about every 10-15 minutes
Look, I'm not saying I'm a good luck charm, but I attend the game in the press box and a whole lot of good happens .. Caputi's first as a Bud, Kessel registering his first assist .. Just call me lucky Kats.
End of Regulation 3-3
[more…]
Everyone should know Bloge Salming and his extraordinary ability at visual arts.
His skits are over the top funny and when in collaboration with Down [more…]
Luca Caputi makes his Maple Leaf debut tonight as Toronto visits Boston to battle it out with the Bruins. Seidenberg will suit up for the Bruins who are still aiming to remain in the playoffs despite injury woes and a lack of ability to land an elite scoring winger for Marc Savard. The quest to get out of the bottom five continues for the Leafs tonight.
[more…]
Final Deadline Trades:
Alexei Ponikarovsky to Pittsburgh for Luca Caputi and Martin Skoula
Martin Skoula to New Jersey for a fifth round draft selection.
Lee Stempniak to PHX for 4th and 7th rounders.
Joey MacDonald to ANA for a 7th rounder in 2011.
Wrap-Up: That looks to be a wrap on Brian Burke's trade activity for the 2009-10 season. The Stempniak deal was obviously a form of loss-cutting on a pending UFA, but it's a bit painful to remember who we sacrificed to acquire him in November of 2008 in two albeit underachieving first rounders in Alex Steen and Carlo Colaiacovo. The Leafs will not draft until the third round this year, and Burke did not succeed in that sense, however he moved the only piece realistically capable of fetching a second rounder for a semi-established young asset with the potential to replace Poni at an immediately cheaper price in Luca Caputi. It looks as though no takers could be found on either Wayne Primeau or Garnet Exelby, who look sure to now enter the FA market July 1.
There seems to be details yet to unfurl surrounding the Tomas Kaberle situation this deadline, as once again Leafs fans were teased into believing a deal was pending (involving Hodgson, as it was reported, or possibly Alzner from Washington) only for what looked to be an imminent deal to be flatly denied by Brian Burke in the end. There are rumblings that Kaberle might have nixed a deal in similar fashion to the Jeff Carter situation at the '08 deadline.
From Garrett Bauman:
The deal is believed to be all but sealed, but the Penguins may have to first clear cap space. New reports suggest Toronto will take on the salary of Martin Skoula if they can't work something else out elsewhere, but that it could cost the Penguins an additional pick.
Now from Dreger and McKenzie:
ponikarovsky to Pitt for Luca Caputi and Martin Skoula...pending trade call.
[more…]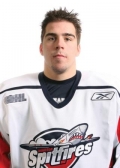 Dale Mitchell (#71) - RW
Player Facts
Birthdate: April 9, 1989
Stargazing: Aries
Hometown: Mississauga, ON
Original post: http://www.hockeybuzz.com/blog.php?post_id=16747&blogger_id=48
The Battle of Ontario's prospects ended in triumph for the Senators in an action-packed, end-to-end tilt featuring 12 goals split 7-5.
The night started brightly for the Maple Leafs following Phil Oreskovic's bout with Geoff Waugh three seconds after puck drop that was seemingly a spill-over of bad blood from last AHL season and/or an arrangement made in warm up. Off an early face-off in the Sens' zone, Darryl Boyce drew the puck back to 5th overall pick Luke Schenn who fanned on his point-shot only [more…]