maple leafs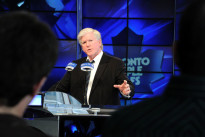 By Alec Brownscombe & Declan Kerin
Shocking, is the only way to put it.
No, this wasn't a move that was waiting in the wings. Last night, Dave Nonis and Brian Burke were taking in a Marlies game expecting to be the assistant GM and President and GM of the Toronto Maple Leafs, respectively, for the upcoming 2012-13 season. It came as a bombshell to absolutely everybody short of Tom Anselmi and some board members. If that's not raising red flags in your head already, it should be. [more…]
Yesterday, in his summary of the recapture penalty of the new CBA as it pertained to Roberto Luongo, the Vancouver Canucks and potentially the Toronto Maple Leafs, Pierre Lebrun figured out the cap penalty the Leafs would sustain if Brian Burke were to acquire Roberto Luongo before this season and he were to go on to retire at age 40. That can be seen as the foreseeable point of retirement for Luongo as after the 2018-19 season, when Luongo will be 40, his salary will have already dropped from $6,714,000 in 2017-18 to $3,382,000 in 2018-19, and will then stand to drop to just $1,618,000 in 2019-20.
However, that retirement plan is by no means a guarantee, as Luongo's play could slip, his health could deteriorate (if he's placed on LTIR, Elliotte Friedman is already speculating on a possible loophole here) or ideally he could win a Cup with the Leafs and opt for early retirement. The $3,382,000 season was probably projected as a "maybe" year, for instance. After the jump, I have put together a breakdown on the cap penalty the Leafs or another acquiring team would sustain depending on when Luongo hangs up the skates. [more…]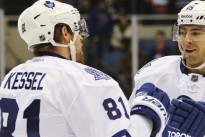 It seems like a fruitless endeavor to make full season predictions with the uncertainty of when the actual season does begin.
Regardless, here we are. Under ideal circumstances, the season would start as per the current schedule and should both parties salvage a full season, we need to be ready.
Every summer we get the McKeen's Hockey Yearbook together and about this time, I'm usually done with Leafs predictions.
It's a summer tradition to post Leafs predictions here, and I wanted to continue the custom. [more…]
We're now mere days away from the ever exciting NHL Entry Draft. One of the names that consistently shows up in that group of the top 3-4 players is 6'2 power forward Filip Forsberg. The 17 year old Swede is touted as the most complete player in the draft, offering a superb package of size, skill, defensive instincts and competitive spirit. It is unlikely that he will still be around by the 5th selection, but stranger things have happened. Any team selecting Forsberg as early as 2nd overall could find themselves with a tremendous bargain in two or three years time.
The Basics: All-around winger/center for Leksand, 8 goals and 9 assists for 17 points in 43 games played. [more…]
After jumping 30 spots in the most recent International Scouting Service report, the 2012 MLHS Draft Profiles turns its watchful eye to Oshawa Generals centerman and Jack-of-all-trades, Scott Laughton.
There's a lot to like about Scott Laughton, who recorded 21 goals, 32 assists and 101 PIM in 64 games, skating mostly on a line with Christian Thomas (40th overall in 2010 by NYR) and Andy Andreoff (80th overall in 2011 by LAK).  After starting the year slowly, Scott Laughton has developed into a reliable two-way force in the 'Shwa.
What Scott Laughton has that should separate him from the pack is will.  Simply put, the guy works hard each night and was relied upon as a special teams cog over older, more established players on the Generals roster. He initiates contact, and is dogged in his pursuit of the puck.  And despite a relatively average frame (6-foot-1, 178 pounds), he's a willing pugilist.  He might want to rein-in that last element of his game for future success, as his any-situation utility is moot while he's in the sin bin. [more…]
Some more charts coming your way.
I'll let these charts paint the picture .. after all, if a picture is worth 1000 words, then consider this a 3000+ word blog post.
Whew ... I'm exhausted! You know what it takes to put together 3000+ words? Find out after the jump.
Zone starts, zone finishes and a bunch of QoC.
Get ready for a lot of charts.
New metrics surfacing rapidly are being put to use. The charts below are being more-widely used to visually demonstrate usage of players in comparison to the level of competition they face.
Plenty of different examples exist.
OZQoC charts were architected by Rob Vollman of Hockey Prospectus. A full explanation is spelled out here. [more…]
Of course, the acquisition of Jeff Carter by the Los Angeles Kings couldn't simply put to bed the rumours surrounding one potential Leaf trade target, it sprung to life another. Word broke yesterday that, in wake of the Carter acquisition, Kings GM Dean Lombardi could be open to moving power forward and captain Dustin Brown if the price is right.
Now, every name that hits the rumour mill gets dressed in an imaginary Leafs uniform, but a name like Dustin Brown strikes me (and surely Burke) with considerable intrigue. At 27, signed for two more seasons at 3.175 million, the possibility of Brown's availability must make Burke's eyes light up. A member of his Team USA silver medal winning 2010 Olympic team, Brown brings experience, leadership, a physical presence for the top six (2nd in the NHL in hits, and he hits hard), and could add a new dimension to the Leaf attack. Not to put too much value or significance into any one player, Brown poses an attractive solution, or at least part solution, to many of the Leafs deficiencies in the forward ranks with his skill and toughness package. It's no wonder there's consensus among the insiders that Burke would have a major interest in the 27-year-old if available. [more…]
Part 1 can be found here.
Notes on Day 2 of training camp:
I didn't watch any of the drills and instead took in more of the scrimmages today. Here are the notes for the second day of training camp: [more…]
Training camp is set up with a scrimmage in one rink and drills going on in the other rink. The notes are about the scrimmages. Camp was split into three squads. The notes below are observations from the scrimmages.
[more…]
An annual tradition, here's the scoring predictions for the 2011-12 version of the Toronto Maple Leafs.
I won't get too much into player specifics since my scouting reports are in the Maple Leafs Annual with further expansion in the McKeen's Yearbook to be released soon.
Some minor commentary on Kulemin winning the scoring title. When coming up with predictions, the hold of the top spot was so delicate any slump/streak could cost some player the scoring crown. If it wasn't Kulemin, it could be Grabovski coming off a breakout campaign (and entering a contract year) or Kessel for a third straight season. [more…]
Tonight can't come fast enough if you're the Boston Bruins or the Vancouver Canucks. For Boston, it means a chance to get back into the swing of things by winning Game 3 in your own building. For Vancouver, it means a chance to put a stranglehold on the series.
A chance the magnitude of which is better explained by going over the probability of a 3-0 deficit comebacks throughout the course of time. In the league's history only 3 teams managed a 3-0 series comeback. In 1975, after opening their Stanley Cup quarterfinal series with three losses to the Penguins, the New York Islanders put together a four-game streak, completing the comeback with a 1-0 win in Pittsburgh. Then of course, we have the Philadelphia Flyers last year and...