maple leafs
Alex and I will once again continue the Young Guns prospect draft. We are drafting:
6 9 forwards, 4 defensemen, 1 goaltender
Total of 22 young players with a birthday year no later than 1986 (24 yrs old max)
Contract status and/or cap hit will not be taken into account
The draft will take place live in the comments section for all readers to follow, so be sure to come out and provide your two cents as it happens. More details after the jump.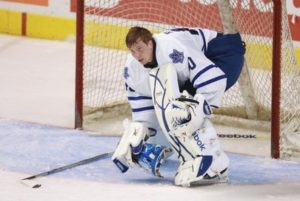 ,
Join us in the comments as Alex Tran and I go head-to-head carving up the Leafs youth.
(Note**) - for the record I will be making the picks for each of us as Alex is boozing busting loose at some bar. I asked him if he was drunk, he said no, but his picks will tell show us the truth.
Toronto Maple Leafs General Manager, Brian Burke should have uttered one phrase to explain the situation, one simple little phrase to envelope the reasoning for the Phil Kessel trade;
"Our picks in our vision of where we ended up are overvalued in accordance to the available crop of prospects."
But in Toronto, to admit that in what's deemed as a 'rebuild' would have been a PR disaster.
Despite popular opinion, he wasn't wrong.
The world is no longer flat, it's round .. like a full-cirle
It's been quite the time span since my last post here. But as many of you know, I've been working on the McKeen's Hockey Annual Yearbook. That is in addition to the work on the player profiles for the Maple Leafs Annual.
So to kick things off, and to change the subject from Tomas Kaberle, here are my player predictions for the Maple Leafs this season after the jump.
(NOTE*** Predictions appearing the McKeen's Annual Yearbook are decided as a collective from many different sources. These values will unlikely appear as they indicated below in the publication.)
[more…]
On the eve of unrestricted free agency, the Maple Leafs made a big first move to upgrade their forward group. According to ESPN's Pierre LeBrun, [more…]
I've been holding off on posting one of these, as the sheer volume of Toronto-borne speculation renders separating the plausible from the impossible a rather difficult task.
Without further ado, here we go:
There is no guarantee that Tomas Kaberle is traded this weekend. Sources say the chance that he could remains a member of the Maple Leafs beyond the Draft is increasing by the day.  The reason?  "Burke wants a player who can step in and play right away. He wants to win now, and is far less concerned about getting draft picks than he is about getting an impact forward."

.
This week's prospect was referred to as an integral part of the deal that brought in Dion Phaneuf and Fredrik Sjostrom, while jettisoning Matt Stajan, Niklas Hagman, Ian White and Jamal Mayers to the Calgary Flames.
The former gold medal winning defensman with the 2009 World Junior Championships squad injured his shoulder shortly after the deal.
[more…]
We had to bump the Tuesday Prospect Report, but here it is ... this week, its a player that confirmed his signing right here on Maple Leafs Hot Stove, Tyler Bozak. Once again, always great work from Bloge Salming. Enjoy.
For related Tyler Bozak reading, check out Junior`s `Good News`post about the 23 year old.
I absolutely love playing golf. There are days – many, many days – all I want to do is golf.
Might be some Leaf fans that share my love. Some fans are forced into golf due to the lack of playoffs.
Ahh, the playoffs .. but a memory. What better way to understand or reacquaint with the postseason than by using an example too many Leafs fans know.
Golf.
[more…]
Ever since the Leafs' late-offseason acquisition of Phil Kessel, his performance has been (understandably) heavily-scrutinized in the face of the hefty amount of futures given up to secure the extremely talented winger.
Kessel's season has, in some ways, mirrored that of his teammates, with periods of great productivity followed by periods of near-invisibility. However, considering a host of issues which seemingly stood in the way of a productive season, including significant shoulder surgery, causing him to miss out on training camp, and the lack of talent surrounding him, the Leafs' young sniper has produced at a rate which, in the context of the aforementioned factors, is actually quite impressive.
[more…]