Marcel Mueller
As we await the season opener for the big club, let's see how some of the kids are doing:
Greg McKegg is off to an [more…]
Coming off a tough shootout loss against the Flyers last night, the Leafs will look to rebound on the road against the Sabres tonight at HSBC Arena. Despite blowing a late third period lead, there was a lot to like about the Leafs' performance, including a strong bounce back game from captain Dion Phaneuf and spurts of brilliance from the club's new top line of Versteeg, Bozak and Kessel. The Buds will be in tough tonight against the Sabres, who will be icing a lineup very similar to the one they will open the season with. [more…]
The Leafs won a game in the shootout. I'm as confused as you are. It was certainly an interesting one, going for 11 rounds before Colby Armstrong put Philadelphia out of their misery. Here are my game notes:
- The goaltending was great for the Leafs tonight, with Reimer in particular having a very strong performance. Both goals for Philly were flukey and both goalies played strong positional games. The shootout in particular was very impressive for Reimer, showing off his fast reflexes. Reimer is becoming a top goaltending prospect for the Leafs and his year with the Marlies should be very interesting. [more…]
The Toronto Maple Leafs held their on-ice portion of training camp today. Players have been split into three squads to accommodate the 63 players invited to camp.
Among the contingent of fans outside the ice surface at the MasterCard Centre for Hockey Excellence was a throng of media and of course, Leafs staff.
The following is a live, up to the minute game blog featuring the rookie tournament game between the Toronto Maple Leafs and the Pittsburgh Penguins. Â Remember to hit refresh for the latest updates.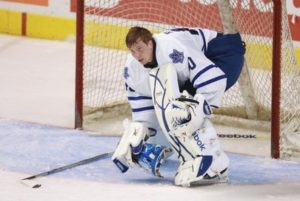 After the jump, Derek Harmsworth recaps last night's action in the NHL Rookie tournament, including locker room access, and looks ahead to today's action.
The Toronto Maple Leafs will host their rookie tournament this year in London, Ontario from September 11th to the 14th, and Maple Leafs Hot Stove will have unprecedented, wall-to-wall coverage of the event.
Join us here for live game blogs, game previews, game reviews, exclusive interviews, and more! Â Today, we will look at the top ten Leafs players who will be worth paying extra close attention to at this weekend's event.
The Toronto Maple Leafs and the Tampa Bay Lightning have made some minor league moves this afternoon, with the Leafs sending Marlies' forwards Alex Berry and Stefano Giliati in exchange for minor league defenseman Matt Lashoff.
In Lashoff, the Leafs are getting a young, depth guy who will likely play out the year for the Marlies.  A former 1st round Bruins draft pick, Lashoff has some size and offensive skill, but couldn't translate his ability beyond the AHL level for any extended period of time.  In 63 NHL games between Boston and Tampa, he's tallied 1 goal and 14 assists and is a career -15.  Still young at 23, he'll have stiff competition for a spot on the Marlies blue line and a chance at a fresh start after showing promise in both Norfolk and Providence.
The Leafs lose two foot soldiers on the forward ranks in Berry and Giliati.  Meat and potatoes type of players with little NHL upside, they will be missed for the leadership and experience.  However, the move offers more opportunities for up and coming forward prospects such as Jerry D'Amigo, Marcel Mueller and Brayden Irwin.
In part seven of his 12 burning questions series, Derek Harmsworth takes a look at how the new faces will fit in with the Toronto Maple Leafs.
Brian Burke has always argued the fact that July 1st is his draft, the time where he does his best work in bringing in key pieces that will push his team to that next level. Â While he isn't inept on the draft floor, it isn't his strength. Â To his credit, it's something he doesn't necessarily hide either.
And while this summer's free agent frenzy is more calm than in the previous years, there is no doubt that through free agency, and the days leading up to it, that Burke took steps towards continuing to shape this team in his vision. Â The moves have been made, and barring any sort of changes, this may well be the team we see enter training camp in under a month. Â With that in mind, it's time for Leafs Nation to ask, exactly how will the new faces fit into place in Toronto? [more…]
In part five of his 12 burning questions series, Derek Harmsworth takes a look at Toronto young guns, and whether or not they can continue their consistent contributions.
A team's fortunes can be decided on the shoulders of their young players, be it their rookies or their sophomores. Â There are plenty of examples of young players who can help their club catch lightning in the bottle, and help them surpass the expectations set earlier in the offseason by the majority of pundits.
Of course for every example of that, there are also counter examples of teams who perhaps relied too heavily on rookies, or second year players, to help pace the offense, only to have things not go according to plans. [more…]
In part four of his 12 burning questions series, Derek Harmsworth examines whether Nazem Kadri will crack this lineup, and where he fits in with the team if and when he does.
In the summer of 2009, the Toronto Maple Leafs and their fans were still finding out first hand what type of brash, confident attitude Brian Burke was going to be bringing to the team. [more…]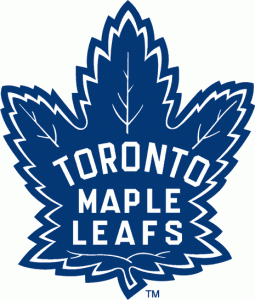 The Toronto Maple Leafs 2010 rookie tournament is coming to London, Ontario and Maple Leafs Hot Stove is pleased to announce that we will have exclusive, unprecedented coverage of the event!
Just confirmed earlier tonight, I will be in attendance at the John Labatt Centre for the duration of the tournament, providing up to date news from the rookie tournament for the Toronto Maple Leafs, as well as the other competing teams (Pittsburgh, Ottawa, and Chicago.)
As part of our exclusive coverage, I am pleased to announce that we will have game day previews, game day recaps, live blogs, live tweeting, as well as exclusive interviews with some of the Leafs biggest rookies and prospects. [more…]