Marcel Mueller
Toronto Maple Leafs General Manager, Brian Burke should have uttered one phrase to explain the situation, one simple little phrase to envelope the reasoning for the Phil Kessel trade;
"Our picks in our vision of where we ended up are overvalued in accordance to the available crop of prospects."
But in Toronto, to admit that in what's deemed as a 'rebuild' would have been a PR disaster.
Despite popular opinion, he wasn't wrong.
The world is no longer flat, it's round .. like a full-cirle
Maple Leafs GM Brian Burke, ridiculed in some circles, heralded in others, after the way the Tomas Kaberle deal went down, has not been hiding in the shadows after his inability, or unwillingness, to trade the Czech born blue liner. Â Burke spoke to the media yesterday and made a variety of statements that should peak the interest of Leafs Nation. [more…]
- If the TSN reports that Frolov could sign a 1 year deal comparable to that of Afinogenov last season ($800,000) are true, then why weren't the Maple Leafs heavily involved in discussions with Frolov's agent? He's a big guy who can win some pucks, plays a well-rounded game and would fit perfectly in the top line left wing role at a bargain basement price. Remember a few weeks ago when I talked about a deteriorating market? This potential signing may just be the beginning.
- The Toronto Sun reports that the Maple Leafs' Rookie tournament will take place at the John Labatt Centre in London from September 11th-14th this year.
- The Hockey News makes the case for the Maple Leafs as a surprise playoff team this coming season.
- On to the FanPosts. Andrew Edwards (AKA Crazyaces) proposes a solution for these ridiculous long-term contracts, while Michael Cuttell continues his preseason synopsis by evaluating the Leafs' current forward group. [more…]
In case you haven't already heard, the Maple Leafs have broken off negotiations with prospect Bill Sweatt, acquired in the Versteeg trade from the Blackhawks. In a statement to the Toronto Sun, Burke explained that the club would rather keep a spot on the 50 contract limit open than continue discussions with Sweatt. As the talks continued to stall, the Leafs likely turned and upped their offer to Marcel Mueller, whose ELC contract value sits at $1.12 million. Sweatt is likely looking for a figure close to Blake Wheeler's $2.825 cap hit as a 4-year college free agent, which is a steep price to pay for a player with speed but limited offensive upside. [more…]
Great to see such an active group of readers. Here are a couple of FanPosts for your Friday afternoon reading enjoyment with today's theme being youth, youth and more youth. Paul LeMay (B. Leaf) takes an in-depth look at the team's organizational prospect depth while Chuck Johnson compares Nazem Kadri's chances of making the NHL as a 2nd year player with those of previous high draft picks. [more…]
There has been a certain degree of consternation among Maple Leafs fans of late regarding the number of SPCs (Standard Player Contracts) the team has on the books. Many have expressed concerns that the Maple Leafs are near the league maximum, and fear the situation could adversely affect the team's efforts to continue to re-tool the club into a playoff contender.
A quick glance at the Collective Bargaining Agreement (CBA), however, tells us the situation is not so dire as some would have us believe. The reason? A seldom-discussed clause, unofficially dubbed the "Slide Rule".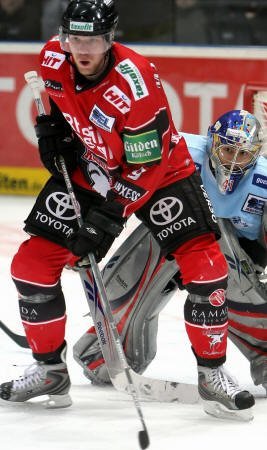 The Maple Leafs announced on Wednesday afternoon that they had come to terms on a two year entry-level contract with 22 year old free agent forward Marcel Mueller. Mueller is a 6'4 212 lb power forward who has spent the past 4 seasons playing against men in the top German league. He had a terrific '09-'10 breakout campaign that saw him record 56 points in 53 games played, good for 13th overall in league scoring.
Although it has Mueller has been rumored to be a target of NHL teams for a couple of seasons now, the recent transfer agreement reached by the DEL and NHL in late June has allowed Marcel to be officially pursued by NHL clubs. [more…]