Martin Gerber
Sorry Leafs Nation, Brian Burke didn't splurge on a deal to give Leafs Nation the false hope of a playoff spot. What a shame…
Instead, Burke traded Nik Antropov, Dominic Moore and the Toronto Marlies' Richard Petiot for two 2nd-round picks (CAR and NYR), a 4th-round pick (TBL), a conditional pick (NYR), Olaf Kolzig (our next savior), Jamie Heward and Andy Rogers. Also, he picked up Martin Gerber (who was sensational tonight in Washington) and Erik Reitz from waivers.
Martin Gerber stole this game for the Toronto Maple Leafs.  A few months ago, that sentence would have made absolutely no sense for so many reasons.  In his first game as a Leaf, Gerber played in a fashion that will make more than a few Senator fans shake their heads in frustration.  Other than a late goal that broke his shutout, Toronto's new Swiss goaltender stopped a Washington squad that has admittedly struggled of late.
[more…]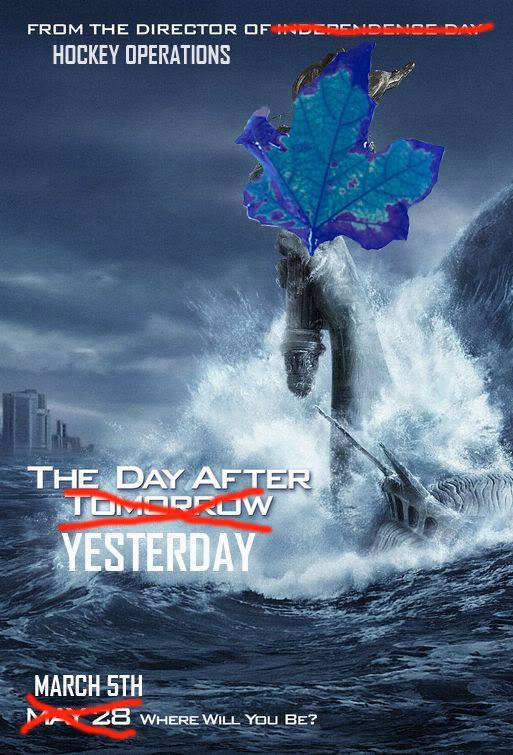 "The Day after Yesterday" (the prequel to "Day after Tomorrow"). These two things have a lot in common. Millions of people watched it all unfold, hoping the guy in the lead role could do the impossible and save the day (it didn't happen, the world still froze over and the Leafs still don't have a second 1st round pick). There was a serious injury that needed medical aid (Toskala's hip/groin, and Laura Chapman's blood poisoning). And everyone was running around frantically once they found out about the strange phenomenon (Guy 1: "Hey look, a giant tsunami!" Guy 2: "Who cares, Andy Wozniewski was traded!" Guy 1: "You're right! That's far more bizarre.")
[more…]
Burke picks up defenseman Eric Reitz, who, in addition to being a formidable glove dropper, has been offensively productive at the AHL level (34 points [more…]
1) Brian Burke's received two offers of a second round pick for Dominic Moore. Burke's trying to up the ante in order to also land [more…]
Elliotte Friedman of CBC is reporting that the Toronto Maple Leafs have expressed interest in putting in a waiver claim on veteran goaltender Martin Gerber. It's speculated that this surprising interest may be a result of two possible scenarios:
#1 - The Leafs have lined up an appropriate trading partner for Toskala and need a veteran goalie to stick in the net for the rest of the season.
#2 - As rumored for the past few weeks, Toskala may indeed be hurting and the Leafs may choose to shut him down for the rest of the season as he undergoes surgery. [more…]
Here are some quick hits on news around the league with just around 24 hours to go until the deadline:
[more…]
Through 45 games the abject tandem of Toskala and Joseph has combined for the worst team save percentage in the NHL and by an ever increasing margin. Where .900 is seen as a barometer for average net minding in the modern game, the Blueshirted duo has managed just .886 between them. Subsequently the hard work put into making the Leafs sixth in shots against with a 28.3 per game average is being undone by a last line of defence that bares a startling resemblance to the Maginot line. Worse still the current status quo threatens to undermine the very rebuilding process Toronto are pinning their future on.

I don't care where in the tanking/playoff spectrum you stand, beating the Ottawa Senators is always sweet. Especially in a game riddled with physicality and controversy, against a rival considered at season's dawn a contender vastly more talented than the re-building Maple Leafs.
[more…]