Michael Cammalleri
The wait is over. After yet another long off-season following a fifth consecutive year of missing out on the NHL post-season, the Toronto Maple Leafs are set to kick off the 2010-11 season against their oldest rival, the Montreal Canadiens.
Both teams have undergone an off-season where - despite the lack of a full-scale overhaul - crucial moves were made to bring in key players or (in Montreal's case) provide a better opportunity for players already in the organization. Gone from the 2009-10 Toronto lineup are Viktor Stalberg, Rickard Wallin and Keith Primeau, replaced by Kris Versteeg, Colby Armstrong, and Brett Lebda. In Montreal, the most impactful move was the trade of playoff hero Jaroslav Halak to St Louis in exchange for Lars Eller, a move which paves the way for Carey Price to assert his standing among starting NHL netminders.
If the Toronto Maple Leafs wish to avoid another eight-game losing streak to open its regular season, it's vital the players don't let last season's collapse linger in the back of their minds---that's especially important for Mike Komisarek considering the Leafs open the season against the Montreal Canadiens.
On the heels of Saturday night's rumour from the Hockey Night in Canada Hot Stove panel that the dealing of pending free agents Matt Stajan and Alexei Ponikarovsky is a virtual certainty, TSN's Darren Dreger has listed the pair as the fourth and fifth most-likely trade candidates this trade deadline (Stajan followed by Ponikarovsky) as Brian Burke seeks to re-equip his club with picks lost or equivalent prospects.
My Team Canada Roster selections may seem a little vanilla, but they've been selected to play out various situations. Penalty killing, power play and balance on all the forward units took precedent over sheer offensive/defensive ability.
[more…]
It is their second meeting this year, and the first played a big part on blinding fans for both teams in the belief that each were elite competitors. Since that opening night, the Habs have on 5-7-0, while the Leafs have gone 1-7-2. But there are always upsides, and tonight marks to start to capitalize on those specifics.
[more…]
It was unlikely Burke would test the $5 million threshold with Cammalleri... looks like the Habs have. 6 years, 5 million per as Cammalleri joins [more…]
The Cammalleri camp has countered an offer from Brian Burke... working on figures. Sportsnet now reporting: Ottawa, New York, Toronto in on Cammalleri. [more…]
Brian Burke has not publicly stated who he'll be targeting on July 1st, but logic dictates his focus will be deadlocked on Unrestricted Free Agents Mike Cammalleri or the Sedins.
After many critics--fans and writers alike--expressed their discontent towards Burke's inactivity at the NHL Entry Draft last weekend, you can bet Burke will be looking to make a big splash once July 1st comes swinging. While he managed to draft seven North American players at the draft, most of them at behemoth size, he failed to import more prospects and draft picks by not pulling the trigger on any deals.
With only one day remaining before the draft, the NHL rumour mill is of course running rampant.
Here is an update on the latest "non-source" chatter I've been hearing regarding draft moves, trade possibilities, and free agent speculation as it may or may not pertain to our boys in blue.
[more…]
In just over two weeks, the NHL Entry Draft will be upon us.  Naturally, speculation as to the future destination of the top prospects is heating up.   With July 1st rapidly approaching, trade rumours (some related to the draft, some not) and free agent speculation are abounding with fury.  And, of course, possible internal team moves are getting their fair share of play as well.
Here are a few scenarios based on the latest buzz surrounding the Maple Leafs.  The question is:  which of these scenarios would you consider, and why?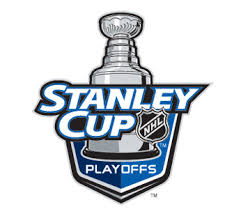 For a full team-by-team breakdown of all playoffs clubs, sure bets and sleeper picks for your playoff pools, visit the McKeen's Playoff Preview where the factors below have been outlined and pointed out in a team-by-team write up.
[more…]
There are a ton of rumors flying around on the Toronto Maple Leafs. Some a downright ridiculous and some may very well have merit. This is a close outlook on a few of those rumors and speculation. We're under 2 months away from Hockey Christmas, where all the wonderful surprises of wanted and undesired gifts are passed around. A shopping list is what we all hope the Leafs are after, but sometimes there's other plans that could be in place which may not seem so attractive at first. Consider that the following is merely speculation and rumors.
[more…]