Micheal A. Aldred
Darcy Tucker has officially called it a career. "After spending the whole summer anticipating I would play, it got to a point where I knew it was time."
"I just knew, during workouts I didn't have that same feeling," Tucker told TSN, "and I needed to be fair with my family."
[more…]
I was recently invited to a Canadian Tire press conference announcing their new five-year partnership with the NHL to become the League's Official Sporting Goods Retailer of the NHL in Canada. While I was unable to attend the event, which included a one-on-one interview with Olympic Gold Medalist and Stanley Cup winner Jonathan Toews, the promotion company generously offered a media release for the site.
Brian Burke stated this morning, "if these offers are all we get, he is staying put," in regards to the Tomas Kaberle trade watch. It has put many fans on their heels as they await a trade, but it should be known that this statement could be nothing more than a trade tactic.
The Tomas Kaberle trade watch is now in effect with only 36 hours to go until this situation concludes. The rumor mill is running rampant with some high profile names and some future fan favorites, but let's dive into who is being mentioned as possible blue and white sweater bearers.
Now that the NHL has won the arbitration award based on "salary cap circumvention" with the Kovalchuk situation, they are ready to tackle the rest of the league. A year (and perhaps in a few occasions more than a year) ago, specific contracts were approved by the league and now the league has decided to reevaluate those contracts to determine if they too circumvent the salary cap.
The NHLPA filed a grievance against the NHL for rejecting Ilya Kovalchuk and the New Jersey Devils' mammoth 17 year contract. After an arbitration hearing for both sides, today the ruling was in favor of the NHL, thus making Ilya Kovalchuk a free agent.
Excerpt from Michael Stephens Added
[more…]
According to CBC Sports, the San Jose Sharks are on the verge of signing free agent grinder Jamal Mayers. The Sharks announced on their website their plans for the veteran forward. "Jamal is a fast, physical, team-first player who brings the ingredients we were looking for to this role," said Sharks general manager Doug Wilson. "He is an extremely fit athlete who can kill penalties and we think he will mesh well with our group of forwards."
[more…]
The Chicago Blackhawks have decided to walk away from Antti Niemi's arbitration awarded $2.75M contract, and have instead signed veteran free agent Marty Turco to a one-year $1.3M contract. With the Blackhawks decision not to retain him, Niemi is now a free agent goaltender on the market and should attract some immediate attention.
[more…]
The Toronto Star continues to shine a light on the Kaberle front. According to Brian Burke, he has "four concrete offers" on the table and seems to be rather confident he can land a first round pick. That said, the Toronto Sun suggest that of the six teams interested in Kaberle's services, the Ducks have expressed the strongest interest.
The Chicago Blackhawks are just 60 minutes away from drinking out of Lord Stanley, and it will be present at tonight's game at the Wachovia Center in Philadelphia. Should the Blackhawks win, it will be their first championship in 49 years.
"It has been flashing in my head since Game 1 of the playoffs," said Blackhawks captain Jonathan Toews. "Every time you win one game, it feels like you're going all the way to the Cup. I've always said when you lose a game it feels like your season is going to be over. It just has been such a crazy ride."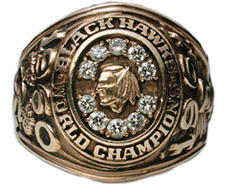 While many didn't predict the Blackhawks and Flyers to be in the Stanley Cup Finals, there are plenty of historical facts that may prove the hockey Gods have decided this would be the match-up for the Stanley Cup before the year even started.
It will be confirmed during a 3PM press conference, but the Tampa Bay Lightning will announce their newest general manager as Steve Yzerman today. Yzerman will replace Brian Lawton who was fired last month. Yzerman worked for four seasons as Vice President and Alternate Governor for the Detroit Red Wings after retiring as a player in 2006.