Mike Van Ryn
When Brian Burke added Mike Komisarek and Francois Beauchemin to an established Leafs cast of Luke Schenn, Tomas Kaberle, Ian White and Jeff Finger it looked to all that the Toronto GM had built himself an enviable problem. A premium blueline, arguably one of the finest in the Eastern Conference, that also came with a premium price tag.
Of course, what began an enviable problem on paper quickly devolved into an actual problem when the new additions failed to mesh into a cohesive unit with defensive and special team frailties more apparent than those of an comparatively budget offense.
It appears as though Leafs' fans will have to put the thought of pending-UFA defenseman Mike Van Ryn returning to the Maple Leafs on hold, as reports suggest he will remain on the sidelines for another season.
Last season Van Ryn underwent an osteotomy, a complicated surgery to re-align the knee, as an alternative to a total knee replacement. He spent the entire season rehabilitating the knee with the hopes of playing in 2010-11, but it appears as though the recovery process will take him well beyond that target date.
Date of Birth: April 19, 1991
Hometown: Toronto, ON
Height: 6'2" | Weight: 190lbs | Shoots: Right
Drafted: Toronto's 3rd Choice, 58th Overall, in 2009
Price Tag: AHL $67,500Â | NHL $640,000
Signed Through: 2013
Career Notes:
Won the Memorial Cup with the Windsor Spitfires in 2009
Lead all Owen Sound defensemen during 09/10 in goals (6), assists (24) and points (30)
Made his AHL debut on March 20th 2010 vs. Hamilton
Registered one assist and a plus-two rating in first AHL appearance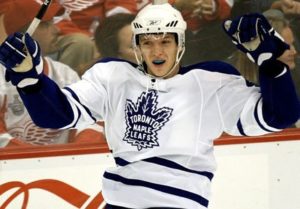 Now that the Leafs' most important pending free agent -- goaltender Jonas Gustavsson -- has been signed to a two-year contract extension, it is time to take a look at their remaining free agent players.
Notably, the list of expiring contracts includes pending RFAs Nikolai Kulemin, Christian Hanson and John Mitchell. Pending UFAs on the Leafs' roster include Wayne Primeau, Rickard Wallin, Jamie Lundmark, Garnet Exelby and Mike Van Ryn.
With the final bell about to ring season most fans would be happy to forget - although the impending draft all but dictates they most assuredly will not - the Maple Leafs will officially enter the offseason five campaigns removed from the playoffs at the conclusion of Saturday night's game in Montreal.
Unlike previous years, however, this season has revealed to fans -- amidst the rubble of far too many losses -- a silver lining of sorts: the promise of youth.
- As already discussed earlier this week on MLHS, Mike Van Ryn is hoping to make a comeback to the NHL next season. Tim Wharnsby [more…]
Tonight, the Toronto Maple Leafs are looking to even themselves up with a few clubs by securing two points in a win against the Philadelphia Flyers in their final home game of the season. Meanwhile, Philly is trying to keep their playoff hopes alive in a crucial night in which the Rangers, who trail the Flyers by two points, are also playing and looking to oust the Flyers from the post-season picture.
[more…]
Note: If you crave insightful, indepth Leafs' analysis, I highly encourage you to read RSW's excellent article on Victor Stalberg.
This past Saturday, Brian Burke was a guest on "Leafs Lunch" (am 640) and spoke at length about the status of injured defenseman Mike Van Ryn.
Van Ryn, as you know, underwent career-threatening surgery as a result of a structural anomaly in his left knee.  The surgery, an osteotomy (known throughout hockey circles as "Steve Yzerman surgery"), is a complex procedure in which the knee is realigned via the removal of part of the bone.  Van Ryn has since resumed skating, but whether or not he will be able to resume his NHL career remains, at this point, unknown.
Tonight, the Toronto Maple Leafs hope to rebound from their loss to the Panthers with a win tonight against another team they must steal points from - the Atlanta Thrashers. The Leafs continue their quest to remove themselves from the bottom five in the third of four meetings with Atlanta this season.
[more…]
Tonight, the Buds and Habs are set to battle it out and put their win streaks on the line. The Leafs are 5-1-0 in their last 6 outings, while the Canadiens are riding an impressive 6 game string of victories. With Toronto now over 0.500 at home (15-14-5), they are looking to play the role of heartbreakers this season, and what better way to continue doing so then by throwing a big fat L at Montreal tonight?
It is their second meeting this year, and the first played a big part on blinding fans for both teams in the belief that each were elite competitors. Since that opening night, the Habs have on 5-7-0, while the Leafs have gone 1-7-2. But there are always upsides, and tonight marks to start to capitalize on those specifics.
[more…]
The Leafs are set to visit the Anaheim Ducks as they continue to search for their first win of the season, and while one awkward stat is starting to creep up on them, it seems Gustavsson is ready, but possibly not completely game ready.
[more…]