model
Since joining the Toronto Maple Leafs, Brian Burke has worked feverishly to distance the club from the atmosphere of mediocrity which pervaded during the years of mismanagement that came before.
While upgrading the playing staff and reducing the age demographic of the locker room are the two most apparent hallmarks Burke has placed upon the Leafs, his backstage upgrading of the administrative, coaching, scouting and medical departments have the potential to leave considerably longer legacies.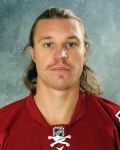 JUSTIN POGGE (# 29) – G
Player Facts
Birthdate: April 22, 1986
Stargazing: Taurus
Hometown: Fort McMurray, Alberta
-Draft pick be damned, being 7-1-1 in our last nine against the Senators is truly heart-warming. P.S., it's time to point the finger where it needs to be pointed, Bryan Murray... trade Jason Spezza and shake things up in the old country club. Also trade Nick Foligno. To us. For Hollweg.
With the announcement of Brian Burke as Leafs GM, the trades are inevitable.
Ed. Note: Richard-Steven Williams, a UK-based NHL and European hockey enthusiast, will be joining the MLHS blogging team.
It's fantastic to have Richard aboard, he's an immense talent.
Here's his piece on Ron Wilson from a week ago.
[more…]