Montreal Canadiens
The Leafs finish the season at 26-17-5 (57 points) and not on the note we were hoping for headed into the playoffs. Their round 1 opponent is now up in the air and will depend on the result of tomorrow's Ottawa-Boston game. [more…]
I hope to have an article up later in the week, but for now I thought I'd share some notes. [more…]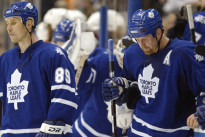 In case you missed it, here's mORRganRielly's excellent Game in 22.
What a heart-breaker that was. [more…]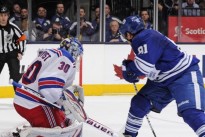 Post game Stats: Kessel now has his 14th of the season and with a hot streak incoming, should be able to hit 30 goals with 8 games left on the schedule. The Leafs' penalty kill continues its excellence with a man down as they killed off three of the Rangers' 20th ranked power-plays. And what a game it was after a first period that put my ADHD afflicted dog to sleep. [more…]
What an impressive showing by Joffrey Lupul last night. Re-united with 2011-12 running mates Tyler Bozak and Phil Kessel after an in-game audible by coach Carlyle, he led the Leafs to a not-always-convincing 3-2 win over the lowly Florida Panthers with goals five and six in his last four games. [more…]
The Montreal Canadiens officially announced that Rick Dudley will be joining the organization as Assistant General Manager. Maple Leafs General Manager, Brian Burke, negotiated that Dudley will join the Canadiens after the entry draft (June 22–23, 2012 at the Consol Energy Center in Pittsburgh, PA). Upon leaving, Dudley had yet more kind words for the direction in which the Maple Leafs are headed. [more…]
There was a lot at stake last night, with two game sevens on the docket, and several second round berths still up for grabs. With four teams already securing spots in the conference semi-finals, the anticipation leading into last night's game was even greater because of the uncertainty.
The Vancouver Canucks came to play in Game 7. Alex Burrows scored early inthe first period to give the Canucks an early one goal lead, which they held well into the third period. Two players on particular - Robero Luongo and Ryan Kesler competed hard and both had strong performances. Kesler was all over the ice and getting to the dirty areas to generate scoring chances. Although he wasn't as flashy as goaltending counterpart Corey Crawford, Luongo was poised between the pipes and avoided his trend of crumbling under pressure. Unlike the previous three games of the series (all Vancouver losses), the Canucks managed to bring a physical element to the game, out hitting the Blackhawks 37-14 midway through the third.
After last night's outcome, the second round of the Western Conference playoff picture has been determined. The Eastern Conference wraps up tonight, with Game 7 of the Boston/Montreal and Pittsburgh/Tampa Bay series.
What are your thoughts on the matchups on the West and who which teams will win tonight in the East?
It was far from a satisfying send off but last night's 4-1 loss to the Habs was in some ways a microcosm of 2010-11 season that was. With their powerplay quite literally working against them, the Leafs put themselves in a hole early, showed some fight back and ultimately fell short, while some promising youthful performances comprised a silver lining for a better tomorrow. That said, it seemed a good portion of the Leafs roster was still suffering from the hangover of a playoff run fallen short, the giveaways and breakaways against were plentiful and the effort generally uninspired.
It's important to keep one game in perspective but debutants Frattin and Colborne gave Leafs fans a pretty good feel for what the future may hold last night. Colborne's frame will need some further filling out but he looked like an unrefined model of that big-bodied skilled center fans have been yearning for since Mats Sundin's departure. Matt Frattin showed no hesitation in getting right in the mix with a high-tempo game and some good offensive instincts in finding the good scoring areas, registering five shots in 15 minutes of icetime. Frattin would have notched his first NHL goal if not for a couple good saves from Carey Price.
The Leafs second half surge was in large part  the result of unexpected play from several Toronto Marlie callups in James Reimer, Keith Aulie, Darryl Boyce and Joey Crabb. Looking to take his first step towards graduation, Joe Colborne has been recalled from the farm while he was in the midst of an impressive 18-game stint with the Marlies, scoring eight goals and adding seven assists. If Colborne manages to perform half as good as he did in his debut with the Marlies - a two-goal performance - the Leafs would be ecstatic. Expectations in check, it's a one-game wetting of the feet that we shouldn't read too far into either way.
Same goes for 23-year old college senior Matt Frattin, who signed a two-year entry level contract with the Leafs on Friday and will join Colborne in making his Leafs and NHL debut. The product of North Dakota won't play a top six role, but will form an intriguing third line alongside Tyler Bozak and Nazem Kadri.
It was a relatively uneventful off day for the Leafs, with the only noteworthy news being the report from AM640 that J.S. Giguere will undergo a sports hernia surgery this summer. The team is back on the ice today to prepare for tomorrow's game when they play host to the Montreal Canadiens. Just like the Leafs final game one year ago, they will be playing for pride and would like nothing more than to finish off their season series with Montreal by defeating their original six rivals in front of the hometown fans at the Air Canada Centre.
There are only ten returning Leaf players from the team that defeated Montreal 4-3 in overtime on April 10th of last year. Among those players includes a strong trio of defenseman in Dion Phaneuf, Luke Schenn and Mike Komisarek. Up front, Tyler Bozak, Tim Brent, Mikhail Grabovski, Phil Kessel, Nikolai Kulemin and Fredrik Sjostrom were all members of last year's team. One key player in last season's finale against the Canadiens was Christian Hanson, who scored two goals and added an assist in the win. Fellow Marlies teammate and recently acquired centre Joe Colborne is expected to be recalled by the Leafs prior to the game, so he can get a taste of NHL action before heading into the off season.
Colborne has had an impressive stint since joining the Marlies, exhibiting a real scoring touch with eight goals, seven assists and 15 points in 19 games. If Leafs brass decides to bring him up, he could be sampled in various spots in the lineup, perhaps spending some time centering Kessel or Marlie teammate Nazem Kadri. It should be a nice taste of NHL action at the very least and at most his first step in making the case for full-time NHL duty as early as this fall.
After what seemed like a lifetime of waiting for fans of the Toronto Maple Leafs, the new look squad hit the ice Thursday night for their home opener against the arch rival Montreal Canadiens, and with it marked the true dawning of a new age in Leafs Nation.
While it's true the hiring of Ron Wilson and Brian Burke will go down as the day the team began to turn the page on years of management misfortune, and the Dion Phaneuf day could very well end up being the trade that sparks the team forward much like the Doug Gilmour trade before it, Thursday night's season premiere was really the first time since all this has taken place that it was truly a different roster.
Gone were the incumbents of past regimes, It was finally Brian Burke's team. Â Having flipped the entire roster (sans Tomas Kaberle and Jeff Finger) Burke's vision of the team could finally be implemented, his stamp beginning to form.
And it was, for one game at least, as advertised. [more…]
The wait is over. After yet another long off-season following a fifth consecutive year of missing out on the NHL post-season, the Toronto Maple Leafs are set to kick off the 2010-11 season against their oldest rival, the Montreal Canadiens.
Both teams have undergone an off-season where - despite the lack of a full-scale overhaul - crucial moves were made to bring in key players or (in Montreal's case) provide a better opportunity for players already in the organization. Gone from the 2009-10 Toronto lineup are Viktor Stalberg, Rickard Wallin and Keith Primeau, replaced by Kris Versteeg, Colby Armstrong, and Brett Lebda. In Montreal, the most impactful move was the trade of playoff hero Jaroslav Halak to St Louis in exchange for Lars Eller, a move which paves the way for Carey Price to assert his standing among starting NHL netminders.