Montreal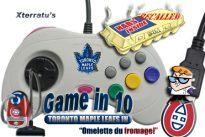 The Leafs and the Habs met for the fourth time this season. In what was potentially a preview of the first round playoff matchup, it was important to get a win, not only because of the 5-2 loss in the ACC last time around, but because a win for the Habs would most certainly give them a home ice advantage in the potential series encounter. Here is how it all, beautifully, unfolded. [more…]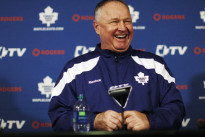 The Leafs are all but set to make the playoffs for the first time in nine years, yet there is an inordinate amount of vitriol being directed at Toronto's head coach Randy Carlyle, for some reason.
Considering pretty well everyone predicted the Leafs not to make the playoffs, it's pretty funny to see the coach leading a surprising playoff appearance - and a team that's currently fifth in the East and 7th in the League - get chastised. [more…]
Nothing beats a partial Habs GDT on a Toronto Maple Leafs fansite, right? To get more in line with the general sentiments of everyone here and making sure the glass is half full, or at least not half empty (one quarter empty) let's just call this a ¼ Boston GDT. Sure, we might dislike Seguin and an certain draft pick, but for a Leafs fan desperate for playoff hockey, there's always Kaberle to cheer for. The Hot Stove will also be looking at Vancouver's possible exit from the playoffs in what I like to call "Chaos in Paradise".
I guess you could call this game a step towards the future. No bigger stage than battling the arch rivals on Hockey Night in Canada on CBC. The game itself wasn't something we'll be very proud of but the play of our youngsters made me smile.
The wait is over. After yet another long off-season following a fifth consecutive year of missing out on the NHL post-season, the Toronto Maple Leafs are set to kick off the 2010-11 season against their oldest rival, the Montreal Canadiens.
Both teams have undergone an off-season where - despite the lack of a full-scale overhaul - crucial moves were made to bring in key players or (in Montreal's case) provide a better opportunity for players already in the organization. Gone from the 2009-10 Toronto lineup are Viktor Stalberg, Rickard Wallin and Keith Primeau, replaced by Kris Versteeg, Colby Armstrong, and Brett Lebda. In Montreal, the most impactful move was the trade of playoff hero Jaroslav Halak to St Louis in exchange for Lars Eller, a move which paves the way for Carey Price to assert his standing among starting NHL netminders.
It begins tonight - the 2010-2011 Toronto [more…]
Darcy Tucker has officially called it a career. "After spending the whole summer anticipating I would play, it got to a point where I knew it was time."
"I just knew, during workouts I didn't have that same feeling," Tucker told TSN, "and I needed to be fair with my family."
[more…]
In the final part of his 12 Burning Questions series, Derek Harmsworth takes a look at the Maple Leafs chances of getting back to postseason hockey this year.
May 4th, 2004.
Both teams, tired and weary from what had already been a long, arduous road, a journey that had left both teams battered and bruised. Â The teams went back and forth, showing tremendous heart and determination, showing what it takes to win hockey games at this time of year.
Up the ice they went, rewarded with a good scoring chance, but stopped by a goaltender who was up to the task. Â Then down the ice the other way, another good chance, this time for the other team. Â The goalie in this net, equally up to the task of making the save and preserving life, for at least another moment.
Quickly, and in a whirlwind of emotion, it was over. [more…]
In part ten of his 12 burning questions series, Derek Harmsworth takes a look at the importance of a good early start, and if the Leafs can avoid another disastrous start.
There really isn't any other way to put it. Â No matter how you slice it, no matter how you try to spin it, or how you try to put a sugar coating on it, the cold hard fact still shines through.
The Toronto Maple Leafs were not a very good team last year.
Although their stats, and their general play, improved dramatically following the late January trades that saw them overturn nearly half their lineup, the fact remains that the 2009-2010 edition of the Maple Leafs fought inconsistency, as well as young inexperience that had them struggling most of the year.
But it could be argued that never were they worse, than in the first month of the season. [more…]
Toronto Maple Leafs General Manager, Brian Burke should have uttered one phrase to explain the situation, one simple little phrase to envelope the reasoning for the Phil Kessel trade;
"Our picks in our vision of where we ended up are overvalued in accordance to the available crop of prospects."
But in Toronto, to admit that in what's deemed as a 'rebuild' would have been a PR disaster.
Despite popular opinion, he wasn't wrong.
The world is no longer flat, it's round .. like a full-cirle
Since joining the Toronto Maple Leafs, Brian Burke has worked feverishly to distance the club from the atmosphere of mediocrity which pervaded during the years of mismanagement that came before.
While upgrading the playing staff and reducing the age demographic of the locker room are the two most apparent hallmarks Burke has placed upon the Leafs, his backstage upgrading of the administrative, coaching, scouting and medical departments have the potential to leave considerably longer legacies.