Montreal
It was no less than two months ago that I was pondering this same question, that of captaincy, and examining the same factors. Thinking of all the tangibles – speed, talent and scoring – along with attributes that are harder to judge – the ability to command the respect of the team, lead with strength of character and handle the Toronto media through success and failure. The lone difference is that last time, it was the Leafs.
Why the Maple Leafs should make the playoffs in 2010-11‏
By: Joe Cino
Everything that could have gone wrong for the Maple Leafs in 2009-10 did. A combination of cold streaks, underperforming veterans, bad goaltending and a slew of injuries capped off a basement finish. The roster has been fine tuned, with additions like Giguere, Phaneuf and Versteeg chief among them, but by and large most of the roster is the same as last year's iteration. With so many holdovers from the previous year, are the playoffs a realistic goal for the Maple Leafs? I believe that they are, with Corsi ratings, Goals versus Threshold and the realistic impact of the new Leafs taken into account. [more…]
Okay, so my math may be a little off. Â It's Canada Day weekend, there shouldn't be any arithmetic. Â Unless, of course, you are an NHL general manager, than you better hope you have your math hat on. Â A quick note to say I hope our fellow Canadian readers, as well as our loyal readers situated the south had an enjoyable holiday weekend.
Now, let's divulge into what has so far been a somewhat reserved free agency period, One timer style.
--The big news coming out of free agency this hour is this report out of the L.A. Times that indicate the Los Angeles Kings are quite far apart on signing Ilya Kovalchuk. While they may not be out of the running entirely, Helene Elliott suggests the prospects are quite dim. Â So where does Kovalchuk go? Â The Islanders reportedly seem to be the only team willing to offer him the term he is looking for (rumoured to be 10 million for at least 10 years) but are there other suitors? Â What about New Jersey? Â Toronto? Â One would think that although Burke would love to pull off the major move of free agency, the reasons Kings GM Dean Lombardi is balking about bringing in Kovy (term) is likely the same reasons Burkie has reservations. [more…]
The two greatest military tacticians of the past 5000 years – Sun Tzu and Sgt. Slaughter – both spoke on the value of knowing the strengths and weaknesses of your enemies in the field.  To effectively assess the situational realities of the Toronto Maple Leafs it pays to look at the status of their direct competition within the Northeast division.  Playing 24 games against teams from their own division, pride, points and position are all on the line.  While by no means comprehensive (as yet), take a gander at the past 3 weeks of moves.
The Canadians, Senators, Bruins and Sabres all earned playoff positions last season.  A successful, playoff calibre Leafs squad must commit themselves to dominating these frequent opponents as more than a quarter of the season will be played against them. [more…]
Flyers officially kick off July 1st festivities by acquiring Andrej Mezaros from the Lightning in exchange for a 2nd round pick. Rumors of Boston centre Marc Savard potentially heading out west to Calgary as well.
As for the Maple Leafs, they will have $10.5 million in cap space to play with today, though that figure does not include the possible removal of Kaberle's $4.25 million via trade or Finger's $3.5 million as a potential waiver candidate.
The Leafs have been linked to defenseman Dan Hamhuis, forwards Raffi Torres and Colby Armstrong, and will also kick the tires on sniper Ilya Kovalchuk. Darren Dreger believes the club will look at adding a 3rd line forward along with a defenseman to "stockpile for later deals". Stay tuned to this blog for updates on signings throughout the day. [more…]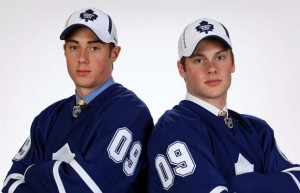 Brian Burke must have felt a lot like the eponymous Old Mother Hubbard when he first reached into the Leafs prospects cupboard. Of course, unlike the elderly dog-mistreating crone of the rhyme, Burke already knew what lay in stock prior to his arrival in Leafs country. In short: a few notable exceptions to a decade of draft property mismanagement.
Subsequently, the draft of 2009 looked to be a vital cornerstone in Brian Burke's rebuild. The first chance for the Leafs to restock in a new, finally directed era.
The Leafs will start and end with Montreal as to be expected. The schedule includes nine back-to-backs, an increase over the seven they played last season. The Leafs will head northwest March 22-24 to play Minnesota and Colorado after hosting them last season. The most taxing travel appears to be a four game stretch from January 7 - 13 when the Buds will make stops in Atlanta, Los Angeles, San Jose and Phoenix. The Leafs will also conduct a potentially critical division tour from February 12 - 19 when they face off consecutively with each Northeast rival. From December 14-18, the Blue and White will go on a Western Canada road trip where they can visit Taylor Hall, Matt Stajan and Kyle Wellwood. The full sched after the jump:
[more…]
We've partnered up with Pension Plan Puppets to bring to you a Player Review series, where we will be evaluating and grading the 2009-10 season for every Leaf who featured in a significant number of games for the Blue and White last season, with an eye towards 2010-11. Today we feature Dion Phaneuf, profiled by Nikhil Daljeet:
The Summary:
The arrival of Dion Phaneuf in Toronto this year will undoubtedly be remembered as a significant moment in the annals of Maple Leafs history, for better or for worse.  The trade that Brian Burke engineered for the newest Leafs captain has been generally heralded as a wise maneuver for his Toronto club.  However, this transaction occurred after a full 2008-2009 season that saw a noticeable decrease in offensive output from Phaneuf (Flames management insisted it was due to injury).  Moreover, the 2009-2010 season gave way to a floundering Calgary team that was in severe need of a major shakeup and Flames GM Sutter did exactly that on January 31st.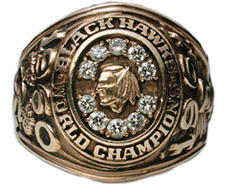 While many didn't predict the Blackhawks and Flyers to be in the Stanley Cup Finals, there are plenty of historical facts that may prove the hockey Gods have decided this would be the match-up for the Stanley Cup before the year even started.
Things may be relatively quiet in Leafs Nation these days, but that doesn't mean there has been a lack of excitement elsewhere in the NHL.
As such, here are a few quick takes on some of the headlines dominating the NHL landscape these days (including the Phoenix Coyotes situation, the Patrice Cormier charges, and Willie Mitchell's controversial comments),  as well as a quick glance at the nearly-completed 2nd round of the NHL playoffs.
Ron Wilson, an alumnus from Providence College, was playing for Davos in the Swiss National League A in 1985 when pivotal Minnesota North Stars defenseman Craig Hartsburg was injured. Embroiled in a battle for a playoff spot, Minnesota were in tough to find a stabilizing replacement to hold down the North Stars backend whilst Hartsburg recovered. Ron Wilson, a standout collegiate defender who never rose above major league stopgap, became the go-to-guy having already played 13 games for the North Stars the season previous. A span that bullet pointed five seasons in Switzerland.
A grizzled journeyman by age 30; Wilson would provide stellar coverage in Hartsburg's absence securing an presence on the North Stars blueline in the 1986-'87 season before completing his NHL playing career with Minnesota a year later.
While Hockey's Future has yet to release their top 10 organizational prospect rankings, the highly-respected source for prospect information has released their 11-20 and 21-30 lists. To the pleasant surprise of many, the Leafs aren't on either of them.
Adding to the joy, division rivals Buffalo, Montreal and Ottawa have all already appeared in the 13th, 16th and 21st positions respectively.
[more…]