Morgan Rielly
After looking at potential trade targets in last week's preamble, it only makes sense to look at the Leafs potential trading chips for the deadline that's two days away.
Around the trade deadline, eyes always gravitate towards pending UFAs and the Leafs currently have five. It's safe to say UFA to be - Colton Orr, Mike Kostka and Ryan Hamilton - aren't going to bring Toronto anything via trade so we can cut them off the list of names to discuss. The other two UFAs to be are Tyler Bozak and Clarke MacArthur. [more…]
Earlier this week, the Leafs director of amateur scouting, Dave Morrison, took some time out of his schedule to talk to me.
We ended up speaking for nearly an hour and we went over so much that I decided to break it down by section and quote him where appropriate. So with that, please do not misconstrue anything said below and contact me for clarification if you are unsure about anything.
With all that out of the way, here are the highlights from our chat: [more…]
From Matt Iaboni at MapleLeafs.com:
"Maple Leafs 2012 first round pick Morgan Rielly was named the WHL Eastern Conference Defenceman Of The Year and he was [more…]
Last night's 5-4 nail-biting win over the Sens further fanned the fires of the current "debate" on the role of fighting in the Leafs' mid-season [more…]
Welcome to the Playoffs, Awards, and Injury Ward edition of the Leafs Prospect Update!
Starting with the bad news, Erie Captain and surprise statistical standout Connor Brown suffered a head injury (read: concussion) against London on the 18th and missed this weekend's games.  Erie is well out of the playoff mix and I wouldn't be surprised to see Brown sit out the rest of the year to recover -- it's probably what's best for him in the long run. [more…]
After being away from his teammates for both the World Junior Championships and the Leafs' pre-season camp, Morgan Rielly returned to Moose Jaw and the Warriors returned to the win column for the first time since his departure. [more…]
It appears, to some degree, the waiver issues prevented the Leafs from giving Morgan Rielly a five-game look, but circumstances as they are, it makes a lot more sense to send down Rielly now than risk losing Mike Kostka or Mark Fraser to waivers before they're given a look in some NHL games. It was highly unlikely the Leafs would've let him stay for longer, burning a year of his ELC, so why risk assets for a teaser? [more…]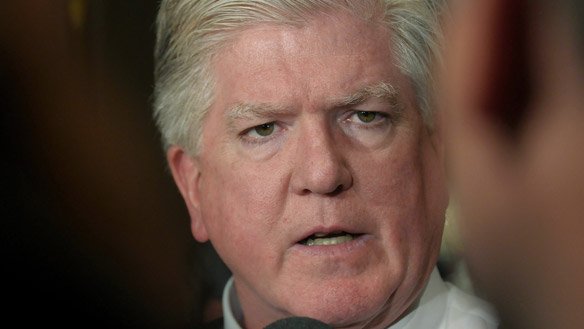 It's been too long since the last Brian Burke interview. [more…]
After a taking a 2-0 lead in the first period, Malcolm Subban (36 saves) was the story the rest of the way for Team Canada as they edged Team USA 2-1 and moved to 3-0 on the tournament. [more…]
At this point in time, it is probably fair to call Morgan Rielly the most hyped Leafs prospect since Wendel Clark. I don't know whether or not that's fair, but with great hype comes great expectations.
To this point, Rielly hasn't done anything to really quash the excitement that is building for him. He's scored electric goals, he's played well for Canada in the past, and now he's on the World Juniors team.
In essence, Rielly is following the path of many elite defensemen before him. With that in mind, I collected some stats on how players he's been compared to have performed in this tournament. Hopefully, it will serve as some sort of barometer on what to expect from the young Leafs prospect. [more…]
Brought to you by Blue Chip Prospects
Really exciting night for Leafs fans on a day that was otherwise full of depressing lockout news. [more…]
Brought to you by Blue Chip Prospects
Strong statistical night for Leafs prospects on Wednesday as both Biggs and Percy put up a pair of points while Rielly and Brown each managed a goal of their own. [more…]