National Hockey League
I really wanted to write a wrap up notebook, but I wasn't going to subject myself to watching that game again, nor do I particularly want to write about it. I mean, the only time I watched that Bergeron game winner was live and that's how it is going to remain, so I wouldn't be much of a source for insight or analysis.
It really was a great year for the Leafs, though. At the beginning of the season I didn't think they would make the playoffs, and at the beginning of the first round I wasn't sure they would make it much of a series. They proved me wrong both times. They proved a lot of people wrong.
In order for the Leafs to get better, though, they'll need to have a strong offseason and smooth out some of their rough edges. [more…]
With their backs against the wall, the Maple Leafs will look to force a seventh game by winning at home for the first time this postseason.
Toronto will undoubtedly play with the desperation they showed for most of Friday night. The difference tonight will be that the Bruins are also starting to feel the pressure.  Boston will be throwing everything and the kitchen sink at the Leafs and James Reimer in an effort to close out this series.  With the continuing struggles of Seguin and Marchand, the offensive load will likely be carried by the Krejci line.
At the other end of the ice, two feisty Leafs centers in Mikhail Grabovski and Nazem Kadri earnestly want to make a contribution of their own to their team's success.  With the way Grabovski has elevated his game in these playoffs, it should only be a matter of time before the Belorussian finds his name on the scoresheet. [more…]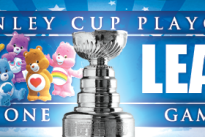 Toronto looks for their 1st win on home ice in this series (and in 9 years) and you can expect that they will be a little less tight in the 1st period than they were in their 1st playoff game at the ACC on Monday night. Toronto has been getting progressively better during the series and looks to be the match of Boston if they play their system and don't gift them goals like did the entire game on Monday. [more…]
The unexpected catharsis of Saturday's night win in Boston has provided Leafs Nation with a much needed release of some tension and anger after game one's eye-opening reality check.
The Leafs are now heading into Toronto tied with Boston after stealing home-ice advantage.  For the first time since 2004, our Toronto Maple Leafs will host a playoff game in the Air Canada Centre! [more…]
I hope to have an article up later in the week, but for now I thought I'd share some notes. [more…]
A Leafs win and a Jets loss would mean the Leafs are officially post-season bound. Oh my god, it's been so long I don't remember how to feel. What boggles my mind is how many Leafs fans weren't even 10 years old when it happened. God, that makes a man in his 30s feel old. Let's see what happens… [more…]
A Toronto Maple Leaf hasn't won a major NHL award in an embarrassing amount of years. This year, however, it looks as if there could be a case made for 3 award nominations —major or otherwise, for the Leafs.
The last "major" award was Doug Gilmour winning the Selke Trophy in the 1992-1993 season, 20 years ago. [more…]
The league's fourth ranked team, the Toronto Maple Leafs (we beat Boston in something!), host the New Jersey tonight seeking to snuff out their dwindling playoff hopes by completing the season series sweep over the Devils.
Settling for a comfortable playoff position cannot be the approach if you're Carlyle's Leafs. The goal has to be to try to chase down home ice advantage for round one, or at the very least to finish strong headed into the playoffs. There is a definite advantage for teams who are playing at a playoff level with playoff intensity already by the time game 1 of the Quarterfinals rolls around. Winning games like this one against desperate teams will help keep the Leafs confident and battle ready for the big dance. [more…]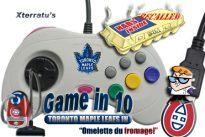 The Leafs and the Habs met for the fourth time this season. In what was potentially a preview of the first round playoff matchup, it was important to get a win, not only because of the 5-2 loss in the ACC last time around, but because a win for the Habs would most certainly give them a home ice advantage in the potential series encounter. Here is how it all, beautifully, unfolded. [more…]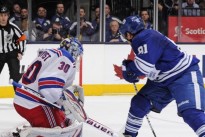 Post game Stats: Kessel now has his 14th of the season and with a hot streak incoming, should be able to hit 30 goals with 8 games left on the schedule. The Leafs' penalty kill continues its excellence with a man down as they killed off three of the Rangers' 20th ranked power-plays. And what a game it was after a first period that put my ADHD afflicted dog to sleep. [more…]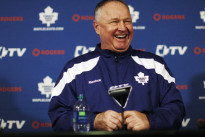 The Leafs are all but set to make the playoffs for the first time in nine years, yet there is an inordinate amount of vitriol being directed at Toronto's head coach Randy Carlyle, for some reason.
Considering pretty well everyone predicted the Leafs not to make the playoffs, it's pretty funny to see the coach leading a surprising playoff appearance - and a team that's currently fifth in the East and 7th in the League - get chastised. [more…]
Toronto Maple Leafs last 10: 6-1-3, New York Rangers last 10: 5-3-2
As the season winds down, The Maple Leafs find themselves in a position to either pull clear of the teams beneath them, or stumble and fall back into the clutches of 8th/9th place. [more…]