National Hockey League
The wait is over. After yet another long off-season following a fifth consecutive year of missing out on the NHL post-season, the Toronto Maple Leafs are set to kick off the 2010-11 season against their oldest rival, the Montreal Canadiens.
Both teams have undergone an off-season where - despite the lack of a full-scale overhaul - crucial moves were made to bring in key players or (in Montreal's case) provide a better opportunity for players already in the organization. Gone from the 2009-10 Toronto lineup are Viktor Stalberg, Rickard Wallin and Keith Primeau, replaced by Kris Versteeg, Colby Armstrong, and Brett Lebda. In Montreal, the most impactful move was the trade of playoff hero Jaroslav Halak to St Louis in exchange for Lars Eller, a move which paves the way for Carey Price to assert his standing among starting NHL netminders.
It begins tonight - the 2010-2011 Toronto [more…]
Not a bad start for the Maple Leafs' 2010 draft class... It was announced on Monday that forward prospects Greg McKegg, the Leafs' 3rd round pick 62nd overall, and Brad Ross, the Leafs' 2nd round pick 43rd overall, were named OHL and WHL Players of the Week respectively for the week of September 27th to October 3rd. Not to be forgotten is forward Josh Nicholls, the team's 7th round pick 182nd overall who is off to a career best start for the Saskatoon Blades. [more…]
If the Toronto Maple Leafs wish to avoid another eight-game losing streak to open its regular season, it's vital the players don't let last season's collapse linger in the back of their minds---that's especially important for Mike Komisarek considering the Leafs open the season against the Montreal Canadiens.
It'll probably be labeled as a "typical Leafs fan" debate given their status as lower roster players but there has been a number of questions arising out of yesterday's demotion of Christian Hanson and Luca Caputi in favour of John Mitchell and Tim Brent... and rightfully so, in my opinion, given the "earn your spot mentality" conveyed by Leafs brass and that both followed the off-season regimens recommended to them and came into camp by storm looking bigger, faster, stronger and more dynamic offensively.
While it's too early to judge, I am not saying the decisions to originally sign either player in John Mitchell or Brett Lebda were wise; in the cap sense and numerically, both signings have me wondering, particularly in Lebda's case. It's hard to see where Burke arrived at the need for someone of Lebda's ilk and price tag unless better offers were assumed to be incoming for Tomas Kaberle. But the decision made by coach Wilson yesterday, forgetting arguments about the off-season decisions and shifting to training camp and preseason, can be understood: [more…]
It is by no means the end of his career, strictly the next step.
On Monday, Nazem Kadri, 7th overall selection in the 2009 draft, was assigned to the Toronto Marlies. The player in whom a whole city had welcomed, became enamoured with and inked into their own starting lineup will not appear at ACC at all… at least not yet. It will prove to be a powerful lesson for the 19 year old, if not the whole city of Toronto; the Toronto Maple Leafs are about winning hockey games, not necessarily selling tickets.
As we await the season opener for the big club, let's see how some of the kids are doing:
Greg McKegg is off to an [more…]
Here are tonight's lines courtesy of Pension Plan Puppets:
Versteeg - Bozak - Kessel
MacArthur - Grabovski - Kulemin
Sjostrom - Brent - Armstrong
Orr - Zigomanis - Brown
Beauchemin - Phaneuf
Kaberle - Komisarek
Gunnarsson - Schenn
Giguere
Gustavsson [more…]
The Toronto Maple Leafs had a game to forget tonight.
This is not exactly the most enjoyable game to share my postgame thoughts, but here we go: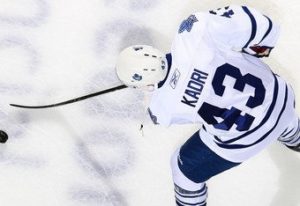 Jeff Finger returns to the line-up tonight in Detroit in what many will suggest is his Maple Leafs swan song/final pit stop en route to the Marlies. Burke is saying the right things about Finger's right to a "fair look" and the importance of respecting players acquired via free agency as it relates to organizational reputation. But the realities are this: the Leafs are sitting with both Brett Lebda and Finger on the outside of their top six, over the cap by around $300k and uncomfortably close even with Lashoff and his $550k assigned to the Marlies. And that's assuming Nazem Kadri and his $1.7 million cap hit will not be a part of the roster come opening night. If it's important to show respect to signed free agents, surely Lebda won't be Marlie-bound after his first training camp as a Leaf. Simply, something has to give, and the $3.5 million Finger, a Leaf of two seasons now, seems the obvious candidate for demotion. [more…]
Darcy Tucker has officially called it a career. "After spending the whole summer anticipating I would play, it got to a point where I knew it was time."
"I just knew, during workouts I didn't have that same feeling," Tucker told TSN, "and I needed to be fair with my family."
[more…]
Perhaps the best part about Nazem Kadri's two-goal, three-point performance last night against the Ottawa Senators is that he can start the season with the Toronto Marlies with his head held high. Certainly, Leafs fans, management and Kadri alike will hope he can relay last night's performance on the wing into another strong showing against Detroit on Friday and make a case for a place in the big Leafs' top six for the October 7th date with the Habs. But should Kadri's play return to the form he exhibited in previous preseason showings - by no means terrible, but not as impressive as it will take - he can take solace and confidence in last night's achievements and start off on the right foot at the Ricoh. [more…]