National Post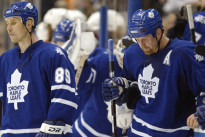 In case you missed it, here's mORRganRielly's excellent Game in 22.
What a heart-breaker that was. [more…]
With just over three weeks to go until the trade deadline, I feel as if I can get away with a rosterbation post without too much scrutiny. I'll do my best to not go full HFBoards with my ideas, but certainly have a few players in mind that I'd like for the Leafs to target, and a few that I'd like Nonis to jettison. While I'm sure this won't be the most intelligent post you'll read this morning, hopefully it will at least spark some Monday morning conversation. [more…]
Toronto Maple Leafs General Manager, Brian Burke should have uttered one phrase to explain the situation, one simple little phrase to envelope the reasoning for the Phil Kessel trade;
"Our picks in our vision of where we ended up are overvalued in accordance to the available crop of prospects."
But in Toronto, to admit that in what's deemed as a 'rebuild' would have been a PR disaster.
Despite popular opinion, he wasn't wrong.
The world is no longer flat, it's round .. like a full-cirle
Sean Mcindoe, better known as the unmistakeably hilarious voice of Down Goes Brown, has joined forces with the evil Empire that is the Toronto mainstream [more…]
Some reading material for your weekend enjoyment:
- The boys over at PPP provide us with a nice piece about European free agent goaltender Jussi Rynnas. The 6'5 22 year old is coming off an impressive season in the Finnish Elite League, posting a 2.50 GAA to go along with a league-best 0.929 SV%. For comparison's sake: Mikka Kiprusoff posted a 1.86 GAA and 0.936 SV% during his age 22-23 season in the SM-Liiga. Jussi is in the midst of a five city North American tour, with Toronto not being one of the destinations. However, Burke and Nonis have both made the trip out to Helsinki and later brought Francois Allaire along to speak with Rynnas during his stopover in Montreal. Rynnas is not as highly regarded as Gustavsson was last offseason, and will likely be playing for an AHL team next season. The scouting report on him is that he's a big guy who can struggle at times with rebound control and positioning, much like our own Gustavsson, and his style of play has been compared to that of Nashville's Pekka Rinne.
[more…]
There's already some discussion going on in the threads, but let's get all of that latest news out on the table:
- TSN's Darren Dreger recently tossed out his list of top 10 candidates to be moved at this year's trade deadline, with Matt Stajan and Alexei Ponikarovsky figuring in at the 4th and 5th spots respectively. He suggests that Stajan would perhaps yield "a decent prospect or drafts picks in return" and that Ponikarovsky would likely fetch a similar price. It's always hard to gauge the trade deadline market as values fluctuate on a yearly basis, but I've got Ponikarovsky pegged as an Antropov comparable (2nd round pick) as a big body and 60 point player while Stajan may compare favorably to Moore (2nd round pick starting price) as a depth centreman who can put up some points in the right situation. [more…]
Today's midweek rumblings include the implications of the Joey Macdonald signing, Zherdev bolts for the KHL, a preview of the Coyotes afternoon hearing, a possible Senators throwback jersey, a whole lot of nothing on Phil Kessel and the National Post's take on winners/losers of free agency. [more…]
Hitting the links bright and early on a Thursday morning: Jim Balsillie and the city of Hamilton get new life, Kadri's WJC tryout experience, an update on the Justin Pogge situation, Leafs sign a young defenseman, a mid-summer recap of the offseason festivities, and the Marlies coaching staff announced. [more…]
A quick look at the Todd Bertuzzi to Toronto scenario, the NHL's investigation into Chicago's Marian Hossa contract (boy have they had a tough offseason), more on the Phil Kessel contract status, and a bit about Wayne Primeau's thoughts going into next season. [more…]
An article in the London Free Press explains that the reasons for the earlier 7pm ET start times for home games this season: to cater to a younger audience and to allow for more efficient getaways in the case of a road game the following night. A slew of other small headlines including contract details for Komisarek, the Grabovski-Kostitsyn feud, and Justin Pogge. [more…]
A month into the offseason, one thing can be said for sure about the steps the Toronto Maple Leafs have taken toward rebuilding the team:Â  credit Brian Burke with having a plan, and sticking to it.
The beginnings of that plan are clearly reflected in the sweeping changes to the goaltending and defence corps this summer, as well as a noticeable infusion of truculence.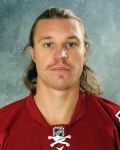 JUSTIN POGGE (# 29) – G
Player Facts
Birthdate: April 22, 1986
Stargazing: Taurus
Hometown: Fort McMurray, Alberta