new jersey
By: Gus Katsaros
Prior to the season starting, I had written about the impact of schedules. In particular, as the Leafs face the Habs tonight after playing the previous night, while Montreal is rested. Interesting enough, the last time this happened, Toronto beat Detroit 5-1.
Schedules make a big difference in the results of NHL teams fates during the season. In some instances, it could be the difference between a playoff spot and a tee time (and I thoroughly enjoy both – FORRRREEEE!!).
Make sure to catch Daniel's Rangers/Leafs preview.
I'll be attending my second Marlies game of the season today at Ricoh Coliseum at 3:00 PM. They try to avenge a loss last night to divisional rivals, Rochester Americans in the second half of a home-and-home.
Watching games, got me to thinking about perspective.
EDIT: Brad has a great take on this situation as well!
[more…]
0-2-1 after 3 games, and the sky is falling.   Or so chicken little would have you believe, anyway.
3 games in and panic?   Seriously?   You'd think the Leafs just traded away a handful of high picks for a relatively-unknown goaltender with an injury history.   Wait, scratch that -- they did that a couple years ago and as I recall the move was far more heralded than denounced, at the time.
Which is exactly my point:Â  you can't know, early on, exactly how things will turn out.
Time to shake off the lingering effects of a rough Saturday night, by taking a peek at some of the stories headlining today's Leaf news. A peek at Wilson's coaching cheatsheet, a case for the Monster to start on Tuesday night, random notes from the games, and some quick prospect updates for Kadri, Blacker and Stefanovich. [more…]
A couple of deals went down today, involving some players you might be familiar with:
Last season in a draft, I chose Evgeni Nabokov for an H2H league organized by James Mirtle. It seemed early, but I had reasons. To win in fantasy GMs must find an edge using unconventional analysis and strategy.
That's what I try to do.
Facts don't lie and I liked Nabokov (and Backstrom from Minnesota) better than any goalie last season. It's also why Tim Thomas ranked higher. This season both Nabby and Thomas weren't ranked as high. Maybe the Bruins and Sharks struggle this season.
Why? Find out here.
The Maple Leafs finished as the league's worst defensive team last season, giving up an astounding 286 goals, which works out to about 3.5 goals against a game. As such, much of the team's summer remodeling took place on the blueline, which saw the departure of Kubina and the additions of shutdown defensemen  Beauchemin and Komisarek. With nearly $20M dollars committed per season through 2011 to the group of Kaberle, Komisarek, Beauchemin, Schenn and Finger, and Tomas being the only player above the age of 30, it appears on paper at least, that this will be the core of the defense for the foreseeable future. If that's the case, how do they stack up against the rest of the league? [more…]
Although the season prior to lockout would prove the Maple Leafs last playoff foray in half a decade, neither year that straddled the infamous labor disputes would be remembered with any particular fondness. Ushering in the reign of John Ferguson Jr., 2003-04 became, in hindsight, a defining landmark in an era of decline when overblown hype would manifest a country club malaise. Regardless, those lockout sandwiching years can also be remembered, at least in a very in a small way, for the gracing of the Toronto blue line by a cult stay at home defenseman who defied the "new" NHL dictum and refused to be culled from the game.
In the MLSE land of unreasonable expectations, even a superstar troupe like Burke and Wilson will not be afforded another record breaking season; at least not if said record is a fifth consecutive season of playoff free hockey. Subsequently Burke is going to be looking for a catalyst to the rebuilding project come summer and the most obvious route will arrive in early July, not a week earlier in Montreal.
Part 3: 20 Years of Maple Misery
From Gord Stellick to Cliff Fletcher Version 2.0
It's been over 40 years since the Leafs won the cup and while others make fun of the fans for continuing to cheer, here is an overview of why you shouldn't make fun, but feel bad for them…
[more…]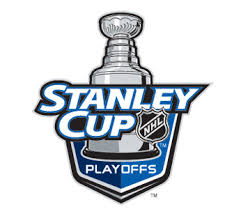 For a full team-by-team breakdown of all playoffs clubs, sure bets and sleeper picks for your playoff pools, visit the McKeen's Playoff Preview where the factors below have been outlined and pointed out in a team-by-team write up.
[more…]
So you're Brian Burke and it's July 1st.
Who do you go after? And what is the contract you offer?