NHL trade deadline
Trade Deadline 2013 is in the books. The Kiprusoff scare is over.  Leafs are still 5th in the East.
"Sometimes the best moves are the ones you don't make."-Anthony Petrielli -(@APetrielli)
For those of you who missed it and were doing something productive, yesterday's experience reminded me of a famous quote once uttered by an esteemed San Diegan news anchor. In what started off as an eerily quiet and inauspicious morning, things quickly turned into a maelstrom towards the end of the deadline at 3pm. I usually go solo on this piece but given the magnitude of the Trade Deadline, I opted to enlist the help of some of MLHS' great writers for thoughts on what transpired yesterday.  We've got you covered. [more…]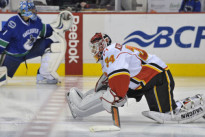 News broke yesterday via Aaron Ward that Miikka Kiprusoff has been approached by the Toronto Maple Leafs about playing for their team. It should be noted, before we start, that Kiprusoff has reportedly given no indication he has changed his stance on not reporting if moved by Calgary. With Iginla, Bouwmeester and Regehr shipped out for futures, the Flames have merely given the Leafs permission to talk to the Finnish goaltender about his options. [more…]
After looking at potential trade targets in last week's preamble, it only makes sense to look at the Leafs potential trading chips for the deadline that's two days away.
Around the trade deadline, eyes always gravitate towards pending UFAs and the Leafs currently have five. It's safe to say UFA to be - Colton Orr, Mike Kostka and Ryan Hamilton - aren't going to bring Toronto anything via trade so we can cut them off the list of names to discuss. The other two UFAs to be are Tyler Bozak and Clarke MacArthur. [more…]
News broke last evening that Corey Perry had signed an 8 year deal totalling 69 million dollars to stay with the Anaheim Ducks and his newly signed centerman (also of 8 years), Ryan Getzlaf. [more…]
Looks like the Halak trade may have opened up the floodgates.  At least, it has for the Nashville Predators, who announced two separate trades today.
The Torontosaurus Rex for Week 21 is ....
[more…]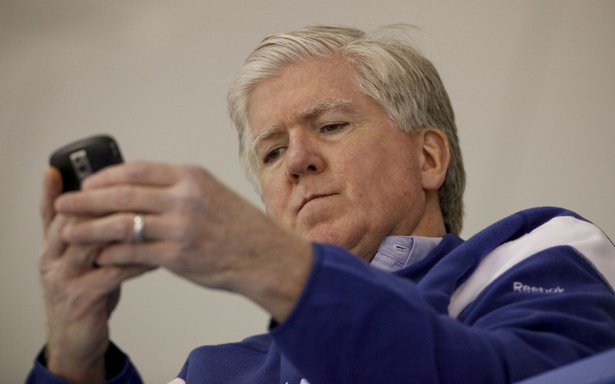 From USA Today - 3/1/2007:
Anaheim Ducks general manager Brian Burke has always been among the NHL's most colorful wheeler dealers. In 2005-06, he overhauled his [more…]
This involves the Leafs, as well as around the league.
TFP: The Los Angeles Kings, Pittsburgh Penguins and Nashville Predators are among the teams to have serious interest in Alexei Ponikarovsky. Various reports suggest the Leafs are looking for a first-round pick in exchange for Ponikarovsky, though it's believed Burke is willing to accept a second-round pick and a top prospect."
5:00 PM Update - Mueller, Roloson, Hamhuis, Voros/Lisin.
[more…]
With the National Hockey League's trade deadline looming, names like Alexei Ponikarovsky and Lee Stempniak are becoming increasingly popular in the Toronto Maple Leafs brass.
Fans of the Blue & White have been playing armchair general manager and have formulated a number of trades since the Olympic break. But amidst the excitement of the yearly spectacle, I'm beginning to wonder if it's in the Leafs' best interest to trade both Ponikarovsky and Stempniak.
After all, were they not serviceable players for the Leafs?
On the heels of Saturday night's rumour from the Hockey Night in Canada Hot Stove panel that the dealing of pending free agents Matt Stajan and Alexei Ponikarovsky is a virtual certainty, TSN's Darren Dreger has listed the pair as the fourth and fifth most-likely trade candidates this trade deadline (Stajan followed by Ponikarovsky) as Brian Burke seeks to re-equip his club with picks lost or equivalent prospects.
There's already some discussion going on in the threads, but let's get all of that latest news out on the table:
- TSN's Darren Dreger recently tossed out his list of top 10 candidates to be moved at this year's trade deadline, with Matt Stajan and Alexei Ponikarovsky figuring in at the 4th and 5th spots respectively. He suggests that Stajan would perhaps yield "a decent prospect or drafts picks in return" and that Ponikarovsky would likely fetch a similar price. It's always hard to gauge the trade deadline market as values fluctuate on a yearly basis, but I've got Ponikarovsky pegged as an Antropov comparable (2nd round pick) as a big body and 60 point player while Stajan may compare favorably to Moore (2nd round pick starting price) as a depth centreman who can put up some points in the right situation. [more…]
Adnan Virk of Leafs TV recently caught up with GM Brian Burke for a brief chat and in his latest blog on mapleleafs.com, dishes out a few very revealing and interesting tidbits. Among the hot topics of discussion are: Burke's projected top six defense core (including a few surprises), his expectations and hopes for Alexei Ponikarovsky, and the possibility of the Leafs '09 7th overall pick Nazem Kadri cracking the roster out of training camp. [more…]