NHL
A Toronto Maple Leaf hasn't won a major NHL award in an embarrassing amount of years. This year, however, it looks as if there could be a case made for 3 award nominations —major or otherwise, for the Leafs.
The last "major" award was Doug Gilmour winning the Selke Trophy in the 1992-1993 season, 20 years ago. [more…]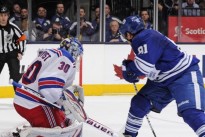 Post game Stats: Kessel now has his 14th of the season and with a hot streak incoming, should be able to hit 30 goals with 8 games left on the schedule. The Leafs' penalty kill continues its excellence with a man down as they killed off three of the Rangers' 20th ranked power-plays. And what a game it was after a first period that put my ADHD afflicted dog to sleep. [more…]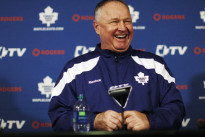 The Leafs are all but set to make the playoffs for the first time in nine years, yet there is an inordinate amount of vitriol being directed at Toronto's head coach Randy Carlyle, for some reason.
Considering pretty well everyone predicted the Leafs not to make the playoffs, it's pretty funny to see the coach leading a surprising playoff appearance - and a team that's currently fifth in the East and 7th in the League - get chastised. [more…]
With just ten games left on the schedule for the Leafs this season, here are ten thoughts I've been considering heading into those final games. [more…]
In a matchup with big playoff implications, the Leafs could move ten up on the 10th-placed Carolina Hurricanes with a win in this four-point swing game. A loss in regulation puts the Hurricanes within six with three games in hand.
The Hurricanes are an opponent the Leafs have struggled with in both matchups this season. Their strength down the middle has played a key role as the Staal brothers have featured prominently on the scoresheet in a combined 7-2 win over the two games. Among teams the Leafs have played more than once, the Canes are the only opponent they have gained zero points off of. [more…]
WOW. What a turn of events in the Iginla sweepstakes. Mid-way through writing this piece, I paused to check for updates on Twitter and in [more…]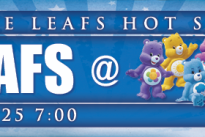 Toronto Maple Leafs (17-12-3) at Boston Bruins (17-9-6)
Last 10: Toronto 4-3-1; Boston 5-2-3
The Leafs did it. They beat the Boston Bruins. As a reward, they get to play them again two nights later.
It took a good mix of a lot of things going right to pull it off their first win over the Bruins in nearly two calendar years. To the Leafs' credit, they finished their hits, got involved in the game early, caused some turnovers and grabbed an early lead. They were patient and the amount of respect they had for their opponent, and their hunger to finally beat them, was apparent in the extra effort the likes of Kadri and Kessel among others were putting in defensively. [more…]
The Leafs faced the Bruins for the third time this season. The Bs have taken the first two games along with their 8 last games against the Leafs which made this a statement game for the Buds. A celebration of Sundin's induction into the HHOF gave it some more flair and we all hoped it wasn't going to be a repeat of the effort shown on last February's Sundin night. Fortunately, they got a do-over. [more…]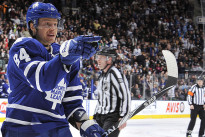 After a good comeback/confidence-building game against the Tampa Bay Lighting, the Toronto Maple Leafs  have perhaps created more questions than answers. The Penalty Kill keeps [more…]
That Kadri kid is pretty good isn't he? Back when Brian Burke stepped up to the podium at the 2009 NHL Draft in Montreal, I imagine this was the player he was envisioning that night: slick, slippery and drenched in skill. That was an absolute clinic Kadri put on out there against the Lightning, displaying all sorts of offensive creativity, patience and ingenuity with the puck. This is a player who is gaining confidence and progressing by leaps and bounds - a player on the verge of making a lasting imprint in this star-starved market. But before we get too far of ourselves thinking ahead, why don't we take a step back and briefly peruse the timeline  that has led him to the "now" (and enjoy a few memorable quotes along the way).
[more…]
News broke last evening that Corey Perry had signed an 8 year deal totalling 69 million dollars to stay with the Anaheim Ducks and his newly signed centerman (also of 8 years), Ryan Getzlaf. [more…]
Toronto saw a hard fought one-goal lead disappear in the third period against Pittsburgh, as the Penguins Sidney Crosby staged a second consecutive third period comeback to steal the game in regulation.  It's a tough loss to swallow after a thorough effort across the lineup kept the Penguins scoreless until the final eight minutes of the game. [more…]