NHL
After months of nothing but Kaberle rumours and Grabovski lawsuits, Leafs Nation will finally get a glimpse of their 2010-2011 Toronto Maple Leafs.  Being the first game of the preseason, Toronto is going with a healthy mix of youngsters, borderliners, and veterans.  Luckily, fans will not have to wait to see most of the new Leafs (Clarke MacArthur excepted) as off-season acquisitions Versteeg, Armstrong, Brown and Lebda will all be hitting the ice.
[more…]
At this time last year, Jerry D'Amigo was a little known Maple Leafs' draftee who had been passed over 157 times by other clubs only a few months before. After a banner year at Rensselaer Polytechnic Institute in the NCAA and a brilliant run at the World Juniors, the not even 20 year old D'Amigo currently finds himself with an NHL contract, an invite to training camp, and a legitimate shot at making his dreams come true as soon as this fall. That was last year. Now let's take a look at some of the names that could be making some serious headway up the Leafs' organizational depth charts in 2010-2011.
"Being a kid growing up just outside Toronto, you always want to play for your team you watched growing up, and Toronto's my team."
It was one of the last things Andrew Engelage said after a lengthy discussion at the Ricoh Coliseum, but it definitely resonated the loudest.
There's nothing quite like the story of the home-grown athlete. Everyone likes asking Oakville's John Mitchell what it's like to put on the Leafs sweater every day, or trying to find some way to relate to Jesse Blacker's being drafted by his local club. But when adversity is thrown into the mix, when a player has to go through some degree of hardship to make it to not only the level he wants to be, but for the team he wants to play for, that's when a story becomes a best seller.
As much as I tried to just sit back and enjoy the game as a fan last night, I couldn't help but take a few notes (this might have been because we ended up sitting among the scouts). So without further ado, here are a few additional observations from last night's tournament opener to supplement Derek Harmsworth's excellent coverage.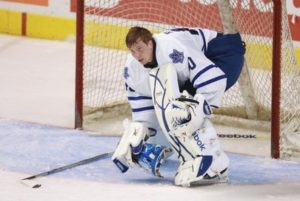 After the jump, Derek Harmsworth recaps last night's action in the NHL Rookie tournament, including locker room access, and looks ahead to today's action.
The following is live in game, up to the minute coverage of the rookie tournament game between the Pittsburgh Penguins and Ottawa Senators. Â Remember to refresh the page for the latest updates. Â Remember also to check out my Twitter for notes and pictures
Finally the day many of us have been waiting for has arrived. Â The NHL Toronto Maple Leafs rookie tournament kicks off this afternoon in London, Ontario, and for many it's a chance to catch on ice hockey for the first time in quite a while.
Today's action features the Pittsburgh Penguins rookies taking on the Ottawa Senators rookies in afternoon action. Â Also on the bill today, the Maple Leafs rookies will play the Chicago Blackhawks rookies in the nightcap.
Here is all you need to know about today's games.
Finally, the moment a lot of us have been waiting for is upon us. Â The Toronto Maple Leafs announced Tuesday afternoon the full roster of players who will represent the blue and white at the 2010 rookie tournament, taking place this weekend in London, Ontario. Â The event runs from September 11th to the 14th at the John Labatt Centre, and remember Maple Leafs Hot Stove will have wall-to-wall coverage and unprecedented access.
A tap of the pads to Gus Katsaros for providing me the email.
Last Wednesday (September 1st), Toronto's MasterCard Centre for Excellence, the Maple Leafs' own practice facility, played host to the 2010 NHLPA Rookie Symposium in association with trading card leaders Upper Deck and Panini America. MLHS' own Gus Katsaros was in attendance, and has kindly provided audio from his own conversation, as well as portions of a larger media scrum Q&A, with Leafs' top prospect Nazem Kadri.
The Toronto Maple Leafs will host their rookie tournament this year in London, Ontario from September 11th to the 14th, and Maple Leafs Hot Stove will have unprecedented, wall-to-wall coverage of the event.
Join us here for live game blogs, game previews, game reviews, exclusive interviews, and more! Â Today, we will look at the top ten Leafs players who will be worth paying extra close attention to at this weekend's event.
For the first time in years, the Marlies will be bristling with young talent hoping to make the big club. From top prospect Nazem Kadri to hopeful enforcer Richard Greenop, this Marlies squad should be a team to watch. Let's take a look at the forward prospects that can be reasonably expected to be on this Marlies team:
After months of political manoeuvring and speculation... and pending ratification, Donald Fehr appears primed to formally take office as the Executive Director of the NHLPA with the Ilya Kovalchuk saga providing an appropriate backdrop. Despite having earlier dismissed himself as a candidate for the role, the former MLBPA hardliner is now expected to spearhead the players union through the next series of collective bargaining negotiations in 2012.
Either a spectre to be feared, or a challenge to be relished for NHL commissioner Gary Bettman, one wonders if the league office wishes it had treated the ailing NHLPA with kid gloves following the late, late night coup that saw former figurehead Paul Kelly overthrown in August 2009.