Nick Leddy
The following is live, up to the minute coverage of today's rookie tournament game between the Ottawa Senators and the Chicago Blackhawks. Â Remember to refresh the page to get the latest updates.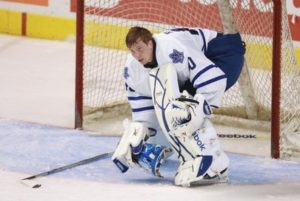 After the jump, Derek Harmsworth recaps last night's action in the NHL Rookie tournament, including locker room access, and looks ahead to today's action.
Finally the day many of us have been waiting for has arrived. Â The NHL Toronto Maple Leafs rookie tournament kicks off this afternoon in London, Ontario, and for many it's a chance to catch on ice hockey for the first time in quite a while.
Today's action features the Pittsburgh Penguins rookies taking on the Ottawa Senators rookies in afternoon action. Â Also on the bill today, the Maple Leafs rookies will play the Chicago Blackhawks rookies in the nightcap.
Here is all you need to know about today's games.