Nik Kulemin
During the doom and gloom of a lengthy losing streak it can be easy to focus only on the negative aspects of a hockey team and I have noticed my last few pieces have done just that.  Today I thought I would take a look at some of the positive and promising assets the Toronto Maple Leafs currently possess as opposed to what they ultimately lack.
Although they are much maligned and even despised by some the ownership of the Toronto Maple Leafs has never been a serious impediment to the success of the team, contrary to popular belief.  Sure MLSE values a profit as most corporations do and yes they charge an arm and a leg for even a lousy ticket, but the fact is the market for all things Leafs is extremely strong.  With the current supply and demand the way it is the pricing issue will not go away or change, ever. [more…]
- If the TSN reports that Frolov could sign a 1 year deal comparable to that of Afinogenov last season ($800,000) are true, then why weren't the Maple Leafs heavily involved in discussions with Frolov's agent? He's a big guy who can win some pucks, plays a well-rounded game and would fit perfectly in the top line left wing role at a bargain basement price. Remember a few weeks ago when I talked about a deteriorating market? This potential signing may just be the beginning.
- The Toronto Sun reports that the Maple Leafs' Rookie tournament will take place at the John Labatt Centre in London from September 11th-14th this year.
- The Hockey News makes the case for the Maple Leafs as a surprise playoff team this coming season.
- On to the FanPosts. Andrew Edwards (AKA Crazyaces) proposes a solution for these ridiculous long-term contracts, while Michael Cuttell continues his preseason synopsis by evaluating the Leafs' current forward group. [more…]
The Toronto Maple Leafs, spiralling of late with a 2-7-1 record in their past 10 games, will to right the ship at home tonight against the Philadelphia Flyers.   The Leafs will also be looking for revenge in this matchup, having been on the receiving end of a 6-2 thrashing at the hands of the Flyers only a week ago.
Per the Toronto Star, it appears as though Tyler Bozak may be the latest player to get a shot at centring the Maple Leafs' top line alongside Phil Kessel and Nik Kulemin, beginning tonight against Carolina. Â Â With Kessel having recorded only 1 goal and 1 assist in his last 12 games, the Leafs are desperately hoping this change may be the tonic required to get their star winger back on track.
Update: confirmed by am640's Jonas Siegel.
Speculation on who is likely to be scratched for Saturday's rematch against the New York Rangers, an update on Phil Kessel, and (surprise, surprise) some early-season trade chatter.
The Toronto Maple Leafs have sent forwards Jiri Tlusty, Nik Kulemin, and Tyler Bozak, as well as defender Carl Gunnarsson, to the Toronto Marlies of the AHL.
These moves leave the team with a 22-man roster, one under the season-opening limit of 23.    That number does not include either of Phil Kessel or Mike Van Ryn, as both will start the season listed as injured non-roster players.
Most recent Leafs trade talk in the mainstream media centers largely around Pavel Kubina and Tomas Kaberle. Just about enough has been mentioned on those fronts; Brian Burke will not compromise in his return demands for either of his coveted blue-liners and it appears that only time will tell. Here are three other interesting to trade or not to trade scenarios:
Firstly, an interesting item of news - the Vancouver Canucks have acquired goaltender Jason LeBarbera from the LA Kings in exchange for a 7th round pick. Update: Hat-tip to Sarah, who points out that Curtis Sanford has been placed on the IR alongside Roberto Luongo, necessitating the deal for another 'tender.

The Maple Leafs have recorded their first three game winning streak since March by way of a shootout win (you heard me correctly) over the New Jersey Devils. Joe Sakic Rookie call-up Jeremy Williams made it three-in-three and also sniped in the shootout to continue his tear at the NHL level. Fourth shooter Jason Blake won the game on a sweet spin-o-rama move but I still highly dislike him. Seriously though, his work rate and overall level of play have visibly improved in the month of December.
Just received an update from a source. Nothing concrete, as pretty much all rumours concerning Brian Burke's potential moves are speculative at this point. However, a few interesting tidbits were mentioned.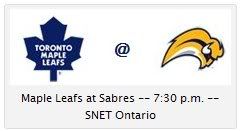 Williams & White score to rally Leafs to 2-1 win at the HSBC
The Maple Leafs escaped from the House of Pain with two points tonight and, better yet, their two call-ups were superlative in the process. Jeremy Williams sniped his second in as many games from the half boards to even the game at ones late in the second frame before Ian White beat Ryan Miller with a seeing eye double to give the Leafs the edge in the third. Fellow call-up Jaime Sifers was a physical force on the blue-line, throwing a team-leading three hits and finishing second only to Jeff Finger in terms of ice-time (a resounding 21 minutes including 5 minutes of short-handed time). Sifers played a role in a critical penalty kill in the late stages.
Be sure to check out Scot Louck's post-game thoughts below.
Almost as impressive as the third period display by the Maple Leafs last night was their ability to storm out of the gate again this afternoon in their second game in less than 24 hours. After a vibrant first frame in which the Leafs should have scored more, the Leafs sat 1-0 up entering the second period of play. [more…]