Northeast Division
A Leafs win and a Jets loss would mean the Leafs are officially post-season bound. Oh my god, it's been so long I don't remember how to feel. What boggles my mind is how many Leafs fans weren't even 10 years old when it happened. God, that makes a man in his 30s feel old. Let's see what happens… [more…]
A Toronto Maple Leaf hasn't won a major NHL award in an embarrassing amount of years. This year, however, it looks as if there could be a case made for 3 award nominations —major or otherwise, for the Leafs.
The last "major" award was Doug Gilmour winning the Selke Trophy in the 1992-1993 season, 20 years ago. [more…]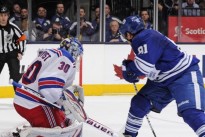 Post game Stats: Kessel now has his 14th of the season and with a hot streak incoming, should be able to hit 30 goals with 8 games left on the schedule. The Leafs' penalty kill continues its excellence with a man down as they killed off three of the Rangers' 20th ranked power-plays. And what a game it was after a first period that put my ADHD afflicted dog to sleep. [more…]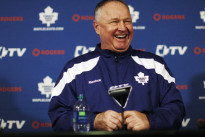 The Leafs are all but set to make the playoffs for the first time in nine years, yet there is an inordinate amount of vitriol being directed at Toronto's head coach Randy Carlyle, for some reason.
Considering pretty well everyone predicted the Leafs not to make the playoffs, it's pretty funny to see the coach leading a surprising playoff appearance - and a team that's currently fifth in the East and 7th in the League - get chastised. [more…]
Toronto Maple Leafs last 10: 6-1-3, New York Rangers last 10: 5-3-2
As the season winds down, The Maple Leafs find themselves in a position to either pull clear of the teams beneath them, or stumble and fall back into the clutches of 8th/9th place. [more…]
With just ten games left on the schedule for the Leafs this season, here are ten thoughts I've been considering heading into those final games. [more…]
The first to break the Jarome Iginla to Boston trade, Aaron Ward is now reporting the Leafs have been given permission by Calgary to talk to Miikka Kiprusoff's representatives about changing his stance on not reporting to a new team in order to come to Toronto.
After what feels like an eternity of Roberto Luongo being linked to the Leafs, it's almost strange to hear a different goalies name linked to Toronto via trade.
But here we are, as Miikka Kiprusoff is now being connected perilously close to the Leafs. [more…]
After doing a great job of gathering up points over the past couple of weeks and pushing themselves well in to the playoff picture, it wouldn't be a big surprise to see the Leafs hold off on any trades going in to the deadline this Wednesday. But despite the amount of success the team has enjoyed this season, there are some glaring weak areas that could be addressed, and players may become available that could help Nonis bring this club to a higher level.
We've seen the Calgary Flames finally give in to a rebuild in the past week with the departure of Jarome Iginla, and the Buffalo Sabres have been known to be in fire sale mode for a little while now. As Wednesday approaches, other teams will have to make a decision on which direction they're headed, and potentially start putting bodies on planes as well. [more…]
Last 10: Toronto 4-2-4; Ottawa 7-1-2
The Toronto Maple Leafs are looking to earn at least a point in an eighth straight game Saturday night as they visit the Ottawa Senators, who have been on a decent run of their own.

In what is the most meaningful "Battle of Ontario" in the last few years, it's more than just pride on the line; it's home-ice advantage and two teams sizing each other up as potential first-round matchups. Toronto is trying on their new look as a playoff team for the first time in 8 years and Ottawa is revelling in their depth as a team that has been able to stave off huge injuries to Jason Spezza, Erik Karlsson and Chris Anderson with seemingly no drop-off in performance. [more…]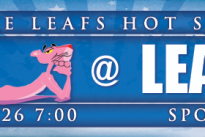 After a game in which the Leafs sat back, tried to limit the damage and relied on the counterattack against Boston, tonight you hope to see the Leafs exhibit spells of dominance against the 30th-placed Florida Panthers. It's a back to back scenario with travel in between, but we would love to see some killer instinct out of the Leafs knowing the state of the opponent and the importance of the two points. [more…]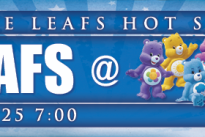 Toronto Maple Leafs (17-12-3) at Boston Bruins (17-9-6)
Last 10: Toronto 4-3-1; Boston 5-2-3
The Leafs did it. They beat the Boston Bruins. As a reward, they get to play them again two nights later.
It took a good mix of a lot of things going right to pull it off their first win over the Bruins in nearly two calendar years. To the Leafs' credit, they finished their hits, got involved in the game early, caused some turnovers and grabbed an early lead. They were patient and the amount of respect they had for their opponent, and their hunger to finally beat them, was apparent in the extra effort the likes of Kadri and Kessel among others were putting in defensively. [more…]
I took in what felt like a one-point win last night at the ACC. I of little faith was thinking "blow out" after the bang-bang goals in the first, but there seems to be something different about this team (visible in the Bruins game as well). They didn't slip silently into the night, and by the end of it you had the feeling Crosby, Malkin and co. snuck away, or limped away, with the extra point.
I'll ignore the awful first period from the Leafs - and how deeply underwater the first line was in its head to head with Crosby's line, or how off Reimer was for the first 20 - because in many ways the fight back was just that good. Reimer played one of his poorer periods of the season in period 1, but his overall performance matched the trajectory of the rest of the team - started slow, but without him the Leafs don't get the point. [more…]