Northeast Division
In part six of his 12 burning questions series, Derek Harmsworth takes a look at Leafs sniper Phil Kessel, and whether he can hit the 40 goal plateau.
While January 31st 2010 will go down as a day Leafs fans will never forget as the Leafs acquired Dion Phaneuf, Keith Aulie, Fredrik Sjostrom, and J.S. Giguere in the span of about two hours, the date of September 18th, 2009 will also be remembered, yet highly debated, and much scrutinized.
It was on that day in September, following a preseason game against the Pittsburgh Penguins, that Maple Leafs GM Brian Burke got his man. Â After lots of rumours throughout the year, including one that involved Tomas Kaberle going the other way, Burke signed off on a deal with the Boston Bruins that landed him American born sniper Phil Kessel. [more…]
In part five of his 12 burning questions series, Derek Harmsworth takes a look at Toronto young guns, and whether or not they can continue their consistent contributions.
A team's fortunes can be decided on the shoulders of their young players, be it their rookies or their sophomores. Â There are plenty of examples of young players who can help their club catch lightning in the bottle, and help them surpass the expectations set earlier in the offseason by the majority of pundits.
Of course for every example of that, there are also counter examples of teams who perhaps relied too heavily on rookies, or second year players, to help pace the offense, only to have things not go according to plans. [more…]
In part four of his 12 burning questions series, Derek Harmsworth examines whether Nazem Kadri will crack this lineup, and where he fits in with the team if and when he does.
In the summer of 2009, the Toronto Maple Leafs and their fans were still finding out first hand what type of brash, confident attitude Brian Burke was going to be bringing to the team. [more…]
The Atlanta Thrashers (Maxim Afinogenov) and Montreal Canadiens (Marc-Andre Bergeron) can attest to it: unrestricted free agent signings deep in the off-season could pay dividends.
Yes, those two particular players may not play for those respective teams anymore, but they both provided their clubs with offensive boosts (Afinogenov scored 61 points; Bergeron 13 goals and 34 points in 60 games). The point is that there are plenty of quality players available in free agency if the contract terms are reasonable. Luckily for the Toronto Maple Leafs, they have some breathing room, and options, to maneuver around the salary cap.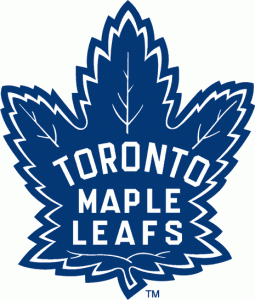 The Toronto Maple Leafs 2010 rookie tournament is coming to London, Ontario and Maple Leafs Hot Stove is pleased to announce that we will have exclusive, unprecedented coverage of the event!
Just confirmed earlier tonight, I will be in attendance at the John Labatt Centre for the duration of the tournament, providing up to date news from the rookie tournament for the Toronto Maple Leafs, as well as the other competing teams (Pittsburgh, Ottawa, and Chicago.)
As part of our exclusive coverage, I am pleased to announce that we will have game day previews, game day recaps, live blogs, live tweeting, as well as exclusive interviews with some of the Leafs biggest rookies and prospects. [more…]
Toronto Maple Leafs General Manager, Brian Burke should have uttered one phrase to explain the situation, one simple little phrase to envelope the reasoning for the Phil Kessel trade;
"Our picks in our vision of where we ended up are overvalued in accordance to the available crop of prospects."
But in Toronto, to admit that in what's deemed as a 'rebuild' would have been a PR disaster.
Despite popular opinion, he wasn't wrong.
The world is no longer flat, it's round .. like a full-cirle
In part two of his 12 burning questions series, Derek Harmsworth looks at the Leafs goaltending of the past, and whether this year's tandem can provide them with healthy, consistent efforts.
The NHL goaltender.
It has been said that there is no more important position in all of pro sports. Â And if you believe that, it's quite easy to see why the Toronto Maple Leafs haven't had much regular season success in the post lockout NHL, and why the post season has eluded them. [more…]
Although many Toronto Maple Leafs zealots would've had me believe it, the sky did not fall when I awoke this morning, despite the outcome of the latest entry in the Tomas Kaberle saga.
And guess what? Kaberle's future with the Leafs does not dictate whether or not the team's short-term goals will be fulfilled. In fact, retaining the veteran defender may prove to strengthen the Leafs' chances at making the playoffs for the first time in the post-lockout era.
The Toronto Sun reports whispers around the league of the San Jose Sharks offering defensive prospect Derek Joslin along with a first round pick in [more…]
The Tomas Kaberle trade watch is now in effect with only 36 hours to go until this situation concludes. The rumor mill is running rampant with some high profile names and some future fan favorites, but let's dive into who is being mentioned as possible blue and white sweater bearers.
It's been quite the time span since my last post here. But as many of you know, I've been working on the McKeen's Hockey Annual Yearbook. That is in addition to the work on the player profiles for the Maple Leafs Annual.
So to kick things off, and to change the subject from Tomas Kaberle, here are my player predictions for the Maple Leafs this season after the jump.
(NOTE*** Predictions appearing the McKeen's Annual Yearbook are decided as a collective from many different sources. These values will unlikely appear as they indicated below in the publication.)
[more…]
One of the key questions surrounding the upcoming 2010-11 Maple Leafs season is whether they will be able to score enough to compete for a playoff spot in the Eastern Conference.
An optimist will point to the Leafs' record following the acquisitions of Dion Phaneuf and J.S. Giguere as evidence that the Maple Leafs can compete. The cynic will suggest that although the Leafs played well over the final third of the season following those moves, there just simply isn't enough proven offensive production to buoy hopes for post-season play.
A closer look at the Leafs performance over their past 26 games following the January 31st trades for Phaneuf and Giguere, in comparison to their first 56, might shed some light on whether or not the Leafs' need for more offense in order to compete is fact or fiction.