Olli Jokinen
Toronto Maple Leafs General Manager, Brian Burke should have uttered one phrase to explain the situation, one simple little phrase to envelope the reasoning for the Phil Kessel trade;
"Our picks in our vision of where we ended up are overvalued in accordance to the available crop of prospects."
But in Toronto, to admit that in what's deemed as a 'rebuild' would have been a PR disaster.
Despite popular opinion, he wasn't wrong.
The world is no longer flat, it's round .. like a full-cirle
(Be sure to check out Bauman's pre-game article to get yourself ready for tonight's match-up!)
Dion Phaneuf, as of right now, is not a Norris trophy candidate.
Phaneuf took the National Hockey League by storm in his rookie season, producing 20 goals as a 20-year-old defenseman. He then had a successful sophomore campaign, breaking the 50-point barrier. In his third year, he had a 10-point increase and produced 60 points, gaining him consideration for the Norris trophy at only 22 years old.
We have all had a few days to digest Sunday's trades, but there is still a well of untapped implications. Â Here's a closer look at the forwards involved: both the outgoing Leafs and our lone newcomer. Â Be sure to check out Garrett's excellent pre-game analysis here before tonight's tilt with the New Jersey Devils.
Phil Kessel, in his short tenure with the Toronto Maple Leafs, has displayed an offensive acumen unparalleled by his teammates. And that, ladies and gentlemen, is the reason the Leafs embody mediocrity.
[more…]
By now, I'm sure many of you have seen ESPN's report of a significant offer by the Maple Leafs for Phil Kessel: two 1st round picks and a 2nd round pick. The general reflex reaction that we've been conditioned to by the Toronto media the last few seasons is to avoid moving 1st round selections by any means necessary. The thought of moving two such commodities is beyond horrifying. I've seen the name Taylor Hall used as the backbone of many an argument over the last few days, often associated with the "chance" of landing said player. If we're gonna turn this into a game of chance, let's at least get all the cards on the table. [more…]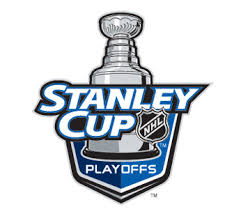 The New York Rangers, Vancouver Canucks, Pittsburgh Penguins and New Jersey Devils were all victorious in Game 1 of the NHL Playoffs. What sort of matchups will we see tonight? Will the Boston Bruins beat the Montreal Canadiens to a bloody pulp? Will the San Jose Sharks choke once again? All those questions and more… RIGHT NOW: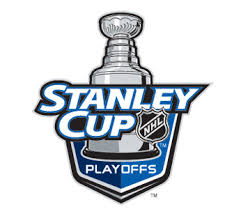 For a full team-by-team breakdown of all playoffs clubs, sure bets and sleeper picks for your playoff pools, visit the McKeen's Playoff Preview where the factors below have been outlined and pointed out in a team-by-team write up.
[more…]
It's been 9 days since the deadline and already certain teams are rising and others are falling based on their performance on the "mayday" trade day. Here's a closer look at how a few teams and players are fairing since the event transpired:
[more…]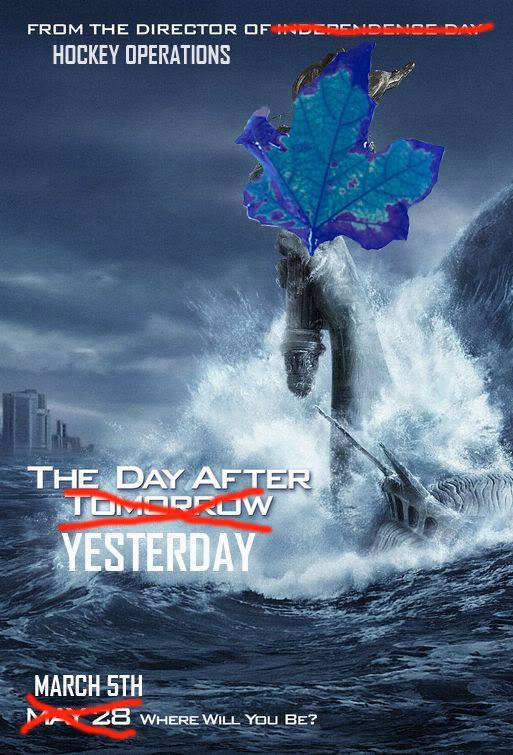 "The Day after Yesterday" (the prequel to "Day after Tomorrow"). These two things have a lot in common. Millions of people watched it all unfold, hoping the guy in the lead role could do the impossible and save the day (it didn't happen, the world still froze over and the Leafs still don't have a second 1st round pick). There was a serious injury that needed medical aid (Toskala's hip/groin, and Laura Chapman's blood poisoning). And everyone was running around frantically once they found out about the strange phenomenon (Guy 1: "Hey look, a giant tsunami!" Guy 2: "Who cares, Andy Wozniewski was traded!" Guy 1: "You're right! That's far more bizarre.")
[more…]
Cross-posted: http://www.hockeybuzz.com/blog.php?post_id=16813&blogger_id=48
I'm approaching the upcoming campaign with a win-win mentality.
Should the Maple Leafs dwell in the bottom five as virtually assured by Toronto media types, the opportunity to import a premier prospect to join Luke Schenn atop the prospect ranks will obviously be a major boost to a re-tooling club in the midst of its youth movement. [more…]