on-ice product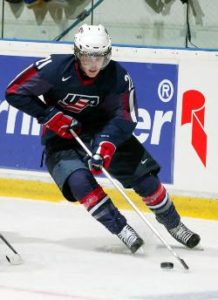 Just a month ago, the Chicago Blackhawks were the envy of the National Hockey League. Â Having finished off the Philadelphia Flyers in six games courtesy of a Patrick Kane overtime goal, the Hawks had climbed to the top of the mountain, and had risen out of what could once have been considered obscurity years earlier, to build a winning team, and break the Stanley Cup drought that loomed over the franchise for so long.
And while many general managers stood in jealousy and envy of Stan Bowman and his management team for the feat they had just accomplished, not one GM was going to envying Bowman in the days following.
For the Chicago Blackhawks, winning the Stanley Cup came at a price, and it was rather large.
Since they won the Stanley Cup, the Blackhawks have made many moves, tearing down their roster that brought them their once elusive championship. Â Fan favourites were shipped out in favour of draft picks and younger players, on cheaper contracts.
One of those trades involved Kris Versteeg, a trade Brian Burke was all too happy to accommodate.
In a move that should surprise nobody, a Swedish hockey site has indicated that Rickard Wallin will not be with Toronto next year. Â Wallin, who would have been a UFA for the Leafs, signed a four-year deal with his longtime European team Farjestads. Â This ends a very brief return to the NHL for the Swedish centerman which saw one mediocre-at-best season with the Toronto Maple Leafs.
It seems Wayne Gretzky's days as an NHL owner are far from over. According to the Dallas Observer, the Great One, Mike Modano and Brett Hull are looking to collectively purchase the Dallas Stars from owner Tom Hicks.
TORONTO -- Leafs general manager, Brian Burke, has repeatedly stated he will not ask Tomas Kaberle to waive his NTC. This situation, however, could be key to shoring up the goaltending the Leafs need.
[more…]
Being a General Manager of an NHL Hockey team is quite similar to sitting down at a high rollers table at the Bellagio in Las Vegas and having a marathon session of no-limit hold'em poker versus some of the biggest and meanest sharks in the ocean.
With a Leafs team stuck in the bottom 5 of the league from the first day of the season, and after public proclamations of being aggressive at the draft and public and vocal assurances that he has built one of the better defensive units in the East.  Additional proclamations that it would be reasonable to expect the Leafs to compete for the playoffs this year, spending right up to the salary cap, trading away the clubs next 2 1st round picks and trading away some of the organizations mostly highly thought of prospects for practically zero return, it is safe to say at this point, that if being an NHL General Manager were a game of poker, Mr Burke is "All In" and has absolutely zero chance of winning this round.  He has been effectively cleaned out.
There is a silver lining however, as Mr Burke is flush, sitting on a recently signed multi-year, multi-million dollar deal and has an opportunity to buy back into the game and try again.
Having literally begged and pleaded since before the pre-season for the Maple Leafs to run with their youth and play any semblance of NHL ready prospects and players available to them, is this horrific start actually bad enough and embarassing enough to force Mr Burke to finally and mercifully bring on the youth movement this team has so desparately required for the last decade?
0-2-1 after 3 games, and the sky is falling.   Or so chicken little would have you believe, anyway.
3 games in and panic?   Seriously?   You'd think the Leafs just traded away a handful of high picks for a relatively-unknown goaltender with an injury history.   Wait, scratch that -- they did that a couple years ago and as I recall the move was far more heralded than denounced, at the time.
Which is exactly my point:Â  you can't know, early on, exactly how things will turn out.
This proposed offer to purchase the struggling Phoenix Coyotes by Jim Balsillie may be a better possibility this time around. It may seem impossible to fathom another NHL club so close to its flagship franchise, the Leafs and the Buffalo Sabres, but it's not jurisdiction that's at the heart of the issue here.
It's the salary cap, revenue and a return to the dead puck era.
[more…]
Delving deeper into the hockey world, interacting with players, coaches and organizational personnel, I've learned a big lesson.
We're dealing with people.
Guess what; fans are people, too.