Ontario Hockey League
The Toronto Maple Leafs' first draft under the watchul eye of Brian Burke displayed a stark change in the team's draft philosophy. The scouting staff searched for the type of players and attributes that would be able to fit into the mold of a tough, physical checking style of game that the Leafs hope to play several years down the road. As a result, we saw a lot more emphasis placed on size and toughness than skill and speed. Not surprisingly, all of Toronto's seven selections were from the North American ranks, four of them from the Ontario Hockey League and three from American hockey programs. [more…]
At a time when the John Tavares - Victor Hedman debate seemed to be reaching it's lowest ebb, with the New York Islanders, confirmed as the winners of the first-overall-pick sweepstakes by last week's draft lottery, seemingly cocksure takers on the London Knight, the Redline Report has stoked the embers. According to News Day.com, the Red Line Report, a highly-respected independent scouting service run by former Nashville Predators scout Kyle Woodlief (link), has bumped JT down to the third rank in their latest installment of standings, behind Victor Hedman and Brampton Battalion speedster Matt Duchene.
[more…]
Random thoughts as we all prepare for the first night of the NHL Playoffs. Can't wait!
The American Hockey League has released the 2008-09 Clear Day Period lists for each of its 29 member clubs.
[more…]
John Tavares has emphatically put a stamp on what will likely be his last season of junior hockey by netting a hat trick today, including the game winner to propel the London Knights to a 4-3 victory over the powerhouse Windsor Spitfires. [more…]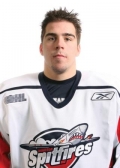 Dale Mitchell (#71) - RW
Player Facts
Birthdate: April 9, 1989
Stargazing: Aries
Hometown: Mississauga, ON
The craft of writing fiction requires an author's innate ability to capture - and maintain - the reader's attention. It's sleight of hand - or pen in this instance, with twists and turns deciphering an ending not envisioned by the reader. The process takes vision, vivid imagination, a well scripted story line and 'sleight of pen' to playfully mislead readers into a perceived outcome, while planting thoughts and doubts that in the end make for a fantastic story.
It happens in the hockey world, too, and might be happening to Leafs fans currently. It could be a main factor in drafting Victor Hedman over John Tavares in the 2009 draft.
[more…]
There's a little bit of the irony in the title because in fact, Christopher Didomenico has rarely been in the spotlight at all during his hockey career. He is the definition of an underdog, and a testament to what hard work and perserverance can lead to.
As a young Toronto native, he was passed over by the OHL draft, after playing just 4 games in 2 seasons with the North York Rangers of the OPJHL. So, he managed to hook onto a tryout with the Saint John's Sea Dogs of the QMJHL, made the team, and has blossomed into a great young player since. [more…]