Paul Stastny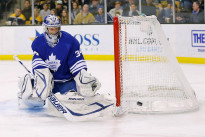 'Tis the season for Leafs trade rumours.
Now, I'm not about to dig up every rumour out there on the internet and go through it, but I do want to provide some thoughts on the team, the direction of the organization, and what's out there before the Leafs do (or don't) make any moves. [more…]
With just over three weeks to go until the trade deadline, I feel as if I can get away with a rosterbation post without too much scrutiny. I'll do my best to not go full HFBoards with my ideas, but certainly have a few players in mind that I'd like for the Leafs to target, and a few that I'd like Nonis to jettison. While I'm sure this won't be the most intelligent post you'll read this morning, hopefully it will at least spark some Monday morning conversation. [more…]
The Torontosaurus Rex for Week 21 is ....
[more…]
This time of year pretty much everyone is doing a mock draft of some sort.  So, with one week to go until the Entry Draft, I figure it's time I chip in with my two cents on what may or may not unfold with the top 10 picks come June 26.
Note that the draft projections listed here are made based on current draft positions, and are not reflective of any possible trades involving the top 10 picks.
As the 2008-09 season moves into the stretch drive, it is perhaps time for fans of teams most likely not making the playoffs to take a closer peek at the top prospects entering the draft.
Based on the Maple Leafs' current spot in the standings with 13 games to go, it is safe to assume that this team will not finish last overall, and perhaps not even in the bottom five.   A finish anywhere from 23rd to 26th overall (picking 5th to 8th) appears most likely at this point.
With that in mind, here is a modified version of the International Scouting Services (ISS) mid-season rankings which were released in February.  Modified, in that the list is #3 - 12, as those are most likely the players that the Leafs will be looking at come the first round of the Entry Draft.