Person Communication and Meetings
Joe Bowen checks in from Vancouver and discusses the current predicament for the Leafs in goal. Leafs brought four goaltenders with them to Vancouver. Brian Burke discusses his lack of interest if he meets with Gillis or not.
[more…]
With very little good happening at the NHL level, it's time to see how the kids are doing elsewhere. The Marlies dropped a 5-3 decision this afternoon against Rockford, falling to 2-1 on the young season. Jiri Tlusty scored a pair of goals, bringing his totals up to 3 goals and 4 points in 3 games played. [more…]
An interesting question was brought up by Dave Hodge yesterday morning on TSN's The Reporters amid the Phil Kessel whirlwind that erupted over the weekend: if Peter Chiarelli wasn't interested in matching an offer sheet at the dollar figure to which Burke eventually signed the 21-year-old, described by Sports Illustrated's Michael Farber as "a one in 500 chance," why didn't Burke submit the offer sheet and pay but a third rounder instead of an additional first round draft selection? Farber seemed convinced not only that Chiarelli wouldn't match but that Burke's decision to go the trade route instead of offer sheet avenue was to save face, anticipating the charges of hypocrisy he would encounter linking back to his response to Kevin Lowe's offer sheet submission for Dustin Penner that ultimately went unmatched while in Anaheim.
[more…]
Newest goaltending consultant to the Leafs, Francois Allaire, father of the modern butterfly with exceptional credentials including working with Patrick Roy, Brian Hayward, as well as the guy who morphed Guy Hebert into an All Star in 1997 and J.S. Giguere. Most recently he worked with Ducks back up-turned-starter, Jonas Hiller to backstop the Ducks to a seven-game Round 2 of the 2008-09, Stanley Cup Playoffs.
Fine credentials indeed, but what can he do with the batch of Leafs goaltenders?
[more…]
It has been reported that Patrick Roy, who has been hovering around Denver these last few days, has been offered the head coach position for the franchise. I know what you're thinking, "but doesn't Tony Granato have that job?" No, not really. He's been fired but everyone forgot to call him. I'm sure he'll figure it out when he opens the paper sometime in the next few days and reads that he's been replaced, unless he's somewhere hockey isn't mainstream. I hope he is, for his sake, because Day 1 of training camp would be awkward if no one bothers to let the poor sap know of his circumstance.
That brings us to the Worst Firings in Hockey History.
[more…]
There's the notion that signing Christian Hanson and Tyler Bozak and other College Free Agents allows the Buds to trade off other picks, perhaps even to move up in the draft.
The justification is having signed these free agent Collegians fills roster spots allowing them to maneuver around the draft, possibly even moving up to land a Hedman or Tavares at the number one or two spot.
(My take is forgetting either of them and draft Brampton Battalion forward, Matt Duchene, but that's a blog for another day.)
[more…]
Brian Burke:
On the implications of the Leafs' recent turnaround:
"I'm proud of the guys, they're working their butts off and that's important for a lot of reasons; a lot of what we're trying to build here and reward our fans and our season ticket holders. They're important wins, and I know people are saying we're messing up our draft choice but we'll happily accept that; we'll take that trade off any time. If I could make a deal - I said this last week, and I'll say it again today - if I could make a deal today that would put us in the playoffs, I would do it, as long as it was consistent with our long-term strategy. Those type of deals right now are not being presented, so I don't think it's going to change our approach."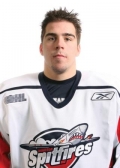 Dale Mitchell (#71) - RW
Player Facts
Birthdate: April 9, 1989
Stargazing: Aries
Hometown: Mississauga, ON
There are a ton of rumors flying around on the Toronto Maple Leafs. Some a downright ridiculous and some may very well have merit. This is a close outlook on a few of those rumors and speculation. We're under 2 months away from Hockey Christmas, where all the wonderful surprises of wanted and undesired gifts are passed around. A shopping list is what we all hope the Leafs are after, but sometimes there's other plans that could be in place which may not seem so attractive at first. Consider that the following is merely speculation and rumors.
[more…]
In the event of Tomas Kaberle waiving his NTC on March 4th, I'd be willing to bet that his fellow countryman, and teammate, Pavel Kubina, would follow suit.
If the Leafs' top two offensive defensemen are subtracted from the lineup, not only will a wealth of skill and potential be imported into their farm system, but it'll pave the way for a top 5 pick at the 2009 Draft.