Person Travel
In what could yet again prove to be a shrewd, prudent move, Maple Leafs GM Brian Burke has once again added another name to his [more…]
While the NHL Stanley Cup playoffs are in full swing and continue to provide us with some fantastic moments of triumph, the fans of the Toronto Maple Leafs are now forced to once again shift their focus to off ice activities.
And so too has Leafs brass.
Despite his team sitting on the sidelines, Leafs GM Brian Burke made quick work of two signing he was keying in on, signing goaltenders Jonas Gustavsson and newcomer Jussi Rynnas to contracts. Â Continuing with the in-house theme, Burke will now certainly turn his attention to Nikolai Kulemin, if he hasn't done so already.
And while we are seemingly quite far away this point, it won't be long before the draft and subsequent free agency period rolls around.
For longtime fans of the NHL, it was nothing new.
An organization set to come in, guns blazing, and attempt to be "competition" for the National Hockey League. Â On the surface, perhaps not a bad idea. Â After all, competition creates creativity. Â Competition brings out the absolute best in everyone.
However, there have been two big attempts by rogue organizations to dethrone the NHL from atop their perch as the number one hockey league.
And just like the WHA years earlier, is it possible that the KHL is going the way of the dodo bird?
Lots of reading today: Gus chips in an  analogical look at the NHL playoff series; Alex has your links with a look at potential Leaf Jussi Rynnas.

In what was Brian Burke's first summer on the job with the Toronto Maple Leafs, it was clear from the get go that he put an onus on improving specialty teams, and also team defense. Â The brash Toronto GM made a lot of moves as it related to improving these areas, and on paper they looked like a sure recipe for change and improvement.
[more…]
Remember Jimmy Hayes?  He was the Leafs 2nd round pick in 2008, a burgeoning power forward who struggled last season in his freshman campaign with the Boston College Eagles as he adjusted to the NCAA game.
Consider those struggles a thing of the past.
Hayes was fantastic in the Hockey East Championship this past week as his team captured their ninth tournament victory, an NCAA record.  Oh, and you may be interested to know that his 2 goals and 5 assists (in 4 games) led all tournament point-getters.
About a month ago, we took a look at Phil Kessel's production, including the on-pace numbers for this season and (theoretically) projected 82-game statistics.
With 10 games left to go in the season, perhaps it's time we re-visit and update those predictions -- this time in the context of other "name" or "impact" players to see just where exactly Phil Kessel ranks, production-wise, among the league's elite.
Alec's Note: Please welcome Marlies writer Clayton Hansler, the newest member of the MLHS blogging team. Clayton has contributed freelance work to Leafs TV and is in regular contact with the Marlies club and personnel. We're excited to have him. Welcome, Clatyon!
The Ducks play spoiler to the blue and white... kind of. As the Marlies head down the stretch and zero in on the number four spot in the North West, Anaheim pulls a key contributor up to the big club. As if it's not already hard enough watching talent on the baby buds knowing they'll never develop into a Leaf.
Luca Caputi makes his Maple Leaf debut tonight as Toronto visits Boston to battle it out with the Bruins. Seidenberg will suit up for the Bruins who are still aiming to remain in the playoffs despite injury woes and a lack of ability to land an elite scoring winger for Marc Savard. The quest to get out of the bottom five continues for the Leafs tonight.
[more…]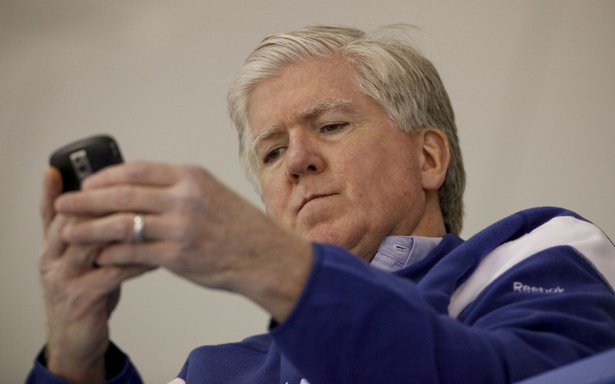 From USA Today - 3/1/2007:
Anaheim Ducks general manager Brian Burke has always been among the NHL's most colorful wheeler dealers. In 2005-06, he overhauled his [more…]
Good morning, die hards, and welcome to Hockey Christmas. And what better way to kick off the day than with more rumors! Here we go!
McKenzie: I won't be overly surprised if Ray Whitney doesn't get traded. If he does, I suspect it will be to L.A. but final call on that will be his. Anything possible today, but Tomas Kaberle has not submitted list of teams he would go to. If Leafs get good offer, they may take it to him. And Kaberle has expressed no desire to leave Toronto. He'll take his chances in the summer when NTC expires.
This involves the Leafs, as well as around the league.
TFP: The Los Angeles Kings, Pittsburgh Penguins and Nashville Predators are among the teams to have serious interest in Alexei Ponikarovsky. Various reports suggest the Leafs are looking for a first-round pick in exchange for Ponikarovsky, though it's believed Burke is willing to accept a second-round pick and a top prospect."
5:00 PM Update - Mueller, Roloson, Hamhuis, Voros/Lisin.
[more…]
The Toronto Maple Leafs visit the St. Louis Blues tonight, in the Leafs' final game prior to the NHL's Olympic break.
The Leafs are coming off a narrow loss to the West-leading San Jose Sharks, a game which left the team with much to feel good about. Â Tonight, the team will look to resolve their road woes and enter the break on a high note, by capitalizing on what has been an inconsistent and underachieving Blues squad.