Peter Mueller
Great to see such an active group of readers. Here are a couple of FanPosts for your Friday afternoon reading enjoyment with today's theme being youth, youth and more youth. Paul LeMay (B. Leaf) takes an in-depth look at the team's organizational prospect depth while Chuck Johnson compares Nazem Kadri's chances of making the NHL as a 2nd year player with those of previous high draft picks. [more…]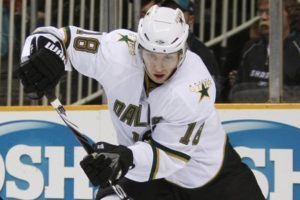 During his first full year at the helm in Toronto, you could make the case that Brian Burke was the league's most active general manager. There was the Kessel summer blockbuster with Boston and then the mega-deals on January 31st that brought in Phaneuf and Giguere. It's quite obvious that he's willing to expend assets to target any top notch premium young talent when it's made available. Both of those trades were opportunities: Kessel was a restricted free agent on a team with cap issues. Burke often spoke of inquiring on Phaneuf several times throughout the year until the "pressure points" of the cap and the struggles of the Flames pushed Sutter into making a bold move. This summer should be no different. Let's take a look at some of the young RFA's that might potentially attract Burke's interest.
The Playoffs are about to start and what better time than now for the CFB predictions. We highlight every series with individual writers giving their own opinion on why or how a particular team can win the series. This is the Round 1 Predictions for the Western Conference.
Final Deadline Trades:
Alexei Ponikarovsky to Pittsburgh for Luca Caputi and Martin Skoula
Martin Skoula to New Jersey for a fifth round draft selection.
Lee Stempniak to PHX for 4th and 7th rounders.
Joey MacDonald to ANA for a 7th rounder in 2011.
Wrap-Up: That looks to be a wrap on Brian Burke's trade activity for the 2009-10 season. The Stempniak deal was obviously a form of loss-cutting on a pending UFA, but it's a bit painful to remember who we sacrificed to acquire him in November of 2008 in two albeit underachieving first rounders in Alex Steen and Carlo Colaiacovo. The Leafs will not draft until the third round this year, and Burke did not succeed in that sense, however he moved the only piece realistically capable of fetching a second rounder for a semi-established young asset with the potential to replace Poni at an immediately cheaper price in Luca Caputi. It looks as though no takers could be found on either Wayne Primeau or Garnet Exelby, who look sure to now enter the FA market July 1.
There seems to be details yet to unfurl surrounding the Tomas Kaberle situation this deadline, as once again Leafs fans were teased into believing a deal was pending (involving Hodgson, as it was reported, or possibly Alzner from Washington) only for what looked to be an imminent deal to be flatly denied by Brian Burke in the end. There are rumblings that Kaberle might have nixed a deal in similar fashion to the Jeff Carter situation at the '08 deadline.
From Garrett Bauman:
This involves the Leafs, as well as around the league.
TFP: The Los Angeles Kings, Pittsburgh Penguins and Nashville Predators are among the teams to have serious interest in Alexei Ponikarovsky. Various reports suggest the Leafs are looking for a first-round pick in exchange for Ponikarovsky, though it's believed Burke is willing to accept a second-round pick and a top prospect."
5:00 PM Update - Mueller, Roloson, Hamhuis, Voros/Lisin.
[more…]
The second half of the season is underway, and the Maple Leafs continue to struggle. Naturally, speculation has begun to shift to what can be done to improve the roster, and which buyers on the market may have interest in what the Leafs have to offer.
By now, I'm sure many of you have seen ESPN's report of a significant offer by the Maple Leafs for Phil Kessel: two 1st round picks and a 2nd round pick. The general reflex reaction that we've been conditioned to by the Toronto media the last few seasons is to avoid moving 1st round selections by any means necessary. The thought of moving two such commodities is beyond horrifying. I've seen the name Taylor Hall used as the backbone of many an argument over the last few days, often associated with the "chance" of landing said player. If we're gonna turn this into a game of chance, let's at least get all the cards on the table. [more…]
Toronto Maple Leafs' prospect, Chris Didomenico (or Dido for short) is set to make his World Junior Hockey Championship debut this Friday as the team prepares for its first pre-tournament exhibition match against Team Sweden.
[more…]