Philadelphia
The Leafs are back at it after a welcomed four day lull in the schedule. The deadline hurdle has been cleared for the players, with no significant additions or subtractions to the roster. The group that got the Leafs into this position is going to have a chance to finish what they started by clinching the Leafs' first playoff berth in eight years. It's tough to imagine James Reimer is viewing this as a vote of confidence, though, after his GM publicly admitted that Miikka Kiprusoff was of much interest to the team and that the two sides discussed the possibility of an extension. [more…]
An intriguing top line of Kris Versteeg, Tyler Bozak and Phil Kessel will feature in tonight's rematch with the Flyers following the Leafs' 11-round shootout win over Philadelphia last night at the John Lebatt Centre in London. The trio is the most skilled iteration of forwards the Leafs' roster has to offer, and combined with Dion Phaneuf and Tomas Kaberle on the blueline (who will also dress) represent an interesting potential powerplay option for coach Wilson. The results with the man advantage tonight, then, will be well worth monitoring. [more…]
The Leafs won a game in the shootout. I'm as confused as you are. It was certainly an interesting one, going for 11 rounds before Colby Armstrong put Philadelphia out of their misery. Here are my game notes:
- The goaltending was great for the Leafs tonight, with Reimer in particular having a very strong performance. Both goals for Philly were flukey and both goalies played strong positional games. The shootout in particular was very impressive for Reimer, showing off his fast reflexes. Reimer is becoming a top goaltending prospect for the Leafs and his year with the Marlies should be very interesting. [more…]
In the final part of his 12 Burning Questions series, Derek Harmsworth takes a look at the Maple Leafs chances of getting back to postseason hockey this year.
May 4th, 2004.
Both teams, tired and weary from what had already been a long, arduous road, a journey that had left both teams battered and bruised. Â The teams went back and forth, showing tremendous heart and determination, showing what it takes to win hockey games at this time of year.
Up the ice they went, rewarded with a good scoring chance, but stopped by a goaltender who was up to the task. Â Then down the ice the other way, another good chance, this time for the other team. Â The goalie in this net, equally up to the task of making the save and preserving life, for at least another moment.
Quickly, and in a whirlwind of emotion, it was over. [more…]
In part ten of his 12 burning questions series, Derek Harmsworth takes a look at the importance of a good early start, and if the Leafs can avoid another disastrous start.
There really isn't any other way to put it. Â No matter how you slice it, no matter how you try to spin it, or how you try to put a sugar coating on it, the cold hard fact still shines through.
The Toronto Maple Leafs were not a very good team last year.
Although their stats, and their general play, improved dramatically following the late January trades that saw them overturn nearly half their lineup, the fact remains that the 2009-2010 edition of the Maple Leafs fought inconsistency, as well as young inexperience that had them struggling most of the year.
But it could be argued that never were they worse, than in the first month of the season. [more…]
In part nine of his 12 burning questions series, Derek Harmsworth looks at the Maple Leafs special teams, and why it must improve in order for the team to have success.
When it came to doing this 12 burning questions series, I discovered a lot of things about the Leafs, and how I will be looking for different things this year. Â And even though I already knew the fact, it was all the more confirmed to me that there really are no definitive answers to these burning questions, at least not in August anyway.
However, as we reach part nine of the series, I can confidently say that I can, for the first time this series, give a more defined answer. [more…]
Why the Maple Leafs should make the playoffs in 2010-11‏
By: Joe Cino
Everything that could have gone wrong for the Maple Leafs in 2009-10 did. A combination of cold streaks, underperforming veterans, bad goaltending and a slew of injuries capped off a basement finish. The roster has been fine tuned, with additions like Giguere, Phaneuf and Versteeg chief among them, but by and large most of the roster is the same as last year's iteration. With so many holdovers from the previous year, are the playoffs a realistic goal for the Maple Leafs? I believe that they are, with Corsi ratings, Goals versus Threshold and the realistic impact of the new Leafs taken into account. [more…]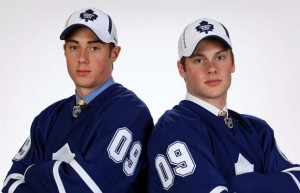 Brian Burke must have felt a lot like the eponymous Old Mother Hubbard when he first reached into the Leafs prospects cupboard. Of course, unlike the elderly dog-mistreating crone of the rhyme, Burke already knew what lay in stock prior to his arrival in Leafs country. In short: a few notable exceptions to a decade of draft property mismanagement.
Subsequently, the draft of 2009 looked to be a vital cornerstone in Brian Burke's rebuild. The first chance for the Leafs to restock in a new, finally directed era.
It's around 2PM eastern time, meaning National Hockey League GM's are likely getting ready to juggle their BlackBerry's while getting set to sit down for lunch at a local Los Angeles hot spot. Â With the many fantastic views and atmosphere, it may be the last relaxing moment of the day for these GM's.
And most wouldn't have it any other way.
I've been holding off on posting one of these, as the sheer volume of Toronto-borne speculation renders separating the plausible from the impossible a rather difficult task.
Without further ado, here we go:
There is no guarantee that Tomas Kaberle is traded this weekend. Sources say the chance that he could remains a member of the Maple Leafs beyond the Draft is increasing by the day.  The reason?  "Burke wants a player who can step in and play right away. He wants to win now, and is far less concerned about getting draft picks than he is about getting an impact forward."

.
The Leafs will start and end with Montreal as to be expected. The schedule includes nine back-to-backs, an increase over the seven they played last season. The Leafs will head northwest March 22-24 to play Minnesota and Colorado after hosting them last season. The most taxing travel appears to be a four game stretch from January 7 - 13 when the Buds will make stops in Atlanta, Los Angeles, San Jose and Phoenix. The Leafs will also conduct a potentially critical division tour from February 12 - 19 when they face off consecutively with each Northeast rival. From December 14-18, the Blue and White will go on a Western Canada road trip where they can visit Taylor Hall, Matt Stajan and Kyle Wellwood. The full sched after the jump:
[more…]
The Chicago Blackhawks are just 60 minutes away from drinking out of Lord Stanley, and it will be present at tonight's game at the Wachovia Center in Philadelphia. Should the Blackhawks win, it will be their first championship in 49 years.
"It has been flashing in my head since Game 1 of the playoffs," said Blackhawks captain Jonathan Toews. "Every time you win one game, it feels like you're going all the way to the Cup. I've always said when you lose a game it feels like your season is going to be over. It just has been such a crazy ride."