player
The following is a live, up to the minute game blog featuring the rookie tournament game between the Toronto Maple Leafs and the Pittsburgh Penguins. Â Remember to hit refresh for the latest updates.
As much as I tried to just sit back and enjoy the game as a fan last night, I couldn't help but take a few notes (this might have been because we ended up sitting among the scouts). So without further ado, here are a few additional observations from last night's tournament opener to supplement Derek Harmsworth's excellent coverage.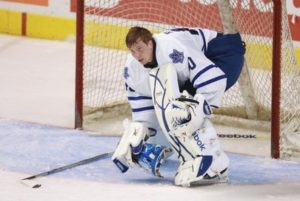 After the jump, Derek Harmsworth recaps last night's action in the NHL Rookie tournament, including locker room access, and looks ahead to today's action.
The following is live in game, up to the minute coverage of the rookie tournament game between the Pittsburgh Penguins and Ottawa Senators. Â Remember to refresh the page for the latest updates. Â Remember also to check out my Twitter for notes and pictures
Last Wednesday (September 1st), Toronto's MasterCard Centre for Excellence, the Maple Leafs' own practice facility, played host to the 2010 NHLPA Rookie Symposium in association with trading card leaders Upper Deck and Panini America. MLHS' own Gus Katsaros was in attendance, and has kindly provided audio from his own conversation, as well as portions of a larger media scrum Q&A, with Leafs' top prospect Nazem Kadri.
The Toronto Maple Leafs will host their rookie tournament this year in London, Ontario from September 11th to the 14th, and Maple Leafs Hot Stove will have unprecedented, wall-to-wall coverage of the event.
Join us here for live game blogs, game previews, game reviews, exclusive interviews, and more! Â Today, we will look at the top ten Leafs players who will be worth paying extra close attention to at this weekend's event.
During an appearance on London radio's "The Hook" with Norman James last Friday, our conversation at one point took an interesting turn toward the notion of player personality, and how it affects fan perception and the manner in which fans relate to the players.
It's an interesting subject – the trichotomy of fan/player/team identity, and not one the majority of fans spend much time pondering. What is it, beyond star power, that draws fans to feel they have formed certain bonds with specific players they have never met? What is it that keeps others at arms' length? Is it the nature of the players themselves, is it our own as fans, or is it perhaps both?
After months of political manoeuvring and speculation... and pending ratification, Donald Fehr appears primed to formally take office as the Executive Director of the NHLPA with the Ilya Kovalchuk saga providing an appropriate backdrop. Despite having earlier dismissed himself as a candidate for the role, the former MLBPA hardliner is now expected to spearhead the players union through the next series of collective bargaining negotiations in 2012.
Either a spectre to be feared, or a challenge to be relished for NHL commissioner Gary Bettman, one wonders if the league office wishes it had treated the ailing NHLPA with kid gloves following the late, late night coup that saw former figurehead Paul Kelly overthrown in August 2009.
The speculation after the Matt Lashoff trade a few days back was that it was a precursor to another move for the Leafs. Sure enough, Clarke MacArthur was announced as the newest Maple Leaf. At a cap friendly $1.1 million, MacArthur is being paid like a 3rd liner. Burke has other things in mind, recently stating to the Toronto Star that MacArthur will spend "significant time" on the top two lines this coming season. With that in mind, let's take a look at the kind of role we can expect from MacArthur. All stats not specifically referenced are borrowed from BehindtheNet.ca.
According to LeafsTV, the Maple Leafs have signed unrestricted free agent forward Clark MacArthur to a 1-year contract worth $1.1 million. MacArthur has been a [more…]
Even before the clock struck midnight, it had become apparent Tomas Kaberle would remain a Leaf headed into 2010-11. Indeed TSN ended the wait at 11.57pm, officially announcing that all trade negotiations had come to an impasse after a morbid day of Tweets, updates and rumours boiled down to the status quo. Almost three years of trade speculation seemed to be distilled into a cathartic melting pot of emotion. For many this was the trade that would define the Leafs future and after all the hyperbole, one leaked offer from San Jose; Joslin and a first round draft pick, seemed to set an ominous tone for a day that ended in nought. [more…]
In part nine of his 12 burning questions series, Derek Harmsworth looks at the Maple Leafs special teams, and why it must improve in order for the team to have success.
When it came to doing this 12 burning questions series, I discovered a lot of things about the Leafs, and how I will be looking for different things this year. Â And even though I already knew the fact, it was all the more confirmed to me that there really are no definitive answers to these burning questions, at least not in August anyway.
However, as we reach part nine of the series, I can confidently say that I can, for the first time this series, give a more defined answer. [more…]