Plymouth Whalers
The two greatest military tacticians of the past 5000 years – Sun Tzu and Sgt. Slaughter – both spoke on the value of knowing the strengths and weaknesses of your enemies in the field.  To effectively assess the situational realities of the Toronto Maple Leafs it pays to look at the status of their direct competition within the Northeast division.  Playing 24 games against teams from their own division, pride, points and position are all on the line.  While by no means comprehensive (as yet), take a gander at the past 3 weeks of moves.
The Canadians, Senators, Bruins and Sabres all earned playoff positions last season.  A successful, playoff calibre Leafs squad must commit themselves to dominating these frequent opponents as more than a quarter of the season will be played against them. [more…]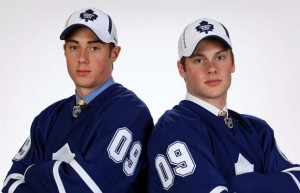 Brian Burke must have felt a lot like the eponymous Old Mother Hubbard when he first reached into the Leafs prospects cupboard. Of course, unlike the elderly dog-mistreating crone of the rhyme, Burke already knew what lay in stock prior to his arrival in Leafs country. In short: a few notable exceptions to a decade of draft property mismanagement.
Subsequently, the draft of 2009 looked to be a vital cornerstone in Brian Burke's rebuild. The first chance for the Leafs to restock in a new, finally directed era.
The Toronto Maple Leafs' first draft under the watchul eye of Brian Burke displayed a stark change in the team's draft philosophy. The scouting staff searched for the type of players and attributes that would be able to fit into the mold of a tough, physical checking style of game that the Leafs hope to play several years down the road. As a result, we saw a lot more emphasis placed on size and toughness than skill and speed. Not surprisingly, all of Toronto's seven selections were from the North American ranks, four of them from the Ontario Hockey League and three from American hockey programs. [more…]
The ability to select future stars or even useful role players in the mid-late rounds is what separates the pretenders from the contenders. The class of the NHL when it comes to late round drafting are the Detroit Red Wings, with players like Helm (5th), Franzen (3rd), Filppula (2nd), Hudler (3rd), Ericsson (9th), Zetterberg (7th) and Datsyuk (6th) all playing key roles on a Stanley Cup Finalist team. As E.J. Mcguire alluded to in the previous chapter of Draft Watch '09, there will be plenty of potential impact players available beyond the first round of this year's entry draft. Let's take a look at some of the names: [more…]