point player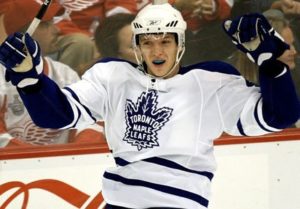 Now that the Leafs' most important pending free agent -- goaltender Jonas Gustavsson -- has been signed to a two-year contract extension, it is time to take a look at their remaining free agent players.
Notably, the list of expiring contracts includes pending RFAs Nikolai Kulemin, Christian Hanson and John Mitchell. Pending UFAs on the Leafs' roster include Wayne Primeau, Rickard Wallin, Jamie Lundmark, Garnet Exelby and Mike Van Ryn.
David Shoalts of the Globe and Mail speculates that Burke's first move this coming offseason will be to find a taker for forward Mikhail Grabovski. Shoalts explains that with Bozak and Kadri likely penciled into the team's top two centre roles, it is unlikely that Burke will opt for three undersized centres on his roster. Add in a $2.9M pricetag for a primarily offensive-minded  player who scored only 35 points in 59 games, and the writing seems to be on the wall. Shoalts warns fans not to expect a hefty return: likely less than the 2nd round pick Fletcher gave up to acquire him. [more…]
With the National Hockey League's trade deadline looming, names like Alexei Ponikarovsky and Lee Stempniak are becoming increasingly popular in the Toronto Maple Leafs brass.
Fans of the Blue & White have been playing armchair general manager and have formulated a number of trades since the Olympic break. But amidst the excitement of the yearly spectacle, I'm beginning to wonder if it's in the Leafs' best interest to trade both Ponikarovsky and Stempniak.
After all, were they not serviceable players for the Leafs?
There's already some discussion going on in the threads, but let's get all of that latest news out on the table:
- TSN's Darren Dreger recently tossed out his list of top 10 candidates to be moved at this year's trade deadline, with Matt Stajan and Alexei Ponikarovsky figuring in at the 4th and 5th spots respectively. He suggests that Stajan would perhaps yield "a decent prospect or drafts picks in return" and that Ponikarovsky would likely fetch a similar price. It's always hard to gauge the trade deadline market as values fluctuate on a yearly basis, but I've got Ponikarovsky pegged as an Antropov comparable (2nd round pick) as a big body and 60 point player while Stajan may compare favorably to Moore (2nd round pick starting price) as a depth centreman who can put up some points in the right situation. [more…]
(Lame title, I know, but you know you like it.)
So Nik Zherdev is officially an Unrestricted Free Agent. And of course, the Toronto Maple Leafs are rumored to be interested in the streaky 24 year-old forward—when are they not rumored to be interested in a specific player? I don't know what the consensus of Leafs Nation is, but this Leafs fan is hoping Brian Burke doesn't touch Zherdev with a ten-foot pole.
I've read a lot of comments and feedback on everyone's take for this pick but this is what has been making the rounds in the rumor mill - yes, rumors are still circulating through the playoffs. Keep in mind that this is pure speculation and isn't exactly a mainstream rumor, but it is interesting and perhaps logical.
[more…]
Maybe it's too early to determine, but I'll give him the benefit of the doubt… for now (dun, dun, duunnn).
Lee Stempniak, who was acquired via trade from the St.Louis Blues for Alexander Steen and Carlo Colaiacovo, has a total of 13 goals and 39 points in 65 games this season – scoring 10 goals and 26 points in 51 of those games with the Leafs.
He should stay. Period.
Mikhail Grabovski is a pending Restricted Free Agent this summer. Brian Burke will have exclusive rights to discuss an extension with the Belorussian, but it remains to be seen if he wants to retain him. Decisions, decisions…
Most recent Leafs trade talk in the mainstream media centers largely around Pavel Kubina and Tomas Kaberle. Just about enough has been mentioned on those fronts; Brian Burke will not compromise in his return demands for either of his coveted blue-liners and it appears that only time will tell. Here are three other interesting to trade or not to trade scenarios:
*I can't let you read this blog without first apologizing for the title. Shameful, just shameful*
Alexei Ponikarovsky is in the midst of a career season.
14 goals and 30 points in 42 games played – on pace for 26 goals and 58 points.