power forward
Finally the day many of us have been waiting for has arrived. Â The NHL Toronto Maple Leafs rookie tournament kicks off this afternoon in London, Ontario, and for many it's a chance to catch on ice hockey for the first time in quite a while.
Today's action features the Pittsburgh Penguins rookies taking on the Ottawa Senators rookies in afternoon action. Â Also on the bill today, the Maple Leafs rookies will play the Chicago Blackhawks rookies in the nightcap.
Here is all you need to know about today's games.
It's that time of year again. The Canadian World Junior Development Camp for the 2011 tournament in Buffalo is under way, as the Canadians try [more…]
Rough Friday night for Leaf fans, but that's in the past now. Rounds 2-7 of the 2010 NHL Entry Draft kicks off today at 1pm ET on NHL Network. The Maple Leafs are slated pick once in the 3rd round (62nd), once in the 4th round (112th), twice in the 5th round (122nd and 144th) and twice in the 7th round (182nd and 202nd).
Rumors are circulating that the Leafs will attempt to trade into the 2nd round if the price is reasonable.
This live blog will be updated with thoughts and pick analysis throughout the afternoon. [more…]
In 2005, the NHL was returning to work after a year long lockout, a bitter battle between players and owners over cost certainty. Â The entry draft in June of 2005 was really the beginning of a new era in hockey, and a new era for the Pittsburgh Penguins, who drafted Sidney Crosby first overall, a move that would change their fortunes forever.
Drafted second that year was Bobby Ryan. Â A big bodied power forward with tremendous skill, I had the chance to watch Ryan in person blaze up and down the ice for the Owen Sound Attack. Â One look at Ryan moving swiftly between checkers, puck on a string as he bobbed and weaved his way into a prime scoring area, and it was clear.
This dude was one heck of a consolation prize.
And the GM who was afforded that consolation prize, as you are all aware, was one Brian Burke. [more…]
Took a couple days off, but now let's get back to the draft profiles. Today's 2010 draft primer will focus on Andrew Yogan, an American-born power forward who plays for the Erie Otters of the OHL. Yogan might've garnered first or second round consideration at the beginning of the season but has been all over draft boards of late because of his inconsistent play.  However, the invaluable package of size, character and high end skill he brings to the table is undeniable. [more…]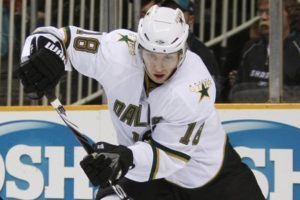 During his first full year at the helm in Toronto, you could make the case that Brian Burke was the league's most active general manager. There was the Kessel summer blockbuster with Boston and then the mega-deals on January 31st that brought in Phaneuf and Giguere. It's quite obvious that he's willing to expend assets to target any top notch premium young talent when it's made available. Both of those trades were opportunities: Kessel was a restricted free agent on a team with cap issues. Burke often spoke of inquiring on Phaneuf several times throughout the year until the "pressure points" of the cap and the struggles of the Flames pushed Sutter into making a bold move. This summer should be no different. Let's take a look at some of the young RFA's that might potentially attract Burke's interest.
Friday night saw a host of impressive performances from a few Maple Leaf prospects; among them is QMJHL power forward Joel Champagne of the PEI Rockets who turned in a ridiculous 7 point performance. Nazem Kadri also chipped a pretty shorthanded goal and 2 assists for London. Meanwhile, Phillipe Paradis was held scoreless in his debut performance as a Leaf prospect. [more…]
Leafs prospect Nazem Kadri has successfully passed the first hurdle en route to a possible World Juniors roster spot, by earning an invite to the final selection camp earlier today. The roster currently encompasses 36 invitees in total, a number which Team Canada Head Coach Willie Desjardins will have to narrow down to 22 by the end of camp. [more…]
There's nothing like an 0-6-1 start to push the rumour mill into full swing. Â  Â  The following is a quick rundown of some of the talk working its way through the grapevine.
As always, this is only talk -- as in, players rumoured to be under consideration, not deals that are on the brink of consummation. Â Take it for what it is.
Seven games into the season might still be too early to panic, but it's becoming quite clear that we're inching quickly towards the button. The Sun is reporting that Brian Burke has beeen making calls around the league in search for another goal scoring forward. In the same article, the Sun also mentions that Florida has begun preliminary talks in exploring trade possibilities for young power forward Nathan Horton, who has thus far struggled out of the gate. Is there a possible fit here? [more…]
While many of us were toiling away on "live online blogs" to get our hockey fix, a few MLHS writers were fortunate enough to make the trip down to see Game 2 of the rookie tournament in Kitchener against the Boston Bruins. Down at the rink, MLHS' own Gus Katsaros managed to sneak in a few minutes with Leaf GM Brian Burke and rookie Nazem Kadri to chat about the game and the upcoming season. [more…]
Turns out, there's speculation that the trade between Anaheim and Pittsburgh was an inadvertent 3 way trade with the Maple Leafs. That's right, that big Ryan Whitney trade was for the bigger picture.
[more…]