Prince
Finally, the moment a lot of us have been waiting for is upon us. Â The Toronto Maple Leafs announced Tuesday afternoon the full roster of players who will represent the blue and white at the 2010 rookie tournament, taking place this weekend in London, Ontario. Â The event runs from September 11th to the 14th at the John Labatt Centre, and remember Maple Leafs Hot Stove will have wall-to-wall coverage and unprecedented access.
A tap of the pads to Gus Katsaros for providing me the email.
The word out of Los Angeles today remains that Brian Burke has yet to receive an acceptable offer for Tomas Kaberle. While talks are said to be heating up according to Pierre LeBrun's twitter (rumoured to involve Buffalo, Boston and Los Angeles), Burke appears to be tempering expectations and maintaining the possibility that Kaberle remains a Leaf come Saturday. It could well be that Burke quietly slips out of Los Angeles with only with only six third - seventh round picks to his name. TSN has released a sleeper list with some names Leafs fans can keep an eye on for Saturday:
In the second installment of the Prospect Season In Review, we will take a look at a couple of Maple Leafs prospects who have proven a positive product of the John Ferguson Jr / Cliff Fletcher draft era.
Profiles in this segment include German DEL winger Jerome Flaake and defender Korbinian Holzer, as well as a prospect closer to home: Windsor Spitfires winger Dale Mitchell.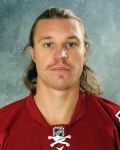 JUSTIN POGGE (# 29) – G
Player Facts
Birthdate: April 22, 1986
Stargazing: Taurus
Hometown: Fort McMurray, Alberta
The craft of writing fiction requires an author's innate ability to capture - and maintain - the reader's attention. It's sleight of hand - or pen in this instance, with twists and turns deciphering an ending not envisioned by the reader. The process takes vision, vivid imagination, a well scripted story line and 'sleight of pen' to playfully mislead readers into a perceived outcome, while planting thoughts and doubts that in the end make for a fantastic story.
It happens in the hockey world, too, and might be happening to Leafs fans currently. It could be a main factor in drafting Victor Hedman over John Tavares in the 2009 draft.
[more…]
The final roster for Hockey Canada's 2009 World Junior Hockey team was announced early this morning and here were the final 16 cuts:
Memorial Cup winning netminder Tyson Sexsmith and Jake Allen; defencemen Travis Hamoic - who won gold with the under-18 squad - Kevin Marshall, Patrick Wiercioch, Jarred Spurgeon, Brendan Smith and Tyler Cuma, who suffered a knee injury during camp; forwards Evander Kane, Riley Nash, Jamie Arniel, Nazem Kadri, Matt Duchene, Brayden Schenn, Taylor Hall and Matt Calvert.