quality young player
The Toronto Sun reports whispers around the league of the San Jose Sharks offering defensive prospect Derek Joslin along with a first round pick in [more…]
In case you missed it, here are some of the key points from Burke's interview on the Fan590 this morning:
There have been some legitimate [more…]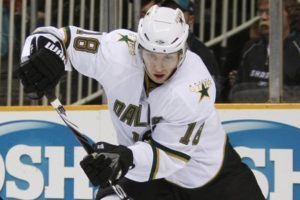 During his first full year at the helm in Toronto, you could make the case that Brian Burke was the league's most active general manager. There was the Kessel summer blockbuster with Boston and then the mega-deals on January 31st that brought in Phaneuf and Giguere. It's quite obvious that he's willing to expend assets to target any top notch premium young talent when it's made available. Both of those trades were opportunities: Kessel was a restricted free agent on a team with cap issues. Burke often spoke of inquiring on Phaneuf several times throughout the year until the "pressure points" of the cap and the struggles of the Flames pushed Sutter into making a bold move. This summer should be no different. Let's take a look at some of the young RFA's that might potentially attract Burke's interest.
With very little good happening at the NHL level, it's time to see how the kids are doing elsewhere. The Marlies dropped a 5-3 decision this afternoon against Rockford, falling to 2-1 on the young season. Jiri Tlusty scored a pair of goals, bringing his totals up to 3 goals and 4 points in 3 games played. [more…]