Rick Dudley
The Montreal Canadiens officially announced that Rick Dudley will be joining the organization as Assistant General Manager. Maple Leafs General Manager, Brian Burke, negotiated that Dudley will join the Canadiens after the entry draft (June 22–23, 2012 at the Consol Energy Center in Pittsburgh, PA). Upon leaving, Dudley had yet more kind words for the direction in which the Maple Leafs are headed. [more…]
Squeak into the playoffs this year or keep building towards a cup? Â I'll take build towards a cup, please and thank you. And they're closer than you think.
Rick Dudley is widely considered one of the best judges of talent in hockey.
He's certainly able to provide a balanced view after building championship teams twice this decade, with two different clubs (Tampa Bay, 2004 – Chicago, 2009). Here's his take on the Leafs, after less than one year on the job.
Note at 4:47, when Jeff Blair snickers at Rick Dudley saying "I am sure they will succeed here and I think there are enough pieces in place, that it is not a daunting task."  Right.
A précis of the interview can be taken from two fairly potent statements:
"I am one of the people uniquely qualified to comment on it."
"I think this team becomes an elite team. Simple."
Whether that's damage control, or whether that's his opinion, I'll let you be the judge. [more…]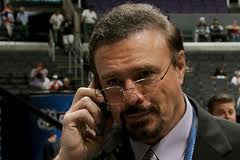 Last week I had the privilege of speaking with Rick Dudley, Director of Player Personnel for the Toronto Maple Leafs, for a feature in the forthcoming Maple Leafs Annual magazine. We had asked for a few of your questions for Mr. Dudley, and were able to work some of them in during the course of the interview.
Follow the jump for excerpts featuring your questions.  As with Alex's prior interview with Dave Morrison, please bear in mind that the flow of questions may seem a little off as these are excerpts pulled from various sections.
The full interview will appear in the Maple Leafs Annual this September.
Celebrating a decade of squandered potential and faded dreams, the draft of 1999 turned out shallower than an infant's paddling pool, yet despite being regarded as an acrimonious footnote in league history the draft of '99 also served as an unlikely backdrop to one of the most meticulously engineered pre-draft coups ever.