San Jose
The Torontosaurus Rex for Week 21 is ....
[more…]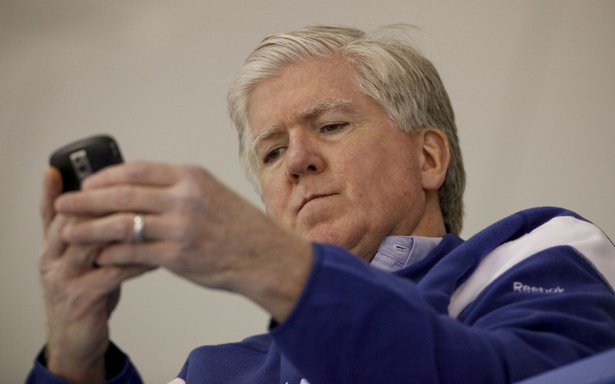 From USA Today - 3/1/2007:
Anaheim Ducks general manager Brian Burke has always been among the NHL's most colorful wheeler dealers. In 2005-06, he overhauled his [more…]
The Toronto Maple Leafs visit the St. Louis Blues tonight, in the Leafs' final game prior to the NHL's Olympic break.
The Leafs are coming off a narrow loss to the West-leading San Jose Sharks, a game which left the team with much to feel good about. Â Tonight, the team will look to resolve their road woes and enter the break on a high note, by capitalizing on what has been an inconsistent and underachieving Blues squad.
Two Leafs players have food poisoning, so Nazem Kadri is an emergency call up for tonight's game. No word as of what line he will be playing on just yet, but one thing is for sure: this will be an interesting sneak peak at what Kadri and Kessel could bring to the club next season.
[more…]
A shining example and further proof of New Jersey's dominance recently. Even when blanked for the first time this season, the Devils still ended up with a win, the full two points, and Martin Brodeur extended his record string of shutouts.
[more…]
Submit your GFWE predictions here.
It's no secret that the Leafs' biggest disappointment amid a conference-second-worst 15-20-9 first half of the schedule is a total lack of progress in the area of goals against and special teams, where Brian Burke focused much of his off-season efforts.
Don't get me wrong here, I have no problem with Ron Wilson being critical of his players at yesterday's practice. They know that they have to compete their absolute hardest in order to win, and yet, they don't show up half of the time.
However, the blame doesn't belong solely on the players here, and it seems like Ron Wilson will never see that. [more…]
The Toronto Maple Leafs were amongst leaders in 2009 for all the wrong categories. The Buds were the most scored upon team in 2009, playing an NHL leading 13 overtime games (2-11) record, and NHL trailing overtime winning percentage (.154).
Broken down after the jump is how the Leafs fared in the calendar year 2009.
Best Wishes for a Happy New Year to everyone!
[more…]
The Pittsburgh Penguins are one of three teams without a shutout this season. They have been shutout four times, allowing 15 goals. They've scored 98 goals in wins and a paltry 12 in losses. Of the 44 goals they've allowed in losses, 15 come by way of shutouts.
The latest takes on it's infamy as the record-breaking shutout by a most deserving, Martin Brodeur.
The New Jersey Devils are one of five teams that have not been shutout this season. Brodeur's three shutouts for the Devils this season set up and then smashed the all time shutout record.
In honour of the new shutout record at 104 - and counting - the following are the to-date shutouts and numbers in the NHL in 2009-10.
[more…]
Niklas Hagman, with 15 goals, sits 18 in goals scored this season, fellow european Alexei Ponikarovsky is a little further down, ranked 29th in NHL goal scoring with 12 on the year so far.
Phil Kessel and Matt Stajan both have more goals than Brad Richards, Nicklas Backstrom, Henrik Zetterberg, and Patrick Kane.
And while these stats are a welcome sight to most fans, many would agree that the secret to the Leafs success lies much deeper.  At least, much deeper down the depth chart. [more…]
By: Gus Katsaros
Prior to the season starting, I had written about the impact of schedules. In particular, as the Leafs face the Habs tonight after playing the previous night, while Montreal is rested. Interesting enough, the last time this happened, Toronto beat Detroit 5-1.
Schedules make a big difference in the results of NHL teams fates during the season. In some instances, it could be the difference between a playoff spot and a tee time (and I thoroughly enjoy both – FORRRREEEE!!).
By Gus Katsaros
The Leafs aren't as bad as a four win first quarter. They were a playoff bubble team prior to the season, and the postseason wasn't necessarily the goal, as was becoming competitive enough to stay in the run. They aren't a bottom five NHL club, and unlikely to finish in a lottery position.
This season continues the transition like last season into shaping Toronto into a respectable organization, from management, down. That hasn't changed with the off season moves, aside from some specific performances.
'Spirit is Everything' is a fitting slogan .. because winning this season, means nothing.
[more…]