sharks
This has been anything but your typical playoffs. A historical first round followed by a somewhat quiet second, only to be blown wide open by a shellshockingly good Conference Finals. I'm quite sure that none of the four coaches (Vigneault, Boucher, McLellan or Julien) are too happy about the number of goals being scored, but this has been a really pleasant experience for your average fan. 56 goals scored in 8 games (7 per game) played, talk about a sudden rise in playoff scoring. Last night's Vancouver – SJ matchup was slightly below this year's Conference Finals average but it was a telling game nonetheless.
Conference Finals typically mean a rise in intensity of play of all the teams that are still playing hockey mid May. Teams, coaches and players feel like they are coming closer to the Grail and it's visible in every puck battle, shot and save. Yesterday night was no different as we witnessed a very close, hard fought battle between the San Jose Sharks and the Vancouver Canucks.
San Jose played a solid road game until the third period, when Vancouver's speed just took over. Once again, Roberto Luongo didn't look like a 5 million plus goalie. His mishandling of a pass led to one Sharks goal and his flair for embellishing things was once again there for all to see. I fail to see why a top goalie (not elite, but top) has to act in a way that not only humiliates him, but his team and the game of hockey as well. That third period showed what the Canucks are capable of when in full flight (and with a somewhat recuperated Henrik), but the game also showed what SJ could do relying solely on their goaltender who almost single handedly stole the win. Now, if they can raise their level of play to match the kind of hockey they played against Detroit (better PK, less breakdowns in the D zone, crease crashing) I can see them winning the series.
Brian Burke stated this morning, "if these offers are all we get, he is staying put," in regards to the Tomas Kaberle trade watch. It has put many fans on their heels as they await a trade, but it should be known that this statement could be nothing more than a trade tactic.
The Tomas Kaberle trade watch is now in effect with only 36 hours to go until this situation concludes. The rumor mill is running rampant with some high profile names and some future fan favorites, but let's dive into who is being mentioned as possible blue and white sweater bearers.
Things may be relatively quiet in Leafs Nation these days, but that doesn't mean there has been a lack of excitement elsewhere in the NHL.
As such, here are a few quick takes on some of the headlines dominating the NHL landscape these days (including the Phoenix Coyotes situation, the Patrice Cormier charges, and Willie Mitchell's controversial comments),  as well as a quick glance at the nearly-completed 2nd round of the NHL playoffs.
The Playoffs are about to start and what better time than now for the CFB predictions. We highlight every series with individual writers giving their own opinion on why or how a particular team can win the series. This is the Round 1 Predictions for the Western Conference.
The window dwindles. And so what?
I'm not a proponent of trading the smooth skating 31-year-old Czech native, yet not inflexible to believe the right offer would send him packing. Not so much due to lessened mobility, but because of the skill set he delivers and the fact there are other solutions that retain his services, yet keep the rebuild's momentum.
But what's the rush? What happened to the rebuild? Why all of a sudden is there a heightened sense of urgency in turning this ship around and would Kaberle bring the elite forward for the rebuild? What about drafting and development?
Fans clamored for a proper rebuild, understood it takes time to accomplish that, yet threw that out with a few well-placed signings. Turn around time seems to have gone from long term, to quick, fast, do it all now and get rid of that Kaberle to do so!
Assuming the only option to improve the club is by trading Kaberle alone is not entirely accurate. There are other alternatives.
The latest from a source: some insight about potential candidates if Burke winds up stuck at the 7-spot, potential trading partners and Burke's interest in two top 15 picks if his quest to trade up fails.
[more…]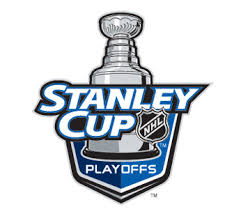 For a full team-by-team breakdown of all playoffs clubs, sure bets and sleeper picks for your playoff pools, visit the McKeen's Playoff Preview where the factors below have been outlined and pointed out in a team-by-team write up.
[more…]
Here's a look back at all the exciting events that happened in tonight's game:
Nothing.
Now on to the post-game reaction. [more…]
Ten questions for the fine folks at MLHS:
You couldn't help but feel the Southwest Coast whammy was afflicting the Maple Leafs once again as Alexander Frolov streaked in alone and beat Vesa Toskala less than a minute into the three game road spread.
[more…]