Shawn Thornton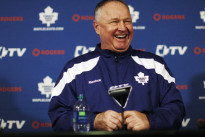 The Leafs are all but set to make the playoffs for the first time in nine years, yet there is an inordinate amount of vitriol being directed at Toronto's head coach Randy Carlyle, for some reason.
Considering pretty well everyone predicted the Leafs not to make the playoffs, it's pretty funny to see the coach leading a surprising playoff appearance - and a team that's currently fifth in the East and 7th in the League - get chastised. [more…]
We've partnered up with Pension Plan Puppets to bring to you a Player Review series, where we will be evaluating and grading the 2009-10 season for every Leaf who featured in a significant number of games for the Blue and White last season, with an eye towards 2010-11. Today we feature Colton Orr, profiled by Alec Brownscombe:
Acquired via free agency on a 4-year, $4 million contract last July 1, Colton Orr arrived in Toronto to operate as the club's resident heavyweight, a position left unoccupied since fan favourite Wade Belak was shipped to Florida in February, 2008.
What the Leafs were said to be getting in Orr was not only a player with a winning track record as a pugilist (he was voted as either winning or tying 15 of his 18 fights in 2008-09 according to hockeyfights.com), but also a player capable of skating a regular fourth line shift due to his forechecking energy, passable on-the-puck abilities, and defensive diligence.
While the NHL Stanley Cup playoffs are in full swing and continue to provide us with some fantastic moments of triumph, the fans of the Toronto Maple Leafs are now forced to once again shift their focus to off ice activities.
And so too has Leafs brass.
Despite his team sitting on the sidelines, Leafs GM Brian Burke made quick work of two signing he was keying in on, signing goaltenders Jonas Gustavsson and newcomer Jussi Rynnas to contracts. Â Continuing with the in-house theme, Burke will now certainly turn his attention to Nikolai Kulemin, if he hasn't done so already.
And while we are seemingly quite far away this point, it won't be long before the draft and subsequent free agency period rolls around.