Simon Gysbers
Nothing gets Leafs Nation into a frenzy quicker than some good old fashioned trade rumours and with the recent news breaking that Brian Burke is "open for business" it was obviously going to make headlines.  Bob McKenzie was told by his sources that the Leafs had an offer on the table involving two bottom six forwards coming to Toronto for one of our current NHL bottom six forwards and an AHL player.  Burke basically inferred the offer was half way decent so it likely would have solidified our bottom six forward lines slightly, but nothing to really get worked up about.
An intriguing top line of Kris Versteeg, Tyler Bozak and Phil Kessel will feature in tonight's rematch with the Flyers following the Leafs' 11-round shootout win over Philadelphia last night at the John Lebatt Centre in London. The trio is the most skilled iteration of forwards the Leafs' roster has to offer, and combined with Dion Phaneuf and Tomas Kaberle on the blueline (who will also dress) represent an interesting potential powerplay option for coach Wilson. The results with the man advantage tonight, then, will be well worth monitoring. [more…]
The Toronto Maple Leafs held their on-ice portion of training camp today. Players have been split into three squads to accommodate the 63 players invited to camp.
Among the contingent of fans outside the ice surface at the MasterCard Centre for Hockey Excellence was a throng of media and of course, Leafs staff.
The following is a live, up to the minute game blog featuring the rookie tournament game between the Toronto Maple Leafs and the Pittsburgh Penguins. Â Remember to hit refresh for the latest updates.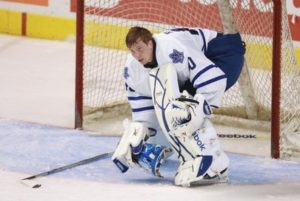 After the jump, Derek Harmsworth recaps last night's action in the NHL Rookie tournament, including locker room access, and looks ahead to today's action.
The Toronto Maple Leafs will host their rookie tournament this year in London, Ontario from September 11th to the 14th, and Maple Leafs Hot Stove will have unprecedented, wall-to-wall coverage of the event.
Join us here for live game blogs, game previews, game reviews, exclusive interviews, and more! Â Today, we will look at the top ten Leafs players who will be worth paying extra close attention to at this weekend's event.
Midway through the month of July, I had the privilege of chatting with Dave Poulin, Vice President of Hockey Operations with the Toronto Maple Leafs, for an article appearing in Maple Leafs Annual.
Having a professional background in publishing, I was not the least surprised that limitations on available space, plus design and layout constraints, resulted in the necessity to crop certain parts of the interview.
With the Annual due to hit stores next week, I thought I'd share a few of the "lost excerpts" from the cutting room floor in which Poulin offers his thoughts on the progress of the Toronto Marlies, as well as the emergence of the NCAA as a growing prospect pipeline.
Think of it as the equivalent of a "DVD extra" to your copy of MLA.
Great to see such an active group of readers. Here are a couple of FanPosts for your Friday afternoon reading enjoyment with today's theme being youth, youth and more youth. Paul LeMay (B. Leaf) takes an in-depth look at the team's organizational prospect depth while Chuck Johnson compares Nazem Kadri's chances of making the NHL as a 2nd year player with those of previous high draft picks. [more…]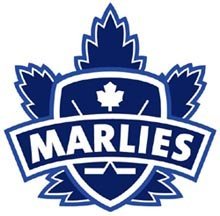 Yesterday was a big day in Leafs Nation. Â And I think I speak for all fans when I say it's about time. Â While two teams are currently battling for the opportunity to lift Lord Stanley's Cup, the Toronto Maple Leafs have been forced to sit on the sidelines and watch, bide their time with the other half of the league who wasn't fortunate enough to make into the NHL's playoffs.
And while they have kept themselves busy, and Brian Burke has shown a penchant for rarely letting his team slip into the background, a lot of hype has been leading toward this time of year.
Even without a first-or second-round draft pick, the Toronto Maple Leafs are still making plenty of waves, and it appears Burke is fit to make an impression at the draft, whether he is selecting or not.
Which, although he would never admit it, would be the perfect way to steal the spotlight back from the doom and gloom position of Boston using the Leafs pick to select a potential franchise cornerstone.
Tomas Kaberle, long been rumoured to be on his way out of Toronto, may be inching closer and closer with each passing day. Â As the calendar flipped to June yesterday, and now with the entry draft and free agency now firmly in sight on the horizon, it appears Kaberle's time with the Toronto Maple Leafs is now being measured in days. [more…]
With the final bell about to ring season most fans would be happy to forget - although the impending draft all but dictates they most assuredly will not - the Maple Leafs will officially enter the offseason five campaigns removed from the playoffs at the conclusion of Saturday night's game in Montreal.
Unlike previous years, however, this season has revealed to fans -- amidst the rubble of far too many losses -- a silver lining of sorts: the promise of youth.
#NHLAnagrams have been a big thing on twitter over the past week, and what a riot we've had. Some of the creations have been strictly comical (Daniel Alfredsson = An Idle Ass Fondler), some have been ridiculous (Brian Burke = Urban Biker) and others have fit so perfectly, you would think that it was by some magical force that their name and anagram had come to be (Zdeno Chara = A Hazard Cone, Vesa Toskala = aka Lost).
With the Toronto Marlies seven points back with 12 games to go, I'm torn as to my thoughts of the post-season and based on the Marlies' anagram, Realism Torn Too. [more…]
Brian Burke has announced that they are on the verge of signing defenceman Simon Gysbers of the Lake Superior State University NCAA team. Once announced, [more…]